15 Nail Products To Keep Your Hands Looking Great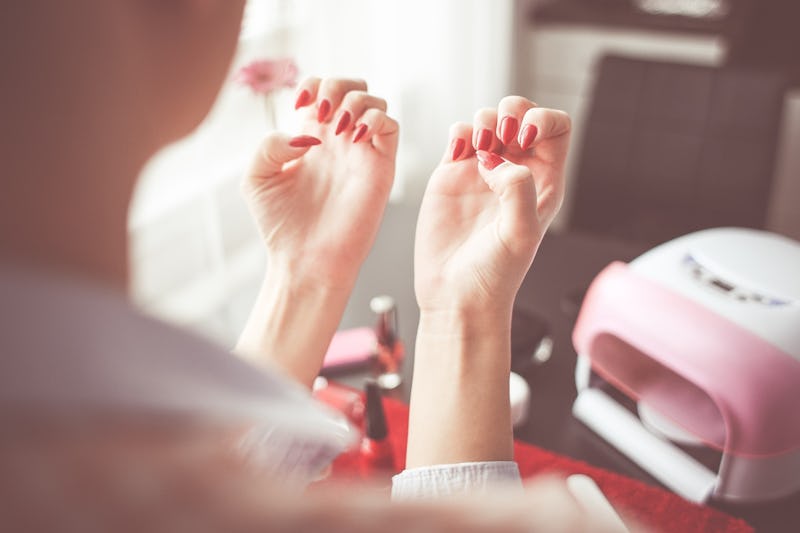 It takes more than flawlessly shaped nails and pretty polish to achieve a picture-perfect mani. Combatting splitting, peeling, and breakage comes down to knowing the best products to keep your nails healthy beyond the layers of polish.
Your nails are prone to damage and infection more than you may think. Biting, excess filing and buffing, and improperly removing enhancements put your precious fingertips at major risk. On a surface level, these dangerous nail care habits can leave you with unsightly nails you probably wouldn't want to show off. But even worse, you could end up with fungal infections, pain, and bacteria ridden claws if you let things get out of control. Although advice from a medical professional may be in order if you experience serious deterioration, you can solve plenty of nail woes yourself with the right serums and lotions. In fact, you can nip detrimental damage in the bud by taking the right preventative measures.
Stimulating growth, hydrating cuticles, and offering protection against enhancements are some of the best at home treatments for DIY repair. Whether you're hoping to care for your nails between services or desperate to undo damage you've caused, these 15 nourishing products are the key to restoring your claws.
Cutex Nourishing Nail Polish Remover, $2, Jet
If you're going to care for your nails, it's important to consider what kind of nail polish remover you're using on them. Available in five formulas, these quickly and gently remove all traces of nail polish, while vitamins, botanical oils and proteins care for the nails.
Oxygen Smoothing Base Coat, $18, Amazon
A hydrating base coat that allows oxygen to permeate the nail bed, this first step formula encourages healthy nail growth underneath your favorite polish.
Solar Oil Nail and Cuticle Conditioner, $6, Amazon
Get double the benefits with CND's Solar Nail Oil. As a strengthener and cuticle conditioner, its blend of natural oils and Vitamin E effectively hydrates your nails.
Nailgrowth Miracle, $6, Amazon
If you're looking to extend your claws, make Sally Hansen's Nailgrowth Miracle Serum your new go-to. Enriched with concentrated peptides and biotin, it promotes nail growth while eliminating brittleness and softening cuticles.
Yellow Buster Instant Nail Brighter, $12, Amazon
Say good-bye to yellowing nails with this high-gloss top coat. UV absorbers, whiteners, and brighteners combine to make this formula give natural or artificial nails a healthy appearance.
Nail Recovery Kit, $13, Amazon
This three step system does it all. Featuring a renewing cuticle oil, strengthener, and ridge filler, it's a triple threat kit for combatting weak, thin, and peeling nails.
When biting your nails becomes a habit you just can't seem to shake, sweep Mavala's Stop onto your enamel. A clear formula with a bitter, yet harmless taste, it can be applied over polish or your natural nail to help you kick the habit that may be deteriorating your nail health.
Cutex Care + Color Polish, $5, Jet
This nail polish formula has a vitamin-enriched strengthener and built-in protective base coat. It actually nourishes and strengthens nails, and it's available in 21 gorgeous shades.
Start to Finish Base Coat, Top Coat & Strengthener 3-in-1 Treatment, $14, Amazon
There's nothing OPI's Start to Finish Base Coat can't do. Use it underneath polish and on top as a finisher for a treatment with nail strengthening and long-lasting benefits.
Use this nail protein to address all of your major concerns. Its special blend of ingredients helps cure soft, peeling, and thin nails, as well as stimulate pointers that just won't grow.
DaniPro Always Be True" Anti-Fungal Nail Polish, $15, Amazon
Get a flawless manicure and protect your nails at the same time by making DaniPro doctor formulated polish your go-to for color. A chip-resistant collection that offers anti-fungal security, it's more than just your typical pretty polish.
Lemon Butter Cuticle Cream (2-pack), $13, Amazon
Whether it's the moisturizing benefits or the fresh lemon scent, you'll be sure to adore Burt's Bees' Lemon Butter Cuticle Cream. Formulated with sweet almond and sunflower oil, seed butter, and Vitamin E, it works miracles on dry, brittle nails.
"Barely Beige" Gel Break Trio Pack, $30, Ulta
If you're in need of a little TLC post gel manicure, OPI has the perfect solution. The Gel Break Trio Pack is a 3-step restorative system that rejuvenates nails after improper removal of gel polish with a serum, protector, and natural nude polish shade.
Cutex All-In-One Hand & Cuticle Cream, $4, Jet
With a combination of Vitamin E, glycerin, and botanical oils, this hand cream is all you need to keep your hands soft and your manicure looking its best.
Makeover Peptide Infused Ridge Filler Base Coat, $18, Dermstore
Designed to fill nail ridges and treat discoloration, Dermelect's Makeover Base Coat heals rough nails with nutrient rich peptides. Keratin strengthens weak nails while restoring flexibility and moisturizing agents contribute to a healthy appearance.
You may be your own worst enemy when it comes to caring for your nails. With assistance from nutrient packed products, however, you can always restore your pretties to their former glory.
Images: picjumbo_com/pixabay; Courtesy of Brands (15)