15 Song Lyrics About Fireworks You Should Def Use For Your Instagram This Week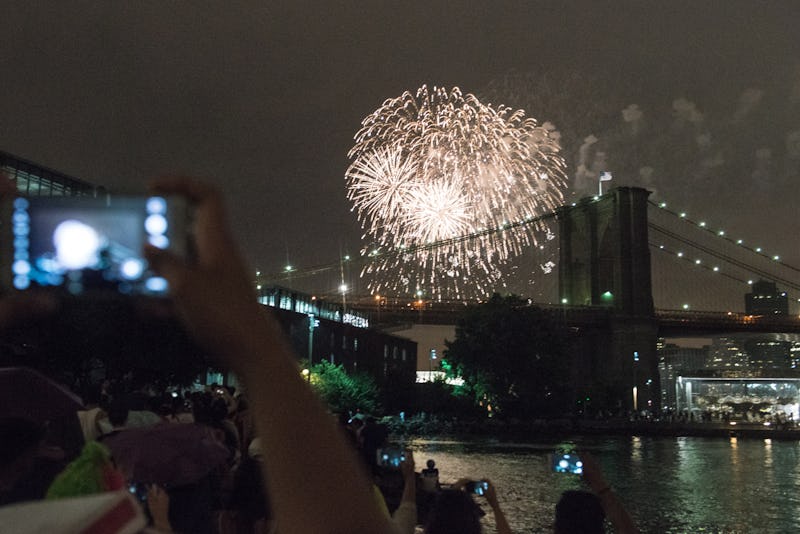 Stephanie Keith/Getty Images News/Getty Images
Summer 2018 is flying by way faster than I'd like it to. Sometimes it's hard to keep up: in fact, a foolproof way to see exactly how quickly the seasons are changing is to mark the eye-catching occasions where everyone you know is going to post Instagram. For the Fourth of July, we've got a few tricks up our sleeves to make sure your festive post stands out even more: song lyrics about fireworks for a perfect-touch caption.
In April we saw Easter and Earth Day pics, our timelines filled with people in their Sunday best and then on the top of a mountain they hiked up that leaves you wondering how they're not a sweaty mess in the effortless Mother Nature-dedicated candid. May officially kicked off holiday swimsuit season with Memorial Day — and now July brings us the biggest holiday of the summer.
The Fourth of July is only two days away, and photo-ops are on the agendas of many. Struggling to find an Insta caption on the Fourth while the clocks ticks faster and faster toward midnight? Don't worry, I got you. I know and agree that it can be hard to feel festive on the Fourth when the country feels divided, but hopefully, surrounded by friends, you can make the day your own — a day to celebrate what you hope for the United States. I think it's time to shed some light on some more underrated firework-themed ballads (Sorry Katy) to take some stress away from caption-making so that you can enjoy your holiday to the fullest.
1. "This time I'm really going off, fireworks" — Drake ft. Alicia Keys, "Fireworks"
2. "All I see is fireworks, every night it's fireworks" — Drake ft. Alicia Keys, "Fireworks"
3. "She/we went off like a firework" — Pig Destroyer, "Tickets to the Car Crash"
This one is perfect for a shot where you and your ladies are looking good and you know it, we know it, and the world needs to know it too.
4. "When white fireworks erupt and my heart is whole again" — The Rocket Summer, "White Fireworks"
5. "We gon' celebrate life tonight, it's the Fourth of July tonight, fireworks up tonight" — Snoop Dogg ft. Swizz Beatz, "Light It Up"
6. "I hit the streets and the fireworks start" — Rodney Harris and Emmylou Crowell, "Open Season On My Heart"
7. "I know, you know it can't get much better, fireworks flyin' whenever" — Plan White T's, "Fireworks"
8. "Fireworks on the Fourth of July/Baseball, Hot dogs, apple pie" — Tracy Byrd, "Summertime Fever"
For the artsy-culinary shots featuring your envy-worthy dinner with a fireworks show lighting up the sky in the background. Perfecto (*kisses fingers*).
9. "Parties and fireworks and music enough to dance" — Michael Feinstein, "There'll Be Time Enough To Love"
10. "Like a firework, brighter in the dark" — David Guetta, "I Can Only Imagine"
When your friend finally catches your best angle with night flash and honestly? You're feeling this look.
11. "Beautiful like (fireworks) in the sky" — Rihanna, "Diamonds"
Just substitute "diamonds" for "fireworks" and you're good to go.
12. "The light of the stars... the clouds in the sky/The fireworks on the Fourth of July" — Minnie Riperton, "Never Existed Before"
13. "This red hot emotion puts fireworks in motion" — Dolly Parton, "Heartbreaker"
Seriously? Thank you, Dolly, for allowing this line to exist. This is probably my favorite one on the list because the words alone are swoon-worthy. Paired with an equally fiery picture, I might just faint.
14. "Watch the city glow, let's make a wish on the fireworks below" — Sugarland, "These Are The Days"
15. "Firework, I feel like glitter" — Tyler the Creator, "Glitter"