These Tweets Nail The 'Bachelorette' Premiere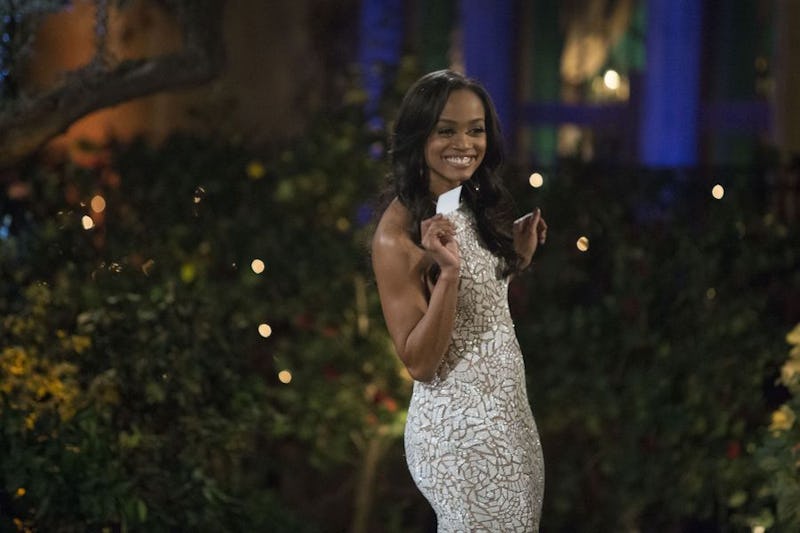 ABC/ Paul Hebert
It had been way too long since we'd seen Rachel Lindsay on our television screens. Thankfully, The Bachelorette is back and Monday nights are enjoyable once again. And fans are doing more than just faithfully watching. Of course, viewers also tweeted about the key moments from Rachel's Bachelorette season premiere episode.
From everyone agreeing that Rachel is basically perfect and that there's zero to make fun of her about, to wondering what exactly "whaboom" even is, to picking out the immediate favorites, the fandom had a lot to say in response to Episode 1. Usually, the first night is kind of boring, long, and not much happens, but Monday night's episode was truly hysterical. As soon as I was done laughing about one thing, I was cracking up over the next ridiculous moment.
Based on the cast of characters that we met at the limo arrivals and the first cocktail party, plus the super teaser at the end of the episode, it is clear that we are in for an absolutely crazy season. I am so here for it and I cannot wait until next Monday.
These are the tweets that said what we were all thinking during Rachel's first episode as Bachelorette.
1. The Corinne Cameo Was Everything
It's always nice to see Corinne on TV.
2. The Advice Session From Nick's Contestants Was Odd
I loved the cameo, but this didn't really make the most sense to me.
3. The Appeal Of Peter Is Undeniable
Seriously though. Nick who?
4. Blake E. Is Way Too Overwhelming
This guy needs to go. Now.
5. The Fans Can't Help Rooting For Kenny
Kenny is the only professional wrestler I've been been able to take seriously on a reality TV dating show. He just seems so genuine and lovable.
6. DeMario's Confidence Will Be Perfect For Paradise
This guy (hopefully) has no shot at getting with Rachel. She needs to send him home so he can go where he belongs: Bachelor in Paradise where he can drink all day and make arrogant comments on the beach.
7. The Josiah Backstory Was Moving
I wanted to leap through the TV and hug Josiah after he talked about the death of his brother and how he turned his life around.
8. But The Josiah Reviews Were Mixed Once He Stepped Into The Mansion
I was living for for Josiah at first, but he just became way too much talking about his "future wife."
9. The Love For Peter Is Strong
The fandom already loves Peter.
10. The Make Out With Bryan Was A Little Much
He basically swallowed her whole. WAY TOO MUCH.
11. The Puppet Gimmick Needs To End
Not only was this puppet doing on-camera interviews, but he was also doing all of them in French. Really doing the most.
12. The First Impression Rose Went To Bryan? Seriously!?
For me, Bryan was too much, too soon. No, thank you.
13. The Tickle Monster & Whaboom Got Roses
Really? I love Rachel, but what was she thinking?
14. The Blake K. Elimination Happened Too Soon
What a gem! Blake K. better be in Paradise. He seemed so great and genuine. Not the best choice to let him go, Rach.
15. The Girlfriend Showing Up Is Something I Need To See
This better happen in the next episode. I couldn't even handle the preview. I need to see this now.
So many tweets, so little time. As per usual, the fans had a lot to say, and I am totally in agreement with many of them. I can't wait to read the tweets from the rest of the season.