15 Of The Wildest Theories About Why So Many Fireworks Are Going Off Right Now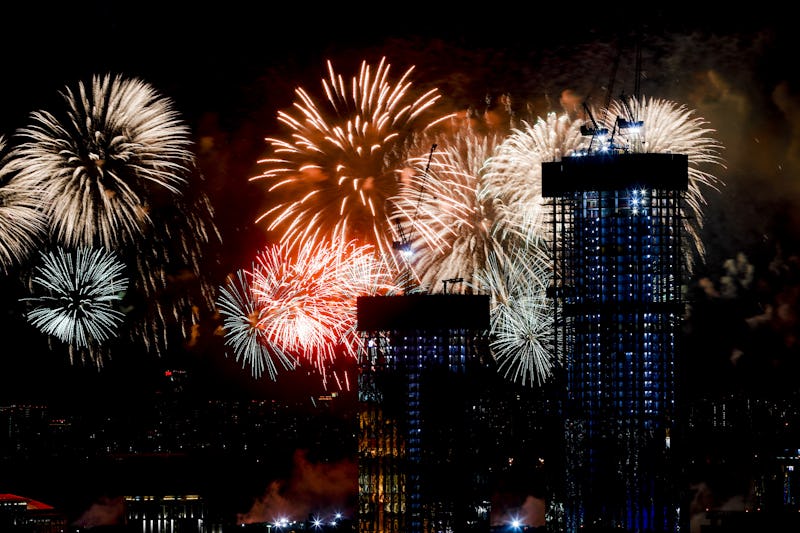 Anadolu Agency/Anadolu Agency/Getty Images
OK, whoever had "firework conspiracy theories" on their 2020 bingo card wins. Congrats and also how dare you. If you live... um, literally anywhere close to a major city, you've likely heard mysterious nightly fireworks. It's still a bit too soon for Fourth of July-specific explosions and, if you've been paying attention at all, the world isn't really cause for celebration at the moment. So, why the fireworks display every night? The internet, as you might suspect, has some theories.
Make no mistake: you have been hearing way more fireworks than usual. Boston has seen a 2,300% increase in firework complaints since this time last year. Not to be outdone, New York has seen a 4,000% increase in firework complaints. Subreddits for major cities across the country — from Chicago to Philadelphia to San Francisco to Los Angeles to Hartford, Connecticut to Columbus, Ohio — are all asking the same question: why are fireworks going off every night?
Many people are attributing it to quarantine boredom. After being cooped up inside, mostly isolated, we've all developed some form of cabin fever. Some of us have turned to sourdough starters. Others, apparently, turn to pyrotechnics. Though we have no conclusive answers on the 2020 Fireworks Mystery, might as well speculate a bit. Here are 15 of the most buckwild theories Twitter has about the nightly fireworks.