Just 25 Photos From A Corgi Beach Party That You Probably Need Today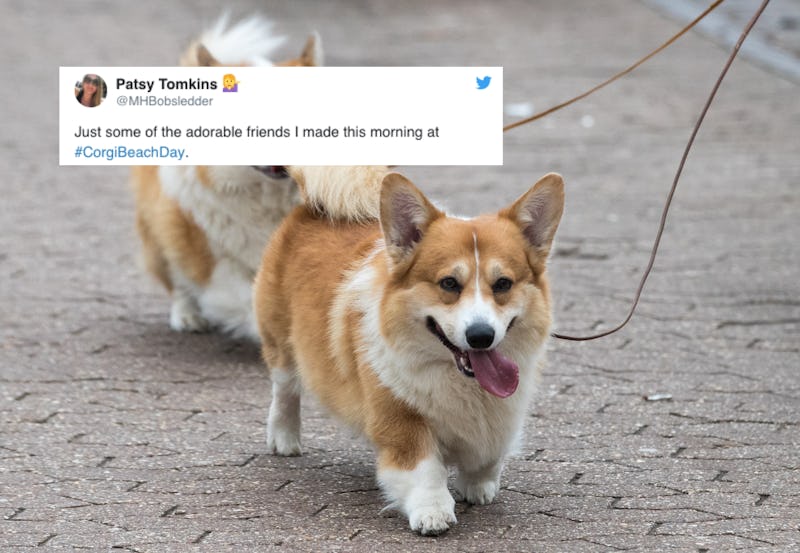 Matt Cardy/Getty Images News/Getty Images
And today in Things I Didn't Know I Needed, 150 corgis had a beach party in Vancouver, British Columbia, Canada on July 7 — and the photos of this corgi beach party are absolutely magnificent. Held at the Spanish Banks, a series of beaches (one of which is off-leash) on the coast of Vancouver, the Corgi Beach Day and Race brought corgis, their humans, and their friends together for a day of fun in the sun, complete with a race and a costume contest. All I can say is, it's a good thing social media exists; those of us who do not live in Vancouver and did not attend the event can easily live vicariously through all the photos of the party floating around Twitter. Because folks? There is so much cuteness here. Prepare yourselves — you might not be able to handle it.
The event, which was sponsored by pet treat and product company Earth Paws and pupper-oriented subscription box service Paws Bento, began making waves soon after it was announced; indeed, by Friday, July 6, over 2,000 people had noted on the get-together's Facebook Event page that they were interested in going, reported Vancouver outlet The Star. The organizers understandably grew concerned that the event had gotten too big than what their permits allowed for; said Olivia Zhang of Paws Bento to the Star, "We didn't really expect it to be that popular among non-corgi owners." By comparison, a similar event held the previous year attracted only about 50 people, event co-organizer Cindi Lunn told CTV News.
Lesson learned: Never underestimate how much people love corgis, whether or not they actually own one.
In any event, the organizers took to their Facebook page to request that non-corgi owners and people who aren't seriously considering becoming corgi parents in the future refrain from attending. "We sincerely ask for your understanding and we will work on permits and the necessary preparations to make this into an annual public event next year!" they wrote.
However, the Corgi Beach Party turned out to be a resounding success, despite the concerns about size, reports CTV News. Cindi Lunn told the outlet that she estimated around 1,000 people in attendance — plus, of course, the 150 corgis who came out to play. "It's really exceeded our expectations," she said.
And, of course, all you need to do is look at the photos circulating social media to see how much of a blast all those puppers, their humans, and other humans planning on becoming corgi parents soon had.
There was a corgi race:
Which might sound a bit unexpected — with their cute little legs, corgis aren't usually known for their speed (as a person who also has short, stubby legs, I can relate) — but, surprise! Corgis can really hustle when they feel like it:
According to Vancouver Is Awesome, the winner of the race was Theo, a Welsh corgi who Instagrams (or, y'know, whose human Instagrams for him) at @sincerelytheo. Theo won a prize pack from Earth Paws valued at around $100 in recognition of his efforts.
There was also a costume contest, hence the wide range of corgis scattered throughout these images all dolled up in fancy dress:
Vancouver Is Awesome reports that the winner was Tako, who, like Theo, has an Instagram page (@tako.corgi); Tako won a Paws Bento prize pack for his salmon nigiri costume.
Some famous furry faces appeared, include Bentley, the pupper who played Rapunzel the corgi on Dirk Gently's Holistic Detective Agency:
Bentley is excellent at playing dead, by the way:
I would expect nothing else from the finest of canine actors.
And, of course, there was plenty of time for all those furry little creatures and their human pals to hang out, play together, and make new friends:
Even a few non-corgis stopped by, as you can see in this video (yes, that's a Pomeranian at around the 44-second mark):
According to CTV News, the organizers hope to throw a bigger, better event next year — and I can't think of anything better to make an annual tradition. Keep those photos coming!