Books On Repro Rights Every Feminist Should Read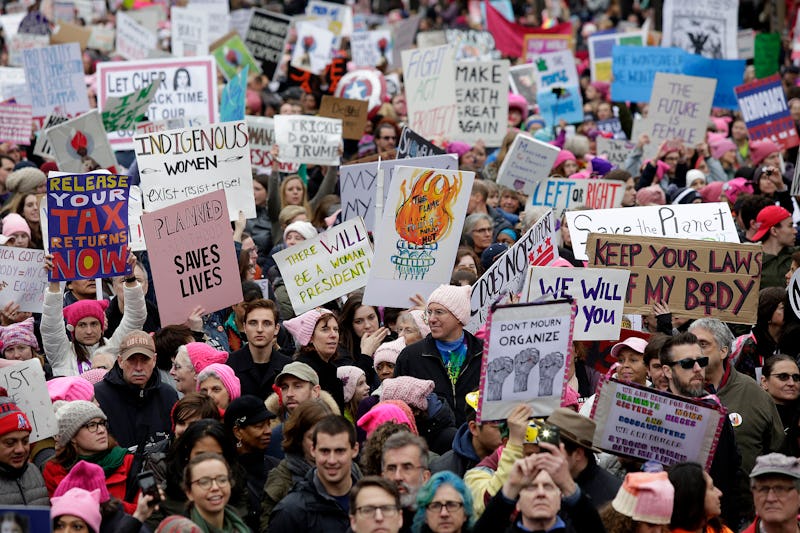 JOSHUA LOTT/AFP/Getty Images
You've probably seen the copy-and-paste Facebook messages about how the Women's March on Washington didn't represent pro-life women. If you're having trouble understanding what the issue is, never fear, because I've got 16 books to help you understand why being feminist means being pro-choice.
Whether she marched on Washington, in her hometown, or not at all, no woman can deny the power and significance behind Saturday's global protests. Millions of women came together to march for reproductive freedom, LGBTQIA equality, workers' rights, environmental justice, civil rights, compassionate immigration, disability rights, and an end to violence against women. The Women's March on Washington was all about intersectional feminism, making it a extraordinarily inclusive event.
However, some women didn't feel comfortable participating in the Women's March on Washington, or anywhere else. Many women of color had mixed feelings about the large turnout of white women for this event, compared to similar demonstrations against police brutality, and Native American women, in particular, experienced a disgusting number of racist microaggressions from white protesters. Of course, some White Feminists™ felt left out after Women's March organizers asked them to stay in their lane, because being asked to be respectful and having your entire identity questioned are totally the same thing, guys.
What got the most media attention, however, was this: The Women's March rejected requests from anti-choice groups looking to become official sponsors, because anti-choice efforts are diametrically opposed to the organization's position on reproductive justice, which includes "open access to safe, legal, affordable abortion and birth control for all people, regardless of income, location or education." Conservative outlets blasted the Women's March as hypocritical for sticking to their values, and got the results they wanted: anti-choice women either stayed home on Saturday or came prepared for a fight.
So, if you're wondering why reproductive rights matter so much to the Women's March on Washington that they would actually reject an alliance with an anti-choice group, here are the books you need to read.
Note: Most of the books on this list erroneously conflate being a woman and mother with having a vagina.