16 Donald Trump Jr. Tweets That Might As Well Have Broken The Internet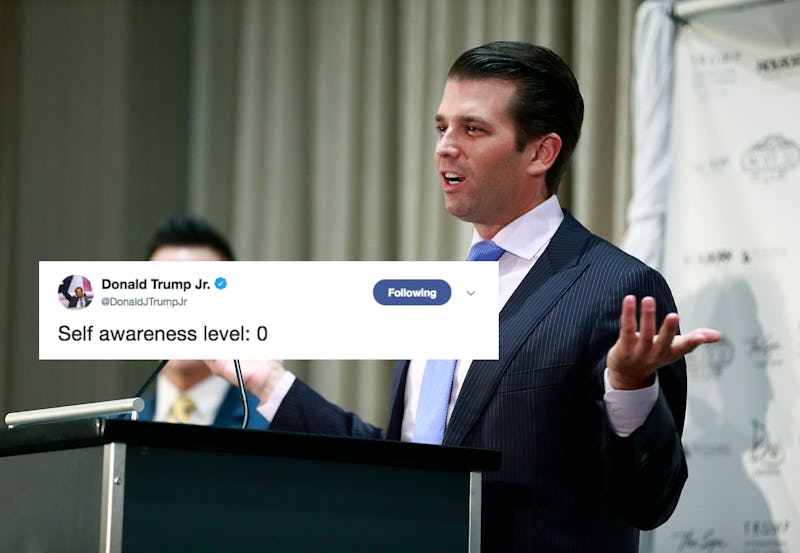 Jeff Vinnick/Getty Images News/Getty Images
Donald Trump's son has been living in the public eye for quite awhile, but what you might not know about him is that he loves Twitter as much as his father does. In fact, Donald Trump Jr. tweets pretty much constantly, and a lot of his tweets are pictures of food, clap-backs against people who don't like his dad, and questionable jokes at the expense of social movements. If you check out his feed, you'll see that if you scroll to the bottom where it loads more tweets, you'll still be on the same day as where you started at the top of his feed.
Over the course of his father's presidential campaign and time in office, Trump Jr. has tweeted some truly astonishing (and often incredibly controversial) pieces of content. He's a fan of attacking socialism, retweeting conservative influencers and publications, and standing up for his dad whenever possible.
Like his father, Trump Jr. also has a penchant for releasing important information via his Twitter feed, in lieu of the more traditional setting of a press conference. For example, Trump Jr. released his emails with Russian diplomats via a Twitter post.
Donald Trump might be the king of Twitter, but his son isn't too far behind. Here are 19 times Trump Jr. basically broke the internet with his astonishing tweets: