Here Are All The Republicans Who Voted "No" On A Disaster Relief Bill For Hurricane Victims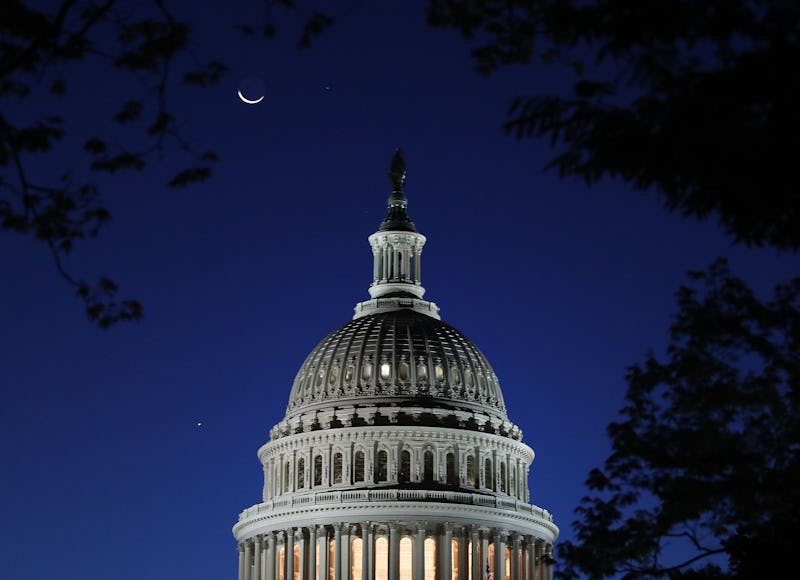 Mark Wilson/Getty Images News/Getty Images
Sixteen powerful men in Washington, D.C., voted against aid that would help millions of Americans across the country dealing with natural disasters, including those suffering in Puerto Rico with no electricity or clean water. On Monday evening, 16 GOP senators voted against a disaster relief bill that would have provided $36.5 billion to federal programs that help, like FEMA, the national flood insurance program, and emergency food assistance for Americans in Puerto Rico. Still, the bill advanced anyway, with a vote of 79 to 16, and a final vote could happen Tuesday.
During the debate, Florida Sen. Bill Nelson proposed more aid for those dealing with Hurricanes Irma, Harvey and Maria, The Hill reported. But Senate Majority Leader Mitch McConnell blocked the increase, while saying the Senate "remains committed to doing its part to support the ongoing hurricane relief efforts." McConnell called it a "multistage process" and reiterated the Senate's commitment to hurricane relief efforts.
When the House passed the same bill, 69 Republican representatives voted against the measure; not one Democrat joined them. When the bill passed the House nearly two weeks ago, some legislator believed that more money would become necessary. Now Republicans are putting up a fight in the Senate, pushing for spending cuts that offset the spending (while also pushing a tax plan that could add more than $1 trillion to the deficit).
Here are the 16 senators who voted against helping their fellow Americans (Bustle has reached out to them for comment).