These 16 Spider-Man & Iron Man Memes Showcase Their Father-Son Bond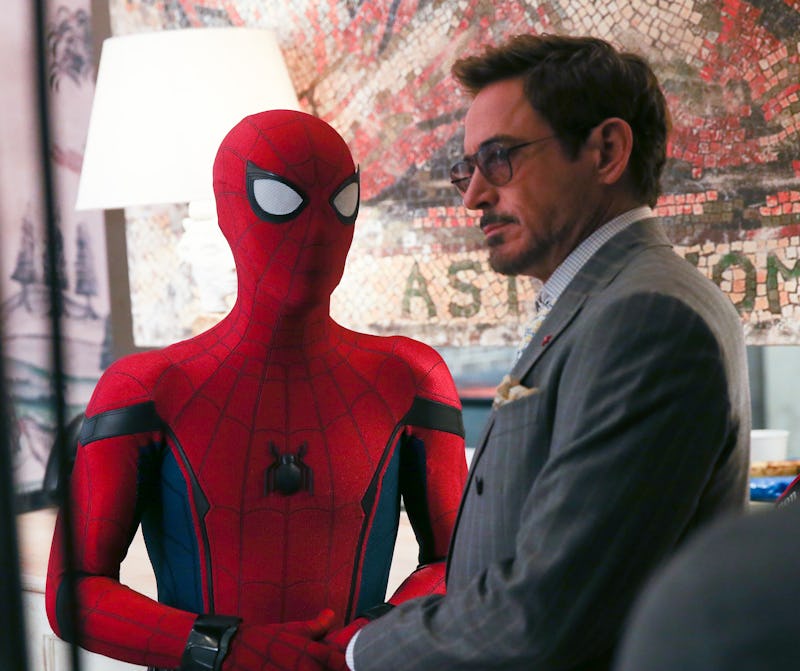 Rob Kim/Getty Images Entertainment/Getty Images
As Avengers: Endgame is released, the Marvel clan as we know them will take on a new form...(too soon?). Two fan-favorite superheroes whose fates hang in the balance are Iron Man (Robert Downey Jr.) and Spider-Man (Tom Holland). Though viewers can look forward to the release of Spider-Man: Far From Home on July 5. Still, the Iron Man and Spider-Man memes that have come from their iconic team-up are worth revisiting in the aftermath of the epic that is Endgame.
Spidey and Stark were natural friends from their first interactions in 2016's Captain America: Civil War and Spider-Man: Homecoming capitalized on the chemistry between Holland and Downey Jr. Who better than Tony Stark, the father of the Marvel Cinematic Universe, to lead Peter Parker on his journey from everyday high school kid to Thanos-fighting Avenger? Whether they were squabbling over Spider-Man's suit or bonding over the end of the world, one would be hard pressed to find a more enjoyable MCU partnership. Fans have seemingly agreed, taking to all corners of the Internet to post memes about the superhero pair. And a lot of them emphasis a sort of father-son connection between them.
Whether you've seen Endgame and need help coping, or you're emotionally prepping for the movie, it's always a good time to get lost in some Marvel memes. Reminder: some of the Avengers cast could've seen these in the secretive Groupchat we now know exists (!!).