What 'Pump Rules' Fans Don't Know About Scheana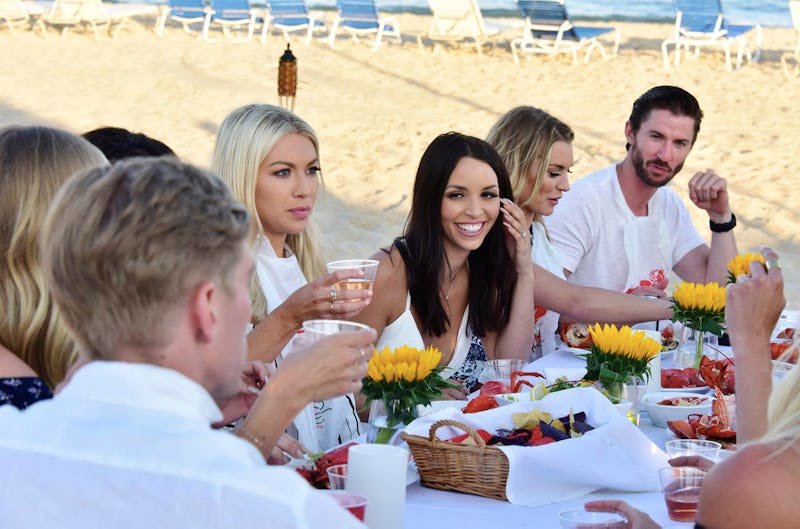 Eugene Gologursky/Bravo
Pretty much everyone who is a part of the Vanderpump Rules cast has no qualms when it comes to sharing their lives and opinions. Nevertheless, it is a pretty big ensemble cast and the episodes only have 40-something minutes of footage each week if you take out the time for commercial breaks, so we don't get to see everything about everyone, of course. With that said, there are probably plenty of things you don't know about Scheana Shay, for instance.
Sure, Scheana has been front and center on the show since Season 1, but watching every single episode doesn't even scratch the surface when it comes to actually getting to know a person, even a reality TV star. There is a lot more to Scheana than being a reliable waitress at SUR and navigating her way through the cool girl clique of Stassi Schroeder, Kristen Doute, and Katie Maloney.
Unfortunately, there are actually a lot of cool things that just don't make the cut when it comes to the episode plot points. Luckily for the viewers, Scheana is very into sharing her life on social media, but even the biggest fans can miss some interesting fun facts here and there.
Did you know these facts about Scheana Shay?
1. She Is A Disney Fanatic ‌
If you follow Scheana on social media, you know that she is all about Disney and she goes to Disney Land whenever she can. She referred to it as her "happy place" on Instagram and Scheana has tweeted about "needing [her] Disney fix."
2. She Loves Jem And The Holograms
‌Scheana is such a big fan the comic series Jem and the Holograms that she and her friends dressed up as the characters for Halloween. Obviously they went all out with it, but it's not surprising since Scheana knows what she's doing since she has dressed like Jem in the past.
3. She Is A Cat Lady
If you follow Scheana on Instagram and Snapchat, you probably recognize her two purrrrfect cats Salem (who I'm hoping is named after the cat on Sabrina the Teenage Witch) and Penny Lane, who is named for the movie Almost Famous and not The Beatles song. Speaking of...
4. She Has A Tattoo Inspired By Almost Famous
Considering that she has a cat named Penny Lane, it's definitely not a stretch to say that Almost Famous is one of Scheana's favorite movies. Not only that, but she got her "It's all happening" tattoo on her arm when she got engaged in honor of the film.
5. She Is A Britney Fan
I mean, who isn't a Britney Spears fan? Scheana is definitely a super fan though. Not only has she been to Spears' Vegas show, but she has also tweeted about Britney a bunch of times over the years.
6. She Looked Like Britney Growing Up
As a Britney Spears super fan, I could not believe the resemblance between baby Scheana and young Britney. They could easily be related!
7. She Is A Gym Rat
Scheana works hard in the gym. If you follow her on social media, you know she never seems to miss a workout.
8. She Wears Color Contacts
No, your eyes aren't deceiving you, if Scheana's eyes look different from one scene to the next to you that's because they probably are. Well, her eyes obviously haven't changed, but she does have them covered with blue contacts and isn't afraid to admit it.
9. She Always Has Her Nails Done
Not only does she always have perfect hair and makeup in every Vanderpump Rules scene, but it also seems like she has her nails done at all times.
10. She Is A California Girl
Most of the people on Pump Rules started working at SUR after they moved to California to pursue entertainment careers, but Scheana is a born and raised California girl who grew up in Azusa, according to the bio on her website.
11. She Is A Die Hard Chargers Fan
Scheana's favorite NFL team is the Chargers, which makes sense since she is a lifelong California resident. More often than not, Scheana is rocking a jersey on game day and repping her team.
12. She Is Friends With GG From Shahs Of Sunset
I feel like most people who are on successful Bravo shows end up meeting eventually, but it seems like Scheana and GG have a genuine friendship. Or at the very least, they've taken a bunch of photos together over the years.
13. She Is A One Direction Fan
Who doesn't like One Direction? Scheana is so lucky that she actually got to meet Harry Styles.
14. She Is Featured In The "Famous Favorites" Section Of Dylan's Candy Bar
You know you've made it as a celebrity (and candy enthusiast) when you get your own mini bin with your favorite candy at Dylan's Candy bar.
15. She Loves Singing Along To Leann Rimes
I'm hoping Scheana's Leann Rimes fandom is genuine and not a dig at Brandi Glanville, but she has mentioned her love of Leann's song "Can't Fight the Moonlight" from the movie Coyote Ugly a bunch of times throughout the years. Before posting the photo evidence of her getting her Coyote Ugly on atop a bar, Scheana tweeted Leann saying, "Heading into @CoyoteUglyLV so, @leannrimes should I get on the bar and sing Can't Fight The Moonlight? jk."
16. She Uses Bitmojis Whenever She Can
Just like a lot of us, Scheana enjoys using her Bitmoji to express herself whenever applicable. From wishing her followers a Merry Christmas to saying goodbye to the universally hated year 2016, Scheana always finds the right emoji for the occasion.
Thankfully, Scheana's whole life doesn't revolve being in the middle of dueling cliques and she actually has the time to do some fun things. If you didn't already have enough reasons to love Scheana based on what we get to see on Vanderpump Rules, I bet that these fun facts have turned you into an even bigger fan.