People Are Creating "Trump Scout Badges" On Twitter & These 16 Are Exceptional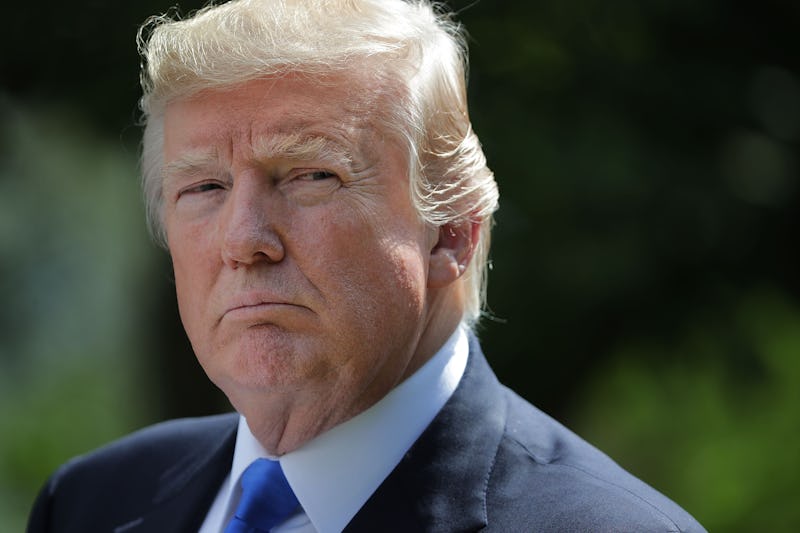 Chip Somodevilla/Getty Images News/Getty Images
As observers mocked Trump's Monday night speech to an assembled group of Boy Scouts — in which the president forgot Boy Scouts couldn't vote, crowed about his "victories" over Obama and Hillary Clinton, and told haphazard personal stories — HuffPost Comedy had an idea. "Let's play #TrumpScoutBadges!" it tweeted Tuesday afternoon as part of its "Hashtag Roundup" online game. "Trump Scout Badges" swiftly became a trending topic on Twitter, and just like that, a new meme was born.
In the hours since Trump delivered a rambling 35-minute speech to the Boy Scouts of America at the organization's annual Jamboree, his critics have used the Boy Scouts' values and memorabilia to mock the president. Alexandra Petri of the Washington Post penned the satirical "A guide to Boy Scout ranks and badges, revised for Trump Scouts" for its ComPost blog, for example. "Public Health Badge: Punch or body-slam a journalist or protester!" she joked.
After all, the Boy Scouts are supposed to teach boys honor, courage, kindness, humility, and any number of other laudable traits. Trump's decidedly non-humble speech makes the incident an easy target for mockery.
Some of the best "Trump Scout Badges" examples include...
Wildlife Conservation
Deportation
Planting Ideas
Mockery
Disabilities Unawareness
Projection
Aggravating Bernie
So Many Badges
Personal Trump Badges
Putin's Puppet
Douchebag Badge
Golf
Being Creepy
Tanning
Being Over Your Head
Hypocrisy