17 Celeb Cameos In 'Ocean's 8' You Might've Missed, Including More Than One Kardashian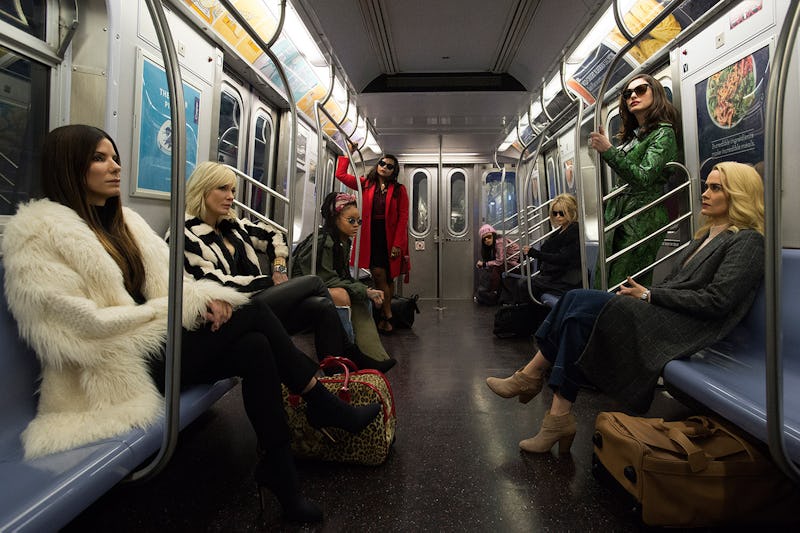 Small spoilers ahead. The annual Met Gala is, without question, the event of the season, which is why Debbie Ocean and her friends in Ocean's 8 plan to rob it. And the red carpet (or steps, as it were) is a who's who of Hollywood in all industries, so it makes sense that the cameos in Ocean's 8 run the gambit from one of the greatest athletes in the world to a few Kardashians. That's not all, though; fans of the previous Ocean's films might find themselves surprised to also see a few familiar faces sprinkled throughout the new movie.
The Ocean's 8 cameos come at different parts of the film, but a majority of the celebrity appearances occur during the Met Gala scenes, actually filmed at the Metropolitan Museum in New York City. Getting A-list celebrities to make cameos in Ocean's 8 required quite a bit of planning, and the creation of an exclusive (and temporary) club. "We realized these people wouldn't come and be normal extras in a holding pen for 8 hours," director Gary Ross told Cinemablend. "So we created a club upstairs in The Met in their member's dining room at night. We called it 'Club Oceans' and it was a party of all famous people hanging out, having a good time."
If rubbing elbows with fellow celebrities wasn't enticement enough, the production also had jewels from Cartier on hand to lend to their famous extras. "There were Cartier jewels that they could all put on and wear. There was good food. So they all got to go to a party." Whenever the filmmakers needed a fresh celeb, they just took them out of the party for a bit to shoot a scene, and that's that. As a result, the Met Gala in Ocean's 8 is so filled with celebrity appearances, it's impossible to spot them all. This list of cameos in Ocean's 8 gives it a try, though.