17 Elizabeth Warren Memes To Share On Social Media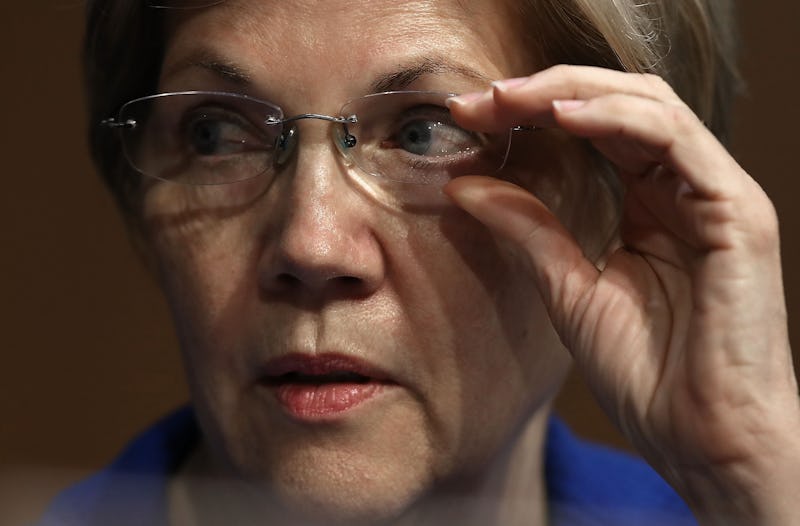 Win McNamee/Getty Images News/Getty Images
"She was warned. She was given an explanation. Nevertheless, she persisted." By now, millions of women are familiar with the words Senate Majority Leader Mitch McConnell used to silence Democratic Sen. Elizabeth Warren during debate on Sen. Jeff Sessions' attorney general nomination. But while Republicans may have been hoping to keep Warren's message from getting out, their move to shush her has served only to amplify her voice. In fact, McConnell's words have become a powerful rallying, inspiring dozens of tributes to the outspoken Sen. Warren.
McConnell led Senate Republicans Feb. 7 in barring Sen. Warren from reading a letter written some 30 years earlier by activist Coretta Scott King, the widow of famed civil rights leader Martin Luther King, Jr., which outlined King's opposition of Sessions' nomination to a federal judgeship. McConnell accused Warren of violating Senate rules that prohibit senators from impugning another member and barred her from participating in floor debate on Session's nomination.
While McConnell argued he was simply enforcing Senate Rule 19, many women saw what happened in the Senate on Feb. 7 as a textbook example of men moving to keep women silent. Since McConnell's words have become a powerful rallying cry for Sen. Warren and her supporters.
Here are 17 Elizabeth Warren tributes you can share on social media to show your support for the Democratic senator:
Warrin' Warren
In a cartoon for the New Yorker, cartoonist Tom Toro portrays Sen. Warren in a pose of resistance inspired by Rosie the Riveter.
A Woman's Place Is In The Resistance
What do you get when you mix one part Sen. Warren with one part Princess Leia? A powerful symbol of feminist resistance.
Women Who Fight Back
While Senate Republicans may have succeed in barring Sen. Warren from participating in the final day of floor debate on Sessions' nomination, she's not one to go down without a fight.
Ladies, Let's Get In Formation
Words meant to silence Sen. Warren have unleashed a tidal wave of women's voices.
Wise Words
"If you don't have a seat at the table, you're probably on the menu," Warren said in a September 2014 speech. "Washington works for those who have power. And no one gives up power easily, no one. … Nobody's just going to say 'women have arrived and let's just move over.' … We have a chance but we have to fight for it."
Persist
Sen. Warren, coming soon to a protest sign near you.
Nobody Puts Warren In A Corner
"We won't be silent. We will speak out. And we WILL persist," Sen. Warren tweeted Thursday in a warning to those trying to silence any opposition to Trump's administration.
Warren 2020
The countdown is on for those eager to see Sen. Warren launch a presidential campaign.
We Will Not Be Silenced
Whether they are labeled nasty, difficult, angry, or persistent, women are leading efforts to oppose and resist Trump's White House administration.
Mitch, Please
Senate Republicans have learned the hard way that Sen. Warren isn't a woman they can silence.
Persist Is What Women Do
For many women, Sen. McConnell's words became both a powerful rallying cry and a succinct summary of the history of feminism.
Guardian Angel
Show your love for Warren's willingness to speak out with this heartfelt GIF. Valentine's Day is only a few days away.
Warrior Women
The official Instagram for Comedy Central's Broad City reimagined Joan of Arc as Sen. Warren and Sally Yates, the acting attorney general Trump fired for declining to defend his executive order on immigration.
Can You Hear Her Now?
McConnell may have temporarily silenced Sen. Warren's voice in the Senate, but her colleagues have helped elevated her message to the masses.
A Symbol Of The American Spirit
McConnell's move to silence Sen. Warren has made her a powerful symbol of resistance.
Tough Women
When times get tough, tough women get it done.
Let Liz Speak
Although simple and to the point, the hashtag #LetLizSpeak began trending on Twitter earlier in the week as Sen. Warren's supporters rallied around her.