17 Funny "Go Buy Ivanka's Stuff" Tweets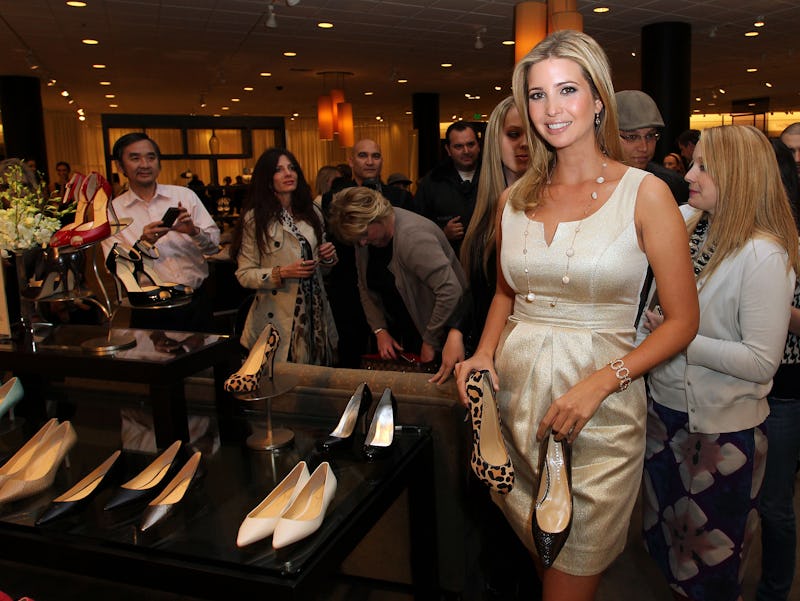 Frederick M. Brown/Getty Images Entertainment/Getty Images
Did the White House start off their Thursday morning with an ethics violation? That's the question many are asking after Kellyanne Conway appeared on Fox & Friends and encouraged viewers to "go buy Ivanka's stuff." Her statement came just a day after President Donald Trump tweeted that his daughter was "treated so unfairly" by Nordstrom in response to the retailer's Feb. 2 announcement that it would be dropping Ivanka Trump's clothing line from their stores due to poor sales. It's unclear yet how much of that poor sales performance was a result of Trump's election, the #GrabYourWallet boycott campaign, or an organic lack of demand for her products. Nevertheless, Twitter users jumped right in to ridicule Conway's questionable promotion.
The counselor to the president seemed to present her call to action as a feminist one, saying:
They're using her, who has been a champion for women empowerment, women in the workplace, to get to him. I think people could see through that. Go buy Ivanka's stuff is what I would tell you. I hate shopping. I'm going to go get some myself today.
Conway later added, "I'm going to give a free commercial here. Go buy it today, everybody. You can find it online."
Also found online? Many people who will decidedly not be buying Ivanka's stuff. Here are some of the funniest tweets about the debacle.
First, An Alien Reference
Some Apt Reaction GIFs And Pics
From Top Shelf To Discount Rack
Remember When They Said...
Some Potential Solutions
Just No
This is at least the second time someone from the Trump administration has endorsed a particular brand and business. In January, Trump sent a tweet encouraging people to buy from L.L. Bean.
Aside from those responding with humor, some online are sharing pictures of packaging and labels indicating that items from Ivanka's fashion line are made in China. This fact is directly in conflict with Trump's insistence on buying American-made goods and taxing companies that bring manufacturing jobs overseas to countries like China. Still others are focusing on the federal ethics law that Conway may have broken during her appearance on Fox & Friends.
Despite the accusations, Trump's team seems unfazed. White House Press Secretary Sean Spicer addressed the controversy surrounding Ivanka's business shortly after Conway's possibly unethical remarks, saying, in the day's White House press briefing that Nordstrom's decision to pull the line was "a direct attack on [Trump's] policies and [Ivanka's] name, so there is clearly an attempt for him to stand up for her because she is being maligned." The country will soon see how much Conway's endorsement will hurt or help the Ivanka Trump clothing brand.