Erika Jayne's Best Hair Moments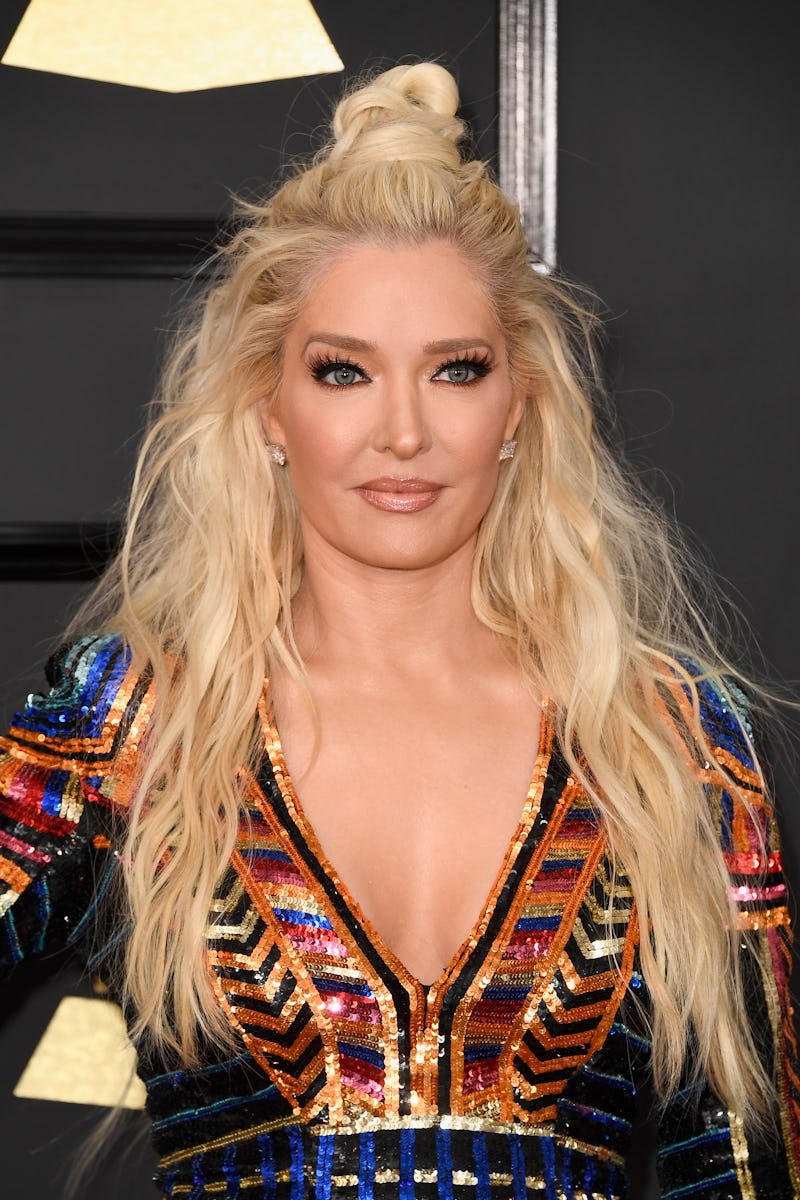 Frazer Harrison/Getty Images Entertainment/Getty Images
I don't think that I (or any mere mortal) could pull off the looks that Erika Girardi (aka Erika Jayne) rocks on Real Housewives of Beverly Hills, but I guess that's why she's has an alter ego: to get away with any hairstyle she wants. Even though she has only been on the show for two seasons, we have been blessed with the best hair moments thanks to Erika Jayne. Whether you love or hate the styles, Erika really knows how to create a moment and get everyone staring. She's not just throwing her hair in a bun.
I mean, she travels with a glam squad that creates printed books full of her upcoming looks, so of course she is going to serve it when it comes to her hair. Everything with Erika is totally orchestrated when it comes to appearance. From the big wigs, to the extensions for volume, to the sleek ponytail, she is always switching it up. The only thing that remains constant is the blonde hue — except for that time she rocked that pink wig for Lisa Vanderpump's Diamonds and Rosé Party.
Sure, Erika plays up the blonde bombshell persona, but with a lot of variety. Here are some of her most memorable styles.
1. When She Channeled Old Hollywood Glamour
Erika looked reminiscent of a classic movie star with her hair swept to the side with a loose soft wave.
2. When She Rocked That Giant Wig
This wig was larger than life. I just wonder how heavy that was to wear.
3. When She Resembled Little Bo Peep
Not just anyone would choose this look.
4. When She Sported A Top Knot
I think Erika has the prettiest hair, but I feel like I'm the only person who can't get on board the half up, half down bun thing. It isn't my cup of tea, but she was definitely on trend.
5. When She Pushed Her Hair Back Into A Big Bun
The long, flowing locks are her thing, so it was definitely a change for her to look like us normal people with her hair up in a bun. She kills it though.
6. When She Looked Like A Mermaid
These mermaid waves are what I'm most accustomed to seeing. They always work for Erika.
7. When She Slicked It Back For A High Ponytail
She really did look too good to be fighting on a beach.
8. When She Gave Off "Girl Next Door" Vibes
Even though I know it took her team a lot of effort to create this "no effort" look, I cannot help having hair envy... again.
9. When She Pinned It Back With Lots Of Volume
Once again, I can't help thinking about who else would choose this look, and once again, I cannot think of a single person.
10. When She Straightened Her Hair
Erika usually has so much going on, so this was definitely a refreshing and more low-key change.
11. When She Looked Sleek & Perfect
Her hair (or hair and extensions combo) is just so perfect. She manages to make the most simple styles look special.
12. When She She Looked Super Fierce
She really gave me some supermodel vibes with the major volume and wild waves.
13. When She Had The Most Superior Messy Bun
Every strand is just the perfect amount of "messy." She is owning this look.
14. When She Accentuated Her Look With Some Jewels
As if Erika didn't have enough jewels on her fingers, around her wrist, in her ears, and on her neck, she had to add an accent to her hair. Go big or go home.
15. When She Went All Out In Hong Kong
I'll never forget when Erika wore victory rolls on vacation.
16. When She Had A Little Pink Braid In The Middle
I really don't know what to make of this one, but I do love pink, so I'll give an A for originality.
17. When Even She Couldn't Bother To Do More
We are so accustomed to Erika's extreme hairstyles that it is actually a million times more shocking when she just looks like a regular person with a hat covering her hair.
Erika's hair is really a work of art. She's always experimenting and she can't help stealing the show with whatever style she chooses.