18 Erika Girardi Gifs For Bluntly Honest People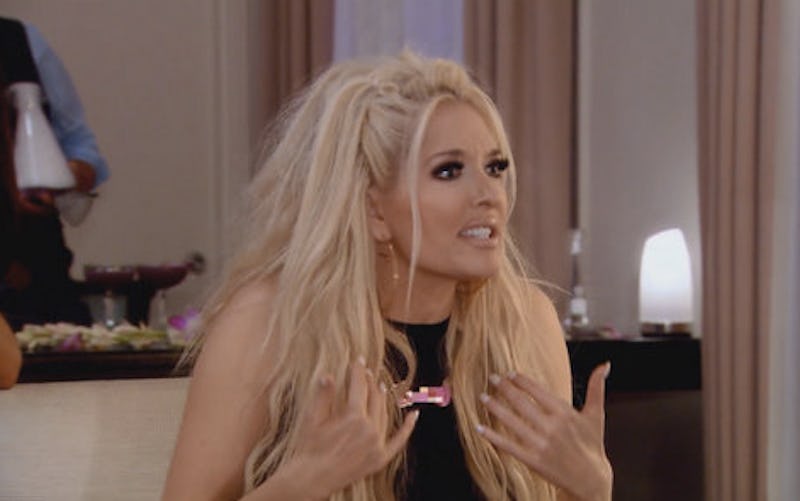 Season 6 of the Real Housewives of Beverly Hills introduced a new Housewife many viewers couldn't get enough of. Obviously, I'm talking about Erika Girardi, aka Erika Jayne. If RHOBH returns for another season (and I highly doubt it wouldn't), here's hoping Erika also returns. Not only would I miss her ability to not give two sh*ts about others' opinions regarding her singing career or the fact that she is 44 and married to 76-year-old lawyer Thomas Girardi, but it would be beyond devastating to no longer hear the honesty that pours out of her mouth. She is one of the most truthful Housewives and doesn't care if anyone agrees with that she has to say. So, with that, let's honor Erika Girardi's honesty in gif-form.
Erika's blunt honesty was truly refreshing during a season of RHOBH that heavily revolved around many of the Housewives questioning Yolanda Hadid's battle with Lyme disease. Whenever most of the Housewives could get a chance to discuss Yolanda and whether or not she was truly sick, they did. It got to a point where I couldn't wait for the season to come to an end, just because it was It's as frustrating and horrible as it sounds.
Thankfully, Erika was there to diffuse a lot of the situations with her witty remarks and truthful comebacks. She, like most individuals, isn't about the drama, lies, or disloyal friends. So, here are a few of her best gifs that will speak to anyone who is just as honest as Erika Jayne is when it comes to telling all of the Housewives they need to bring it down a notch.
1. When She Got Beautified For Nothing
Seriously, who wants to fight on a beach in Dubai?
2. When She Didn't Have Time For BS
She speaks straight to my heart.
3. When Her Facial Expression Said It All
The facial expression appropriate for every dramatic Housewives moment.
4. When She Came Up With A New T-shirt Slogan
I don't like tequila, but I still believe her.
5. When She Realized A Truth About Weekends
Never enough time.
6. When She Didn't Have Time For Criticism
That's how you respond to judgment.
7. When She Explained Her Career
Hell no she isn't. She's freaking Erika Jayne.
8. When She Gave It Right Back To Bethenny
I think Bethenny met her match.
9. When She Gave It To Bethenny, Again
Oh snap.
10. When She Declared Her Husband's Age With Pride
Get it, Erika.
11. When She Admitted Her Love Of Eating
If you want it, eat it.
12. When She Revealed The Truth About Erika Jayne
Well, he's missing out.
13. When She Spoke To Everyone Who Wants More Money
That's how I feel every time I spend part of my paycheck.
14. When She Made It Clear Who She's Friends With
Damn straight.
15. When She Brought Her Glam Squad To Dubai
The only way to travel.
16. When She Talked About Touring Struggles
Sometimes life is hard.
17. When She Owned Her Buzz
Can we party together, Erika? Please?
18. When She Said What Everyone Was Thinking
You know it.
Thank you, Erika, for being your beautiful, honest, and no time for bullsh*t self.
Images: Bravo; realitytvgifs (18), genarowlands, sidewindervx, bricesander, beamlyus/Tumblr