17 At-Home Workouts You Can Do With Resistance Bands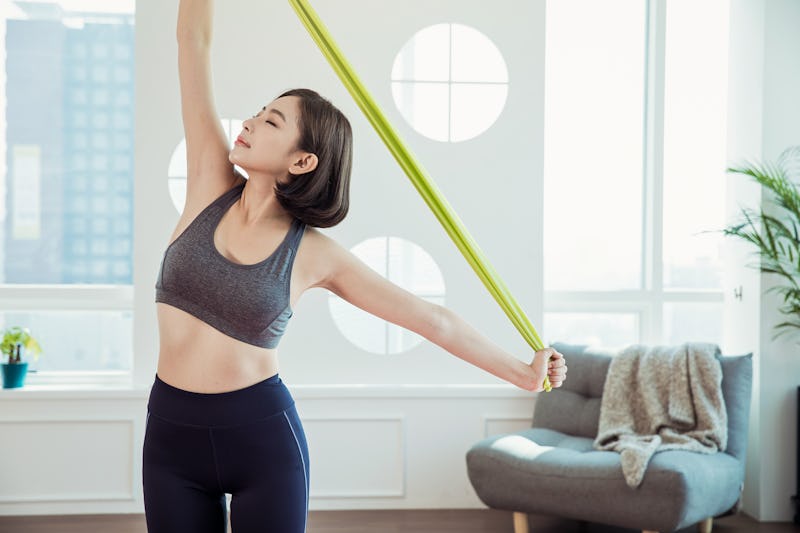 Plan Shoot / Imazins/ImaZinS/Getty Images
Practicing social distancing, now rounding its fourth week for many of us, means finding creative ways to work out without access to a gym. But if it turns out that you've got some resistance bands left over from physical therapy after that shoulder injury, you're in luck. At-home resistance band workouts can help you push away stress and maintain those gym gains, all at the same time.
"Resistance bands can in fact act like weights," says Dr. James N. Gladstone, MD, chief of the Sports Medicine Service and associate professor of orthopedic surgery at the Icahn School of Medicine at Mount Sinai. "Exercise bands are great to use to get some exercise in, keep your muscles twitching, build strength, and create movement, especially in these times where there's nowhere to go and you are confined to smaller spaces."
Resistance bands come in all shapes and sizes, so you can think outside the box (erm... band) with these movements. "Every type of band typically has a different level of resistance based on its thickness and material — so just one or two different bands can provide a really great and versatile at-home workout," says Mary Johnson, Strava strength training coach and founder of the coaching service Lift, Run, Perform.
Turn these 17 resistance band exercises into full workouts by picking five to eight moves at a time and cycle through each move one after the other, resting as needed. Doing at least 10-15 minutes of this kind of activity at least three or four times a week will help keep your heart healthy and your muscles strong.