17 Moments From 'The O.C.' Season 2 Finale You Forgot About As Soon As Marissa Shot Trey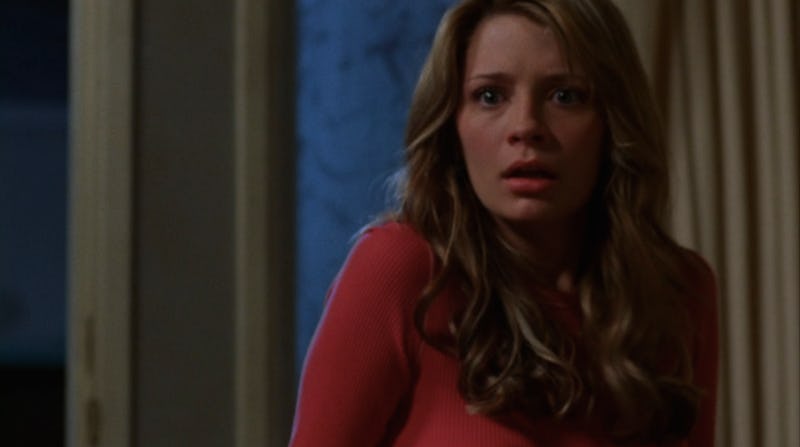 Warner Bros. Television
The most memorable moment in O.C. history — for fans and non-fans alike — came at the very end of the second season when Marissa shot Trey and Imogen Heap's "Hide and Seek" began playing as the bullet pierced his back. Yet while this cliffhanger is unforgettable for good reason, there was actually a lot else going on in the O.C. Season 2 finale, too, that you might've forgotten in the wake of that shocking scene.
Aside from everything that led up to Ryan and Trey's big fight and Marissa saving Ryan's life, the other two big things going on in this episode were Caleb's funeral and Kirsten's trip to rehab. While there are a couple jokes here and there courtesy of Seth and Julie, overall this is an incredibly heavy episode.
The fact that "The Dearly Beloved" begins with a funeral and ends with a main character shooting someone is intense enough on its own, but fans of the show might have forgotten that this episode also included another shooting, the revival of Jimmy and Julie's romantic relationship, and what is possibly the best performance Kelly Rowan gave during the series.
When Marissa pulled that trigger at the end, that was all anyone could think about, so let's revisit the episode and take a look back at what else happened.
1. Seth Finding The Rehab Brochure
The episode begins with Seth finding the brochure for the rehab center Sandy has in his office. And, yes, Seth does try to make this all be about himself at first.
2. The Gun Coming From Jess
Remember Jess? The party girl turned drug dealer, who starts hanging out with Trey? She's the one who provides the gun that Marissa ends up using, because she first uses it in a drug deal. Jess is awful.
3. "Hide And Seek" Playing Very Early On In The Episode
We all remember "mmm whatcha say" and The O.C. really made the Imogen Heap song iconic, but it doesn't just play at the very end of the episode after Trey is shot. The song plays throughout the scene with Caleb's funeral.
4. Caleb's Funeral
For one brief moment they are all calm and able to bond over Caleb's death.
5. Trey Working At The Bait Shop
During the time that he lives in Newport, Trey works at The Bait Shop. Apparently.
6. Seth Not Knowing If He Still Works At The Bait Shop
Seth was also a Bait Shop employee for a while, and the show just kind of stopped mentioning it. Seth jokes about this during the finale and says, "Do I still even work here? I should find out for tax purposes."
7. Kirsten Yelling At Sandy
When people come over to the Cohens' house after Caleb's funeral, Kirsten gets really drunk and yells at Sandy to "Get your hands off me!" when he's trying to talk to her about drinking too much. Her bottle of vodka goes smashing to the ground, and for Sandy, it's the final straw.
8. Jess Shooting The Gun
Jess decides The Bait Shop is the perfect place to do a drug deal, and has her, uh, customers try out her goods on a table just out in the open. (Maybe The Bait Shop could use some more employees.) When they don't agree to pay what Jess wants, she starts firing above their heads and they fire back. An entire shootout occurs in this episode and it's forgettable. That's saying something.
9. Marissa Getting A Huge Cut On Her Head
After the shooting, Marissa has a lot of blood on her face and it at first looks like she was grazed by a bullet. It turns out she was cut by glass that broke in the commotion.
10. Ryan Kicking Trey Out Of Newport
Before Ryan even learns for sure that Trey assaulted Marissa, he tries to kick him out of Newport. If only that had actually worked.
11. Seth & Sandy's Rehab Convo
Warner Bros. Television
Warner Bros. Television
Sandy talks to Seth about wanting to send Kirsten to rehab, and Seth is very apprehensive at first. He tells his dad, "How do I know you didn't cause her to drink?" Thankfully, he soon comes around.
12. Ryan Saying Sandy Is Doing The Right Thing
Ryan thinks Sandy is doing the right thing by staging the intervention, and he tells him. This is shown further during...
13. Kirsten's Intervention
Kirsten's intervention is devastating to watch. First, she returns from a spa day with Hailey in the sort of good mood that makes you think maybe she'll be fine without rehab. Then, things really get going and Kirsten gets defensive, even telling Ryan, "Oh, don't you say a word. I let you into this house." His response? "Yeah, you did, because my own mom couldn't take care of me. Because she wouldn't get help even though I asked her to. I don't want to see that happen again to someone I love." Heartbreaking. Then, Kirsten finally gets convinced when Seth tells her, "Please, you gotta do this." It's easily one of the most emotional scenes from the entire show.
14. Julie & Jimmy Getting All Romantic
Julie and Jimmy wait what many would agree is an immorally short amount of time after Caleb's death to rekindle their romance. They break the news to Marissa by saying that they're going to have dinner as a family and Jimmy adding, "And, uh, breakfast." Yikes.
15. Jess Inviting Trey To Vegas
Jess is always doing the most — in the worst way — so of course she invites Trey to Vegas to gamble the money she made illegally. "I'm gonna go home and pack, steal my stepdad's Beemer, and I'll be back at 8," she tells Trey, not knowing that things are about to really take a turn for him.
16. Seth's Oliver Joke
After Kirsten leaves for rehab, Seth and Ryan float in the pool to try to relax when the doorbell rings. "The way things have been going I bet that's Oliver," Seth jokes. It's a great moment of self-awareness from the show when it comes to how terrible Oliver was, but at the door there really is bad news: Summer is there to tell Seth about Trey attacking Marissa.
17. Ryan Finding Out About Trey & Marissa
Warner Bros. Television
Warner Bros. Television
It's easy to picture Ryan and Trey's fight, but the way he finds out about Trey assaulting Marissa, which makes him go fight his brother, happens very quickly at the end of the episode. Marissa tells Summer what happened, Summer goes to the Cohen house and tells Seth, Seth decides that Ryan needs to know and tries (unsuccessfully) to keep him calm, and Ryan gets all action movie and says, "All year I have tried to be a different person. I can't do that anymore." The next thing you know, Trey is strangling Ryan and Marissa is shooting him. For such a huge turn of events, it takes up very little time in the episode.
At this point, there are only about five minutes left, and we all know what happens then. Marissa shoots Trey. And ends up having to transfer schools. And Taylor Townsend shows up. And Volchok. And a scammer lady tries to con Kirsten at rehab. Mmm whatcha say, indeed.