17 Things Under $20 At Costco You Can't Resist Buying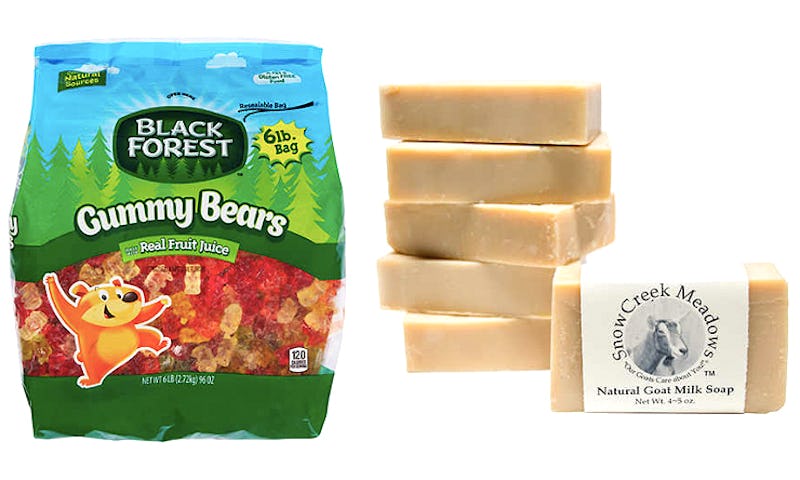 Costco
When you think about Costco (if you ever think about Costco), I wouldn't be surprised if you mostly think about giant boxes of cereal, huge packages of toilet paper, and pretty much anything else that's best suited for someone with a lot of storage space to buy. If that's your primary association with the warehouse club and you don't have enough storage space for things you already own, you may have written the place off years ago. The truth is, though, that Costco can be a magical place even for everyone. Just to prove my point, I've assembled a list of things under $20 at Costco that you can't resist buying. No, seriously, you can't resist them.
The Costco devotees out there won't be surprised by any of this. Yes, the store is great for people who need to seriously stock up on basics, but there is something for everyone there — even people who live in a small apartment with no storage space (hi!) — and it's all at a crazy low price too. Whether you're interested in buying larger quantities of your favorite snack foods (again, hi!) or combing through the massive selection in pursuit of some non-grocery gems, I'm pretty sure you'll find at least one thing that you just have to have at Costco. Here are just a few options.
Gummy Bears
Black Forest Gummy Bears (6 lbs), $11
Six pounds of gummy bears? Costco, consider me sold. I see you telling me they also happen to be made with real fruit juice, but I probably would have bought them, anyway.
Movie Theater Popcorn
Kirkland Signature Butter Popcorn Bags (44-count), $12
Never again will you need to ask yourself, "Should I make a nice bowl of hot, buttery popcorn part of this movie night?" Because the nice bowl of hot, buttery popcorn will probably already be made. For the low, low price of just $12, you'll be all set for at least your next 44 movie nights.
Dove Chocolates Variety Pack
Dove Chocolates Variety Pack (35 oz), $12
Treating yourself to some delicious chocolate after a bad day will cease to be a thing when you have this mother of all variety packs at your fingertips. You might even start eating chocolate on a good day! (LOL — who am I kidding? I already eat chocolate on good and bad days.)
Bath Bombs
Joyful Bath Co. Bath Bombs (6-pack), $18
If there was an entry in the dictionary for "treat yo self," I feel fairly confident that "bath bombs" would be listed as a synonym. How cute are these?
Welch's Fruit Snacks
Welch's Fruit Snacks Mixed Fruit (80-count), $13
Take all my money, Costco. Welch's fruit snacks are pretty much my ultimate snack weakness. I'd pay more than $13 for an 80-pack of them, but if you're willing to part with this bounty for such a low, low price, I certainly won't argue.
Goat Milk Soap
Snow Creek Meadows Goat Milk Soap (6-pack), $17
This soap just sounds — and looks — fancy. It also happens to be all natural and free of all preservatives and colors.
Sun Chips Variety Pack
Sun Chips Multigrain Snack Bags Variety Pack (30-count), $14
The mere sight of the Sun Chips branding on my computer screen takes me back to the days of swapping lunchbox snacks in elementary school. (Hint: I always wanted these.)
Glass Water Bottles
Contigo Ashland 20-oz. Glass Water Bottle (2-pack), $20
You can refresh your water bottle game both at home and at the office with this two-pack. They're dishwasher safe and have silicone sleeves to prevent falling out of your hand.
York Peppermint Patties
York Peppermint Patties (175-count), $15
The only chocolate candy that also doubles as a breath freshener. Why chew tasteless gum when you can have one of these instead? My only concern here is that I'd be able to eat all 175 units disturbingly quickly.
Lip Balm
Balmi Cube Lip Balm (8-pack), $19
Lip balm is probably near the top of the list of items most misplaced in the depths of a purse or tote bag. Get yourself some back-ups by buying in bulk. This eight-pack includes raspberry, cherry, mint, and summer berry flavors.
La Croix Lime
If (like the rest of the world) you can't get enough La Croix, Costco's got your back. For just $10, you'll have 24 cans to stash all over your home and office.
Famous Amos Chocolate Chip Cookies
Famous Amos Chocolate Chip Cookies (42-count), $15
The last time I bought Famous Amos cookies for myself, I was nine years old and standing in front of the vending machine after an ice skating lesson. This is a much better way to buy them.
Green Tea
Kirkland Signature Japanese Green Tea (100-count), $15
Word on the street is that green tea is loaded up with benefits for your skin, digestion, and more. Interested in exploring these benefits? Stock up with this literal crate of green tea bags.
Footed Bowls
Certified International 6-Piece Chelsea Footed Bowls, $13
All I can say for these bowls is that they are super cute and just $13. If I saw these in the aisle at Costco, I'd be all over them.
Pinguinos Creme-Filled Chocolate Cupcakes
Marinela Pinguinos Creme-Filled Chocolate Cupcakes (24-count), $9
A creme-filled chocolate cupcake is what road trip and rushed breakfast dreams are made of. With 24 packs in one box, you should be well-equipped to satisfy any random craving for the next few months.
Food Spiralizer
Cuisinart Food Spiralizer, $20
Bring the spiralizing trend to your own kitchen for just $20. Zoodles for everyone!
Swiss Miss Hot Cocoa Mix
Swiss Miss Hot Chocolate Mix Packets (60-count), $7
If I buy this, I might not even mind it if the winter weather lasts for a few extra months.