17 Underrated Netflix Movies With Women Of Color, From 'Daughters Of The Dust' To 'Gook'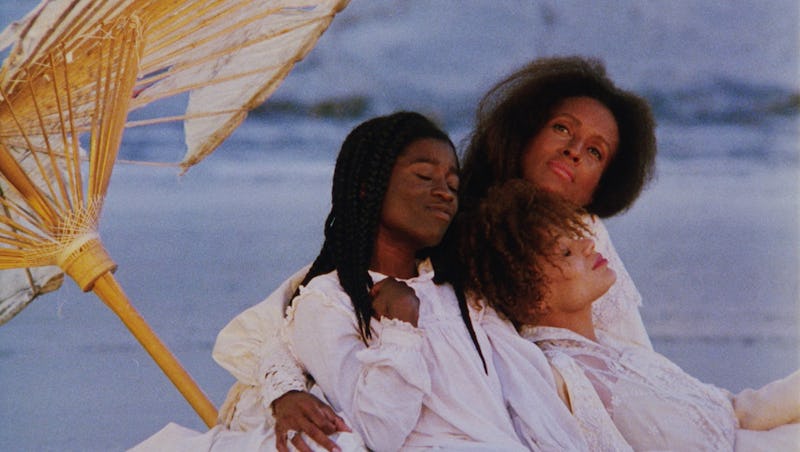 Kino International
Netflix has so many great movies available for streaming that it can be hard to narrow down your search for what to watch. So why not make things easier by filling your queue with movies that celebrate a diverse world of leading women? One of the benefits of streaming services like Netflix is the ability to discover hidden gems, and that includes many underrated movies featuring women of color in lead roles.
As we all know, far too few movies are led by women or are as diverse as they could be when it comes to representation. The films on this list, however, showcase women of color in primary roles. The movies here are both major releases and indie projects, and, thankfully, they're all available on Netflix to stream whenever you choose to do so.
And it doesn't matter what genre you like best — they're all covered. The movies on the list below are of all different types; there are dramas, thrillers, documentaries, romances, and comedies, all featuring women of color as leads. These severely underrated films tell complex stories of womanhood and honor various different cultures, making them total must-sees next time you can't decide what to stream on Netflix.
1. Meditation Park
Maria (Cheng Pei-pei), a loyal wife and mother, re-thinks her relationship with her husband after she finds another woman's underwear in his laundry. Sandra Oh co-stars.
2. First Match
This Netflix original movie tells the story of a young Black girl from Brooklyn's Brownsville neighborhood who joins her high school's all-male wrestling team in attempt to connect with her estranged father.
3. Gook
Gook follows Eli (Justin Chon) and Daniel (David So), two Korean American brothers who are struggling to keep their family's shoe store open. While fighting to keep their shop, they develop an unlikely friendship with 11 year-old Kamilla (Simone Baker). On the first day of the 1992 L.A. riots, the three come together to defend the store.
4. Moana
OK, this one isn't too underrated, but it's still worth a watch. The blockbuster movie follows an adventurous teenager named Moana who discovers her independence and becomes a master way-finder by fulfilling the ancient quest of her ancestors.
5. Roxanne, Roxanne
The film stars Roxanne Shante (Chanté Adams) a 14-year-old battle rapper in 1980s New York. The movie covers the beginnings of her hip-hop reign and her infamous "Roxanne Wars," a diss-track feud that includes nearly 100 answer raps.
6. Lila & Eve
Two women meet at a support group and form an an unlikely connection. Viola Davis plays Lila, who lost her son in a drive-by shooting, and Jennifer Lopez plays Eve, who recently lost her daughter. The film turns into a thriller when both women decide to find the people who killed Lila's son.
7. Ladies First
This Netflix original documentary follows Deepika Kumari, one of the greatest archers in the world, and her journey to become the first Indian woman to win an Olympic medal.
8. Step Sisters
A sorority president (Megalyn Echikunwoke) hopes to get into Harvard Law School but to get the recommendation letter of a lifetime, she has to help a rowdy rival sorority with a step dancing competition.
9. She's Gotta Have It
This Spike Lee original film follows a young Black woman named Nola Darling (Tracy Camilla Johns) fighting for independence. It's an early take on Black women's feminism in the late '80s.
10. Layla M.
A Moroccan teenager named Layla (Nora El Koussour) lives in Amsterdam where she becomes radicalized, marries a jihadist, and joins an Islamist sector in the Middle East. She soon finds out that there are prejudices within the community there too, however.
11. Memories Of The Sword
Memories of the Sword is a South Korean martial arts film/romance that follows three swordsmen during the Goryeo era. The men's journey to become ultimate swordmasters includes revenge, betrayal, and plenty of fighting.
12. Urban Hymn
Urban Hymn follows a social worker (Shirley Henderson) as she tries to help a young foster teenager (Black Panther's Leticia Wright) recognize her musical potential.
13. First They Killed My Father
Loung Ung (Sareum Srey Moch) was 5 years old when the Khmer Rouge assumes power over Cambodia in 1975. She was forced from her family's home to become a child soldier and her six siblings were sent to labor camps. The Angelina Jolie-directed film is based on the memoir First They Killed My Father: A Daughter of Cambodia by Loung Ung.
14. Daughters Of The Dust
Daughters of the Dust follows the lives of three generations of Gullah women on the coast of South Carolina. The group tries to move forward from their tradition-bound community, but they struggle to escape their reality.
15. The Firefly
The film is built around the sudden death of Lucia's (Carolina Guerra) brother, and the bond she forms with his fiancée, Mariana (Olga Segura). The two find comfort in each other's presences and soon find themselves in love.
16. Brotherly Love
Three Philadelphia siblings find themselves face-to-face with life-changing decisions as they struggle to stay on the right track.
17. Neerja
Based on the real life story of Neerja Bhanot, Neerja documents the 23 year-old flight attendant's attempt to save her Pan Am flight's 73 passengers from hijacking terrorists.
Come back to this list whenever you want to watch diverse stories of womanhood from all ages and walks of life.