9 Female-Directed Movies Coming To Netflix This February You Need To Check Out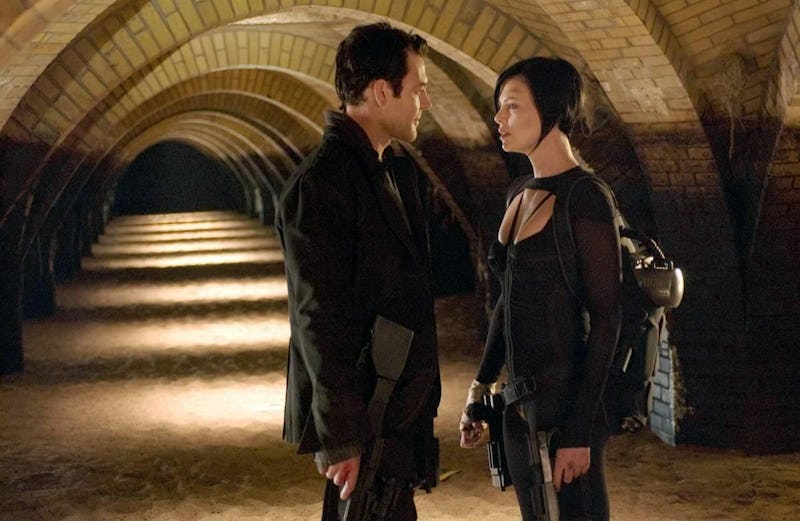 Paramount Pictures
Movies directed by women aren't quite as hard to come by as they used to be, but we still have a long way to go to achieve equal parity on the filmmaking front. Example A: how rare it is to find an Oscar-nominated movie directed by a woman. In the Academy Awards' 90-year history, only five women have been nominated for Best Director, the most recent being Greta Gerwig for her solo directorial debut, Lady Bird. The lack of women garnering attention for their filmmaking work is incredibly frustrating, which makes it all the more important to highlight the great films by women that do exist. So when making your streaming queue this February, make sure to check out these nine female-directed movies on Netflix and appreciate the filmmakers behind them.
And there's no better one to start with than The Hurt Locker. The movie, directed by Kathryn Bigelow, heads to Netflix on Feb. 1, and it's absolutely worth a watch. For one thing, Bigelow is the only woman so far to win Best Director at the Oscars, and for another, the movie itself won Best Picture, beating out a roster of films that included the behemoth Avatar — directed by Bigelow's ex-husband.
So check out the below nine films, all of which are examples of women fighting hard for their jobs, making memorable movies, and working their asses of on sets. These filmmakers should be celebrated now and forever as the industry heads out on a tidal wave of change.
1. The Hurt Locker
The Hurt Locker tells the story of U.S. Army Ranger William James (Jeremy Renner), an explosives specialist serving in Iraq whose job fills him with an addiction to danger. Written by journalist Mark Boal, who was embedded with a bomb squad in Baghdad during the Iraq War of the early aughts, the film details the intense and dangerous world of an Explosive Ordnance Disposal team. Bigelow's use of real-world events combined with expert camera work, editing, and character creation makes for an incredibly suspenseful and tense film that leaves viewers holding their breath — especially when you learn about how tough the movie was to shoot in Kuwait and Jordan, and how hard Bigelow worked to get the film made despite so many challenges. On Netflix Feb. 1
2. Aeon Flux
This anime adaptation set in a dystopian future follows a female secret agent (Charlize Theron) who attempts to infiltrate a police state for the benefit of her own freedom fighting agenda. The movie was reworked by Paramount, and director Karen Kusama was reportedly unhappy with the final product. So judge Aeon Flux as you will, and be sure to check out the rest of Kusama's work afterwards. On Netflix Feb. 1
3. Paint It Black
Actor Amber Tamblyn, who has been particularly outspoken during these times of #MeToo and #TimesUp, made her directorial debut with an adaptation of the cult novel by Janet Fitch. Paint it Black follows how two women from very different backgrounds mourn the loss of the same man. Alia Shakwat stars as the deceased's girlfriend and Janet McTeer as his mother. "My hope was to make a movie that was as visually intoxicating as it is psychologically — a true and twisted look at the violent, terrifying, and beautiful subconscious lives of women in the throws of major life changes," Tamblyn said when the film earned distribution, Deadline reports. "I wanted to make a film about the literal way in which women grieve, not a film about women's grief." On Netflix Feb. 1
4. On Body And Soul
Directed by Cannes Camera D'Or winner Ildiko Enyedi, On Body and Soul won the Berlin Film Festival's Golden Bear and is a nominee for the Best Foreign Language Film Oscar. The Hungarian story follows two socially awkward coworkers in a slaughterhouse in Budapest who begin dreaming the same bizarre dreams. On Netflix Feb. 2
5. Seeing Allred
Directed by Roberta Grossman and Sophie Sartain, Seeing Allred follows groundbreaking feminist women's rights attorney Gloria Allred as she takes on some huge cases. The documentary, a Netflix original, is as timely as ever, considering how many high-profile Hollywood executives, politicians, and others are being accused of sexual misconduct lately. On Netflix Feb. 9
6. The Trader (Sovdagari)
Tamta Gabrichidze's documentary short is about a man, Gela, who drives around the Eastern European country of Georgia selling household wares from his van. But instead of selling things for money, Gela is selling for... potatoes. The charming doc was just announced as the winner of the Short Film Jury Award - Non-Fiction at the Sundance Film Festival. On Netflix Feb. 9
7. Irreplaceable You
Another Netflix original acquisition, Irreplacable You, directed by former Veep producer Stephanie Laing, stars Gugu Mbatha-Raw and Michiel Huisman as a couple who must deal with a terminal cancer diagnosis. The film, Liang's debut, also stars Christopher Walken, Kate McKinnon, Jacki Weaver, Steve Coogan, Tim Simons, and Claire Holt. On Netflix Feb. 16
8. The Heyday Of The Insensitive Bastards
Boasting nine credited directors, three of whom are women, The Heydey of Insensitive Bastards also boasts an extensive cast. Kate Mara, Amber Tamblyn, Kristen Wiig, Natalie Portman, Jimmy Kimmel, and more star in this adaptation of Robert Boswell's short story collection. Seven vignettes explore the difference between fantasy and reality. Lauren Hoekstra, Sarah Kruchowski, and Vanita Shastry are the women who directed some of the vignettes. On Netflix Feb. 26
9. Winnie
Pascale Lamche's documentary about South African activist Winnie Mandela, wife of Nelson Mandela, premiered at the 2017 Sundance Film Festival. Not only should the film be celebrated for having a female director, but also for highlighting a woman who kept fighting for the abolishment of South African Apartheid while her more famous male counterpart was incarcerated. On Netflix Feb. 26
It's easy to celebrate The Hurt Locker for begin such a groundbreaking film in that it and its director both won Oscars. But finding the next Kathryn Bigelow means turning eyes to some of the smaller films and budding directors that don't yet have the same hype. Hopefully highlighting these women and their films will pave the way.