17 Brilliant Ways To Support Parkland Survivors Wherever You Are
Joe Raedle/Getty Images News/Getty Images
Following the massacre at Marjory Stoneman Douglas High School in Parkland, Florida, survivors are demanding Congress take action. A large group of students who survived the shooting are opposing politicians' "thoughts and prayers," arguing that instead they want to see legislature that will prevent mass shootings like this from happening in the future. Here are some of the ways you can help support the Parkland survivors.
Gun control advocates consider the Parkland shooting to be the 18th school shooting in the United States so far in 2018. While this statistic has been disputed (it includes incidents like a suicide that took place on a school campus during the summer), it remains an astonishing figure.
In the aftermath of an event like this one, there are plenty of ways to provide immediate help for victims — donating funds to provide medical care or cover funeral costs, for example, or giving blood to hospitals that have taken in the wounded.
In addition, there are ways you can help advance the students' mission in demanding Congress pass strict gun laws. For instance, five of the six deadliest shootings in America in the past six years involved an AR-15-style semi-automatic rifle. Banning semi-automatic weapons is just one step lawmakers could take in keeping citizens safer.
Join The Walkout
On March 14, students nationwide are staging the #Enough walkout to advocate for gun control in America. In addition to Parkland, other cities involved include San Francisco, New Orleans, and New York City.
You can find a full map of all the cities involved on the organization's site.
Tell Congress "Enough Is Enough"
You can advocate for gun control by contacting Congress and demanding they take action.
Educate Yourself On Gun Violence
Reading as much as you can about gun violence in America will better equip you when you're speaking to your lawmakers about gun control legislation.
Donate To Survivors And Their Families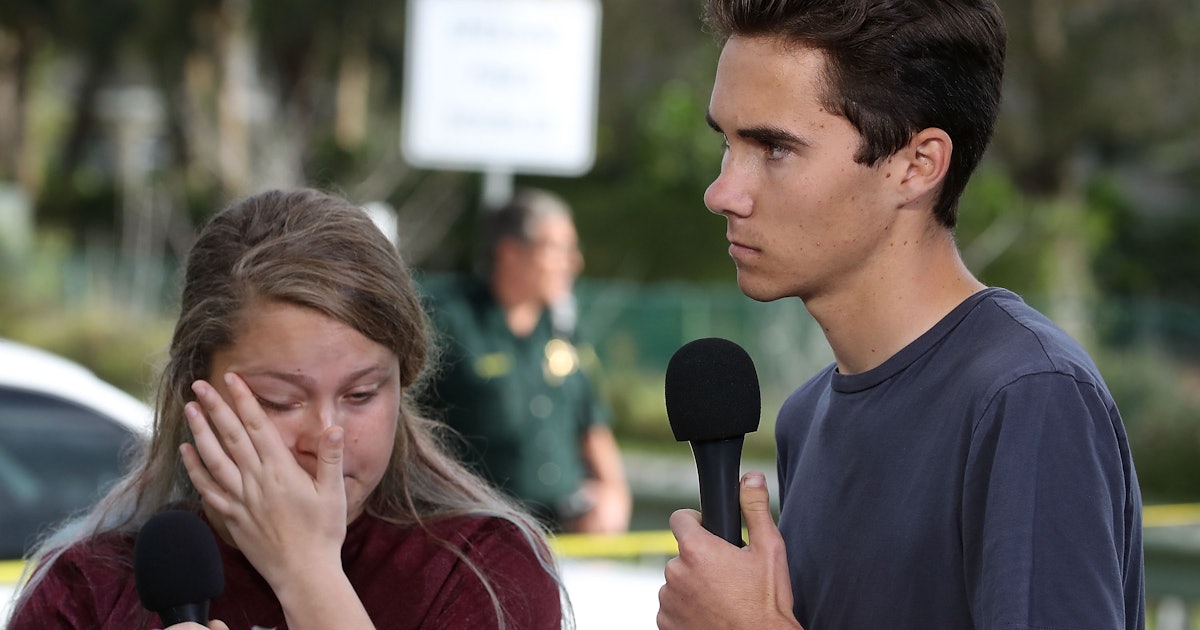 The Broward Education Foundation created a GoFundMe campaign with the goal of raising $300,000 to "provide relief and financial support to the victims and families of the horrific shooting." It's since raised more than $1 million. You can donate to the Stoneman Douglas Victims' Fund here.
Give Back To The Hospitals
Seven of the Parkland shooting victims were transported to Broward Health hospitals. By donating to their foundation, you can help the hospital replenish finite resources after an emergency situation at this scale.
Send A Message Of Support
Stoneman Douglas History teacher Diane Rogers asked people to send messages of support for students to read when they return to school. While she initially requested letters, after a massive outpouring of support, officials from the high school asked for laminated banners, instead.
Donate Blood To Victims
If you live in or near South Florida, your blood donation is needed in the wake of this tragedy. Others are encouraged to donate, too, so it's good to find a donation center near you. People with O negative blood are especially valuable, because they're universal donors.
Support Victims Everywhere
By donating to the National Center for Victims of Crime, you're supporting an organization that "advocates for stronger rights, protections, and services for crime victims." You can donate here.
Donate To The American Red Cross
In crisis situations like school shootings, the American Red Cross is on the ground working with officials to help support community members. You can donate to the organization here.
Support Local Charities
Orlando's News 6 partnered with the group Public Good to help people find reputable organizations to support that are assisting in the wake of the massacre. It's part of a team effort with five organizations, including Broward Health Foundation, Cure Violence, Everytown for Gun Safety, the National Center for the Victims of Crime, and the American Red Cross. You can support their efforts here.
Assist The FBI
If you have any information regarding the school shooting, the FBI will want to know. You can submit any intel you have via the bureau's online form.
Speak Out On Social Media
Join the survivors of Marjory Stoneman Douglas High School and advocate for better gun control in the United States on social media. You can share statistics online and directly address your legislators. Social media can be a powerful tool for change, as the survivors have already proven.
Protest The NRA
The National Rifle Association is the largest gun lobbying group in America. They donate money to politicians and ensure that gun laws in America remain lenient in order to turn a profit. Many are calling out the organization in the wake of the Parkland massacre for not stepping up and engaging in a conversation around gun control.
Support The Right Politicians
You can help Parkland survivors by supporting anti-NRA politicians who advocate to ban semi-automatic weapons and bump stocks, which convert normal guns into semi-automatic firearms. And you can call out politicians who receive funds from the NRA and help make sure they don't get re-elected.
Find More Ways To Be Heard
In addition to the national walkout on March 14, there will be a protest, organized by March For Our Lives, in Washington D.C. on March 24. There's also another national walkout scheduled for April 20, marking the 19th anniversary of the Columbine shooting in Colorado, when 13 students and teachers were killed.
Know Your Resources
Everytown for Gun Safety has a wealth of resources, where you can find out how to get involved in the fight for gun control.
Say #NeverAgain And Mean It
Join the #NeverAgain movement started by Parkland survivors and continue to support the cause long after the shooting on Feb. 14. Momentum is going to be crucial in enacting real change when it comes to gun regulation, so keeping up your enthusiastic support for this movement is important.
Whether you're donating your time, money, voice, or all of the above to the fight for stricter gun laws, there is real power in numbers. The more people that support the Parkland survivors' cause, the greater the impact the movement will make.