18 Creepy Movies Set in Small Towns That Will Leave You Sleeping With The Lights On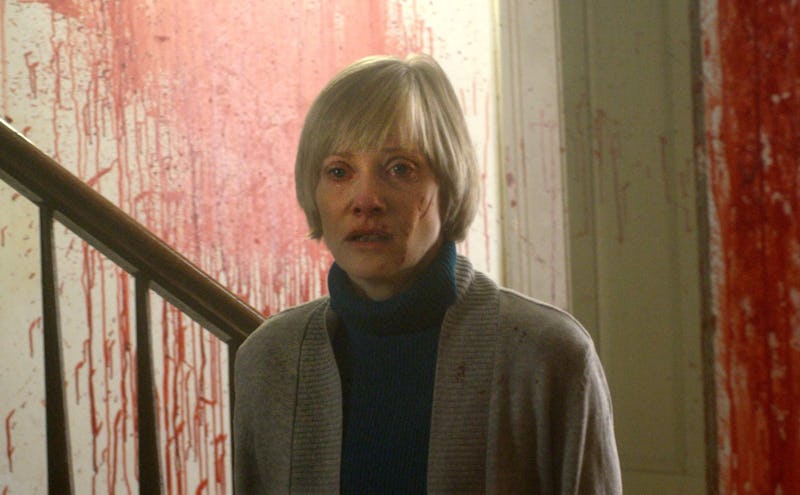 Dark Sky Films
Halloween, The Mist, Sinister, and Children of the Corn all have something in common: they take place in small, creepy towns. For characters in horror movies, the isolation of being in a small town can create a feeling of no hope, and be a reason for eerie occurrences to unfold. And for viewers, films set in these areas can be bone-chillingly scary. You're constantly waiting for a trap door to open, an abandoned home in the woods to be haunted, or a mysterious figure to come out of nowhere and terrorize everybody. So if you're a fan of being freaked out, check out these 18 horror movies set in creepy small towns — and prepare to be totally unnerved.
Watching a horror movie, no matter where it's set, is always an intense experience. Your stomach clenches, your heart races, and your palms get sweaty. When the suspense draws you in and the killer comes out of nowhere, you know you have entered truly scary territory. And horror movies set in small towns only cause even more fear in audiences, who can imagine the on-screen events happening in their own neighborhoods. If you're brave enough, though, check out the supremely creepy small town films on the list below.
1. The Snowtown Murders
A violent predator (Daniel Henshall) grooms his girlfriend's teenage son (Lucas Pittaway) to become an accomplice in a murder spree in a small Australian town.
2. Lake Placid
When a mysterious creature kills a man in a Maine lake, Jack Wells (Bill Pullman), a local game warden, looks into the case. Alongside the town Sheriff Hank Keough (Brendan Gleeson) and paleontologist Kelly Scott (Bridget Fonda), he finds out it's a massive, vicious reptile.
3. Race With The Devil
In need of a vacation, Roger (Peter Fonda), his friend Frank (Warren Oates), and their wives (Lara Parker, Loretta Swit) head from San Antonio to a rural part of Texas for some off-road motocross. They arrive at their destination only to find a Satanic cult sacrifice in progress. When the cult members find out they're watching, the couples find themselves on the run from the entire Satanist community.
4. We Are Still Here
We Are Still Here is an indie film about a family grieving over the loss of their son in a rural part of New England. The couple begins to experience strange things in their house and find themselves fighting spirits from beyond the grave.
5. Halloween
The classic horror film Halloween is based on the story of 21-year-old killer Michael Myers (Nick Castle, Tony Moran) who returns to his small hometown of Haddonfield, Illinois, to look for his next victims to kill.
6. Sinister
A crime writer named Ellis Oswald (Ethan Hawke) is looking for his next big story when he stumbles upon a snuff film showing the deaths of a family. To solve the mystery, he moves his own family into the murdered family's home and begins to see spiritual forces take over his children.
7. The Wailing
When mysterious and brutal murders start occurring in a rural town, the villagers begin to link the killings to the arrival of a mysterious stranger (Kunimura Jun).
8. 30 Days Of Night
After a season of darkness falls over a small Alaskan town, a group of blood thirsty vampires arrive for a feast.
9. The Mist
You think the fog in this movie is the trouble? Nope — the real trouble is right within the grocery store.
10. Children Of The Corn
This movie will make you afraid of corn fields, to say the least.
11. The Void
A cult traps a police officer, patients, and staffers inside a small town's local hospital. The victims soon find out that the hospital is a gateway to pure evil.
12. The Texas Chainsaw Massacre
In the remake of the 1974 horror classic, a group of travelers find an isolated rural home in Texas that belongs to a deranged family of killers.
13. Deliverance
Four friends (Jon Voight, Burt Reynolds, Ned Beatty, and Ronny Cox) decide to get away from the city and their families for a week of canoeing in a rural part of Georgia. But their trip soon turns into a fight for survival when the locals savagely attack them in the woods.
14. The Wicker Man
Sergeant Howie (Edward Woodward) comes to the small Scottish island of Summerisle to investigate the whereabouts of a missing child. He soon finds out about the townspeople's sexual displays and strange pagan rituals.
15. The Blob
In a small California town, a group of high schoolers find a gelatinous substance that melts human flesh.
16. The Town That Dreaded Sundown
A hooded killer lurks in a small town in Texas called Texarkana. This film is actually based on the real story of a 1946 killing spree.
17. I Am Not A Serial Killer
A troubled teenage boy with homicidal tendencies tries to hunt down and destroy a supernatural killer.
18. Slither
When people in this small, quiet town find mutilated livestock and a local woman missing, they discover an alien organism has taken over.
Not all small towns are creepy, of course, but the ones in these movies? Most definitely.