41 Terrifying Movies to Get You & Your S.O. Snuggling Up This Halloween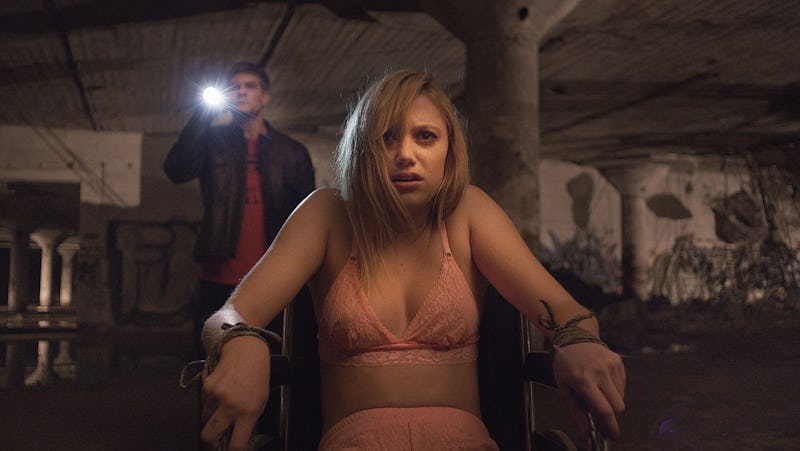 Radius/TWC
Halloween is the best time of year to find an excuse to jump into the arms of a significant other. When you think of a sexy date, you probably imagine some roses and a romantic dinner, but don't count out staying in and watching a horror movie as a good option, too. Both of you will have your adrenaline rushing and blood pumping, so it makes sense that you'd want to hop into each other's arms during especially nail-biting scenes. That's why a scary movie night in for Halloween is the best idea to get you and your date snuggling on the couch all night long.
As said, Halloween can be a super romantic holiday, if you decide to do it right. You can you go out and dress up in a cute couples costume with your date, of course, but if you're trying to stay in for the holiday, it doesn't hurt to set up a roster of movies and snuggle up close with your loved one (or first date — whatever works!). Movie night may not quite compare to a haunted house or hayride, but it's still a chance to get you and your date talking about what some of your fears are and bond over your shared interests. Whether your romantic partier is a new fun date or your long-time boo, it's time to get spooked for Halloween together.
To get that movie night popping, here are 41 horror and Halloween-themed movies perfect to watch this holiday with bae.
Check out the entire 'What's Up, Boo?' series and other videos on Facebook and the Bustle app across Apple TV, Roku, and Amazon Fire TV.
1. Gerald's Game
The Netflix film Gerald's Game is an adaptation of Stephen King's novel about a married couple who try to spice things up with a sex game. But things take a spooky turn and go awry.
2. Queen Of The Damned
The late Aaliyah stars in this 2002 horror film, where she plays a vampire queen alongside her vampire rock star lover. Later, there's major trouble when she is awakened from decades of sleep.
3. Sleepy Hollow
Sleepy Hollow is based on Washington Irving's classic tale The Legend of Sleepy Hollow. The film mixes horror, fantasy and romance — all that you need for a classic Halloween date night in.
4. Friday The 13th
A deranged killer on a spree is the perfect thrill for you and a date. Make it even spookier by watching it actually on Friday, Oct. 13.
5. The Invitation
Sometimes, the people who can harm you the most are the ones you call friends or lovers. The Invitation is a horror film that mirrors what can actually happen in life in a truly scary way.
6. The Loft
Five married men share a penthouse in the city to carry on extramarital affairs. To them, it's the dream come to until a woman's body shows up in the apartment. Realizing that her killer must be amongst their group, each man is gripped by paranoia due to suspicions of each other.
7. Twilight
Twilight isn't exactly scary, but it's still a good pick. The movie revolves around high school student Bella Swan (Kristen Stewart), who falls for Edward Cullen (Robert Pattinson), and slowly but surely, Bella comes to learn that Edward is a vampire. You know the rest.
8. The Awakening
Paranormal and supernatural activity is sure to make you jump, especially if it involves a scary child. This movie has just that. It revolves around a ghost child and a skeptical woman (Rebecca Hall) who travels to a countryside boarding school to investigate the apparent hauntings.
9. The Amityville Horror
George Lutz (Ryan Reynolds) and his wife, Kathy (Melissa George), find a house in the small town of Amityville, N.Y., and they think the place is too good to be true. After they move in with their kids, they find out the cheap price is due to the house's haunted history.
10. Scary Movie 2
This isn't a scary movie, but it's a hilarious take on horror. Scary Movie 2 is the second film of the spoof series which follows high schooler Cindy Campbell (Anna Faris) and all her classmates as they try to survive a haunted house.
11. Trick 'R Treat
Mike Dougherty's Trick 'r Treat taps into the very nostalgic essence of what Halloween is. All the stories in the movie occur simultaneously in the same small town on Halloween night, and they each provide pieces of a puzzle both you and a date can figure out.
12. Warm Bodies
Warm Bodies is more of an entertaining rom-com horror rather than a freak-out fest. This zombie movie is for anyone who isn't so fond of scary films.
13. The Nightmare
If you and the boo are into watching documentaries, this one is pretty good and scary. The movie dives into the phenomenon known as "sleep paralysis."
14. The Babadook
The Babadook is the tale of widowed mother Amelia (Essie Davis) and her disturbed son Sam. The movie will terrify you and make you think twice about parenthood.
15. Scream
The Scream franchise is the perfect horror date night movie series. The film focuses on teenager Sidney Prescott (Neve Campbell) as she comes under attack from a mysterious person, aka Ghostface, while dealing with the anniversary of her mother's murder.
16. Carrie
This 2013 version of Carrie is so creepy, yet so good. Chloe Grace Moretz's plays the high school outcast, who is tormented by the mean girls of school. But Carrie gets her full revenge by using her telepathic powers.
17. The Addams Family
The classic, creepy, and totally kooky family movie is perfect for a Halloween date night in.
18. Disturbia
Shia LaBoeuf stars as a teenager who thinks his neighbor is a serial killer but due to his house arrest, the teen believes his overactive imagination may be getting the best of him.
19. Casper
One of the cutest Halloween movies from the mid-'90s, the film is about a paranormal expert and his daughter Kat (Christina Ricci) who move into an abandoned mansion that ghosts have been haunting for years. One of those ghosts is a child named Casper (Devon Sawa), and the beautiful friendship between Kat and Casper is real love goals.
20. Beetlejuice
When Barbara (Geena Davis) and Adam Maitland (Alec Baldwin) die in a car accident, they find themselves stuck haunting their residence, unable to leave. When the Deetzes (Catherine O'Hara, Jeffrey Jones) and their daughter Lydia (Winona Ryder) buy the home, the Maitlands try to scare them out of the house without success. Their efforts attract Beetlejuice (Michael Keaton), a spirit whose help becomes dangerous.
21. Get Out
Jordan Peele's Get Out is one of the first major horror films since the early '90s to have a Black protagonist, and it was a huge box office hit this year. It's a mind blowing conversation starter for any date night.
22. When a Stranger Calls
Jill Johnson (Camilla Belle) babysits two children in a large home, when start receiving strange calls from an unidentified number — coming from inside the house. Eek!
23. Hocus Pocus
Three witches (Sarah Jessica Parker, Bette Midler and Kathy Najimy) return to society 300 years after being hanged in Salem, Massachusetts. It's a hilarious comedy will have your movie night full of laughs.
24. You're Next
A family reunion goes awry when people wearing animal masks invade the family's vacation home. The wannabe killers are in for a surprise when one of the sons' girlfriends has hidden survival skills that could save them all.
25. Jaws
This classic movie tells the story of a great white shark that terrorizes the townspeople of Amity Island, and the police chief (Roy Scheider), grizzled shark hunter (Robert Shaw) and oceanographer (Richard Dreyfuss) who seek to destroy it.
26. The Nightmare Before Christmas
The movie follows the misadventures of Jack Skellington, Halloweentown's pumpkin king, who has become bored with the same annual routine of frightening people in the real world. Jack stumbles into Christmastown, filled with bright colors and warm spirits, and so his new goal is to bring Christmas under his control by kidnapping Santa Claus and taking over the role.
27. Saw
What's worse, being kidnapped by a crazed serial killer or being locked in a bathroom with only the option to cut your foot off for escape? Are you the killer or is the killer controlling you? The movie provides many questions both you and your significant other can ask each other for a creepy night.
28. Psycho
Listen, Psycho's shower scene will make you not want to ever take a shower alone at home again.
29. Let the Right One In
We've all had a childhood crush, but not a bloodthirsty vampire crush. This movie will ignite old memories and bring some horror.
30. Horns
A young man (Daniel Radcliffe) wakes up one morning with horns growing out of his head that compel people in his vicinity to confess their deepest, darkest sins and desires. Horns is a blend of horror, drama, comedy and romance that's the best way to have a chill Halloween in with bae.
31. The Faculty
If you and your significant other have ever thought your old teachers were from another planet, this movie will resonate with you. The Faculty is about students who suspect that their teachers are aliens and find themselves in disturbing scenarios.
32. Bones
Jimmy Bones (Snoop Dogg) is a legendary protector of his thriving neighborhood. But, when he is betrayed by those closest to him, everything changes and his spirit tries to make a comeback.
33. Vampire In Brooklyn
Detective Rita Veder (Angela Bassett) is assigned to a serial murder case and meets Maximilian (Eddie Murphy) a playboy determined to romance her — and who is later found out to be a vampire.
34. Ghostbusters
Who you gonna call? How about three scientists in Manhattan in the business of getting rid of all the spooks, ghosts and goblins in town. Ghostbusters is perfect if you're feeling nostalgic for the '80s and want some old school laughs with your date.
35. The Conjuring
The Conjuring is based of the 1970 investigations of real-life paranormal experts Ed and Lorraine Warren. The supernatural events in this movie escalate quickly after the experts find out the disturbing history behind a house's previous owners.
36. It Follows
A teenage girl sleeps with her new boyfriend for the first time, but ends up contracting a fatal curse that is passed on from victim to victim through sex. The only way she can get rid of the curse is to have sex with someone else.
37. The Orphanage
A woman named Laura (Belen Rueda) buys an old orphanage and converts it into a home for sick children. But one day, her adopted son Simon (Roger Princep) goes missing and she starts to realize there are spirits haunting the property.
38. The Smiling Man
This YouTube short horror film is about a little girl who is home alone, but comes face to face with evil — which means you shouldn't watch this by yourself.
39. The Silence Of The Lambs
Jodie Foster plays Clarice Starling, a student at the FBI's training academy who ends up interviewing and investigating Dr. Hannibal Lecter (Anthony Hopkins), a psychiatrist who is also a violent psychopath, serving life behind bars for cannibalism. People eating people? You can't get any scarier than that.
40. The Visit
A brother and sister head into the Pennsylvania farm countryside to stay with their grandparents, only to discover that what seems like normal behavior from the relatives at first turns scary, fast.
41. Train To Busan
The South Korean film Train To Busan follows a father and daughter when a zombie outbreak takes over their speeding train and threatens all the passengers on board.
Take advantage of the spooky season and indulge in all the scary movies out there with your significant other by your side.