18 Moira Wigs From 'Schitt's Creek' More Dramatic Than The Jazzagal Herself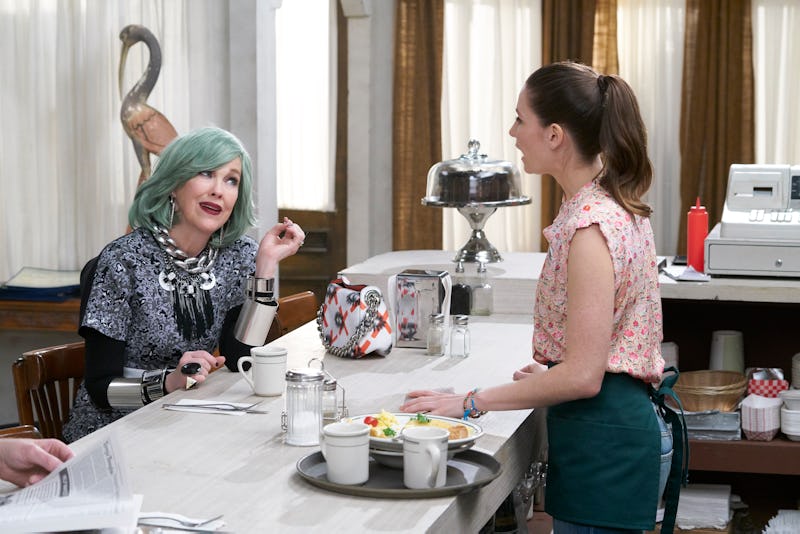 Courtesy of Pop
As any seasoned Schitt's Creek viewer knows, everything Moira Rose does is extra. Not only is she prone to extravagant vocabulary, outrageous outfits, and an impossibly unplaceable accent, but even her pajamas feature both a vest and a brooch. So it only stands to reason that Moira's wigs on Schitt's Creek would be just as dramatic and ever-changing as she is.
While Moira's actual hairdo is a dirty blonde, shoulder-length lob with black dye underneath, she prefers to mix things up as often as possible. A bubblegum pink wig? Check. A blunt, layered look named "Maureen"? Absolutely. A short, curly thing that looks like a prairie dog nest? Sadly, also yes.
Moira is also clearly fiercely protective of her wigs, as no one is allowed to touch them (and why Stevie, David, and Alexis relish in trying them on while Mrs. Rose is in Bosnia filming The Crows Have Eyes III: The Crowening). In fact, she even has a spreadsheet detailing where each wig hangs so she'll know if anyone dares lay their hands on them. For the rest of us, though, they're a little hard to keep track of. So to commemorate Moira's big, beautiful, glorious wig collection, here are 18 of her best pieces, ranked in descending order.