18 Movies Out Soon Made By Filmmakers Of Color, From 'Crazy Rich Asians' To 'Night School'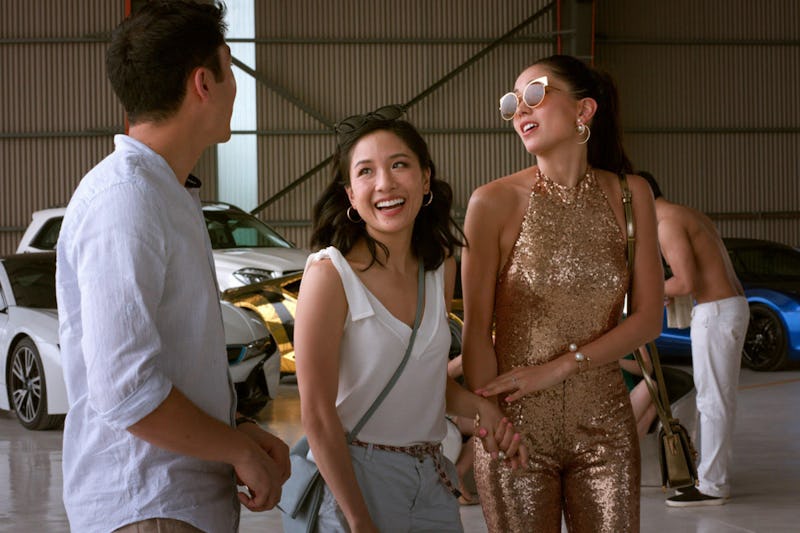 Warner Bros. Pictures
As is often said in entertainment, representation matters — and proper representation often happens thanks to the influence of people behind the lens. Perspectives from filmmakers of color are valuable, and by having more people of color working behind the scenes, various communities can get stories showcasing their lives and backgrounds told on-screen for the world to see. Just take these 18 movies out in late 2018 made by people of color, both as directors or writers.
By watching content influenced by different backgrounds, races, and ethnicities, viewers get to be challenged in how they think about entertainment and the world around them. In 2016, a study by The Washington Post found that 89 percent of Hollywood filmmakers are male, and 84 percent are white, with roughly half of them 60 or older. As such, having more people of color — like the filmmakers on this list — creating movies is absolutely necessary.
The movies coming out later this year created by filmmakers of color range from sci-fi fantasies to intense dramas to hilarious comedies. Judging by these movies, this fall is going to be filled with films that are worth a watch, and if you choose to do so, you'll be supporting all the people of color making it happen behind the scenes.
1. BlacKKKlansman (Aug. 10)
Directed by Spike Lee, BlacKKKlansman follows Ron Stallworth (John David Washington), an African-American detective in the Colorado Springs Police Department who plans to infiltrate and expose the local Ku Klux Klan by going undercover. The movie's subject matter is no surprise coming from Lee, who is known for movies with social commentary like Do The Right Thing, Bamboozled, and She's Gotta Have It.
2. Slender Man (Aug. 10)
Directed by Sylvain White, the movie follows four teenage girls in a small town who perform a ritual to debunk the lore of a tall, thin, horrifying figure known as the Slender Man. French-born filmmaker Sylvain White has directed movies such as Stomp The Yard, The Losers and the French film Miséreré.
3. Crazy Rich Asians (Aug. 15)
Crazy Rich Asians is the film adaptation of the first book in author Kevin Kwan's popular series. The dramedy, which is directed by Jon M. Chu (G.I. Joe: Retaliation and Justin Bieber: Never Say Never) is the first major Hollywood film in 25 years with an all-Asian cast that isn't a period piece.
4. Alpha (Aug. 17)
Alpha is directed by Albert Hughes, who made Menace II Society, The Book of Eli and Knights of the South Bronx. Alpha is about a young man (Kodi Smit-McPhee) who is left for dead in the wild and struggles to survive. His only help is a lone wolf abandoned by its pack.
5. Minding The Gap (Aug. 17)
This documentary narrows in on the lives of three young men who bond through skateboarding to escape their volatile families. Minding the Gap is directed by Bing Liu, who is known for his work on Transcendence and Jupiter Ascending.
6. Down A Dark Hall (Aug. 17)
Five emotionally disturbed teens are committed to a mysterious school for gifted girls called Blackwood. They all believe that they've found a place to have artistic freedom, but soon realize there is a dark mystery that makes the school horrifying. Down A Dark Hall is directed by Spanish film director Rodrigo Cortés.
7. Searching (Aug. 24)
Directed by Aneesh Chaganty, Searching is about a young father (John Cho) who is desperate to find his 16-year-old daughter after she disappears and a police investigation leads nowhere. Chaganty has also directed Adventure, Wisconsin and Run.
8. White Boy Rick (Sept. 14)
Based on the real life story of Ricky Wershe Jr., White Boy Rick is about a street hustler who became an FBI informant and drug kingpin all before he turned 16. This film is directed by Yann Demange who worked on '71 and Alan & Samir.
9. Night School (Sept. 28)
Kevin Hart plays a guy who is ready to settle down with his girlfriend when his life takes an unexpected turn and he goes to night school. The comedy is directed by Malcolm D. Lee, who also directed The Best Man, The Best Man Holiday, and Girls Trip.
10. The Hate U Give (Oct. 19)
George Tillman Jr. directs this novel-turned-movie about the injustice of police brutality in the Black community. The Hate U Give stars Amandla Stenberg as Starr Carter, a young teenage girl constantly switching between two worlds — the mostly Black neighborhood where she lives and the wealthy, mostly white prep school that she attends.
11. Nobody's Fool (Nov. 2)
Tyler Perry's star-studded movie Nobody's Fool features Tiffany Haddish, Amber Riley, Tika Sumpter and Whoopi Goldberg. In the film, Tanya (Haddish) counts on her very successful sister Danica (Sumpter) to help her get back on her feet after being released from jail.
12. The Girl In The Spider's Web (Nov. 9)
Fede Alvarez, the filmmaker behind Evil Dead and Don't Breathe, directs The Girl in The Spider's Web — a mystery about a hacker named Lisbeth Salander (Claire Foy) who encounters a web of cybercriminals and government corruption.
13. Widows (Nov. 16)
The director of 12 Years A Slave, Steve McQueen, brings us Widows, a movie that follows four women who take fate into their own hands by conspiring to get back all the things they lost due to the deaths of their husbands.
14. Creed II (Nov. 21)
Director Steven Caple Jr. directs this sequel, starring Michael B. Jordan as Adonis Creed. In the film, Adonis takes guidance from Rocky Balboa again to fight the son of Ivan Drago, the former Russian fighter who killed his father in the ring.
15. Shoplifters (Nov. 23)
Hirokazu Kore-eda directed this drama about a family who takes in a young girl during the harsh winter and teaches her how to make money by doing petty crimes.
16. If Beale Street Could Talk (Nov. 30)
Moonlight director Barry Jenkins brings another drama-romance to theaters with his film If Beale Street Could Talk. In the film, a young pregnant woman (Kiki Layne) seeks redemption for her fiancé after he is falsely imprisoned.
17. Aquaman (Dec. 21)
James Wan directs this fantasy-fiction film starring Jason Momoa as Aquaman. The film tells the story of the hero's inner battles of self-discovery as the underwater world of Atlanteans get ready to revolt.
18. Alita: Battle Angel (Dec. 21)
Alita: Battle Angel is a science fiction film set several centuries in the future, following the abandoned Alita (Rosa Salazar), a woman fighting to find out who she is after being left in a scrapyard. Sin City director Robert Rodriguez directed the film.
Mark your calendars and make sure to catch all these movies this fall to support filmmakers of color.