18 States Are Bringing A Significant Lawsuit To Betsy DeVos' Desk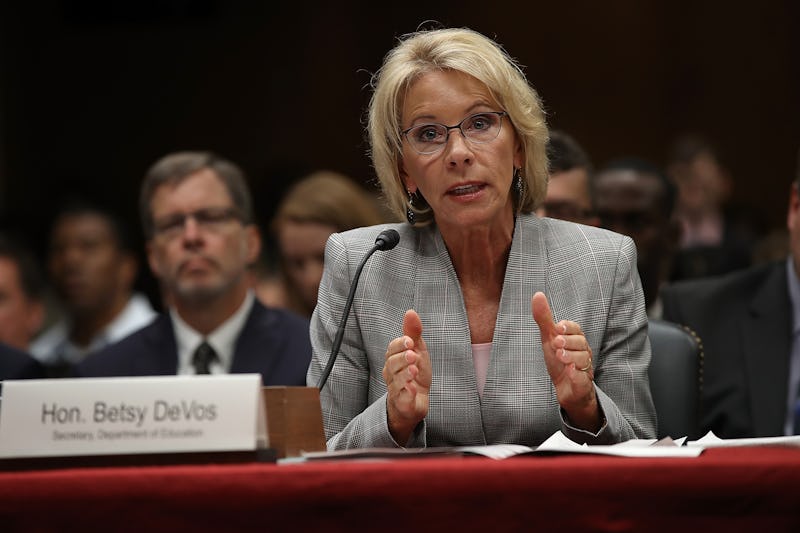 Win McNamee/Getty Images News/Getty Images
State attorneys from the District of Columbia and 18 states are suing Education Secretary Betsy DeVos for freezing the rollout of a regulation designed to ease the federal student loan debt of those who were defrauded by for-profit colleges. A lawsuit filed Thursday in a U.S. District Court alleges the Education Department violated federal law when it halted the implementation of updates to the Borrower Defense to Loan Repayment regulation, which had been developed by the Obama administration and was set to take effect July 1.
"Since Day 1, Secretary DeVos has sided with for-profit school executives against students and families drowning in unaffordable student loans," Massachusetts Attorney General Maura Healey claimed in a press release announcing the lawsuit filed Thursday. "Her decision to cancel vital protections for students and taxpayers is a betrayal of her office's responsibility and a violation of federal law. We call on Secretary DeVos and the U.S. Department of Education to restore these rules immediately."
State attorneys from California, Connecticut, D.C., Delaware, Hawaii, Illinois, Iowa, Maryland, Minnesota, New Mexico, New York, North Carolina, Oregon, Pennsylvania, Rhode Island, Vermont, Virginia, and Washington joined Massachusetts as plaintiffs in the lawsuit against DeVos and the Department of Education.
In October, the Obama administration developed the "Borrower Defense Rule" as a revision or update of the Borrower Defense to Repayment rule outlined in the Higher Education Act. According to an Oct. 28, 2016 press release from the Department of Education, the new regulation aimed to ensure "that students who are lied to and mistreated by their school get the relief they are owed, and that schools that harm students are held responsible for their behavior."
DeVos, however, halted implementation of the "Borrower Defense Regulations" in June, arguing it was "unfair to students and schools and puts taxpayers on the hook for significant costs." The move was widely criticized as evidence the Trump administration supported predatory for-profit schools over students.
The lawsuit alleges DeVos violated the Administrative Procedures Act as the Department of Education failed to meet the standards for a delay and, in announcing the delay on such short notice, failed to allow the public proper time to comment.
A spokeswoman for the Education Department called the lawsuit "ideologically driven" in a statement to the Washington Post. "With this ideologically driven suit, the state attorneys general are saying to regulate first, and ask the legal questions later — which also seems to be the approach of the prior administration that adopted borrower-defense regulations through a heavily politicized process and failed to account for the interests of all stakeholders," Education spokeswoman Liz Hill said.
DeVos and the Department of Education were also sued Thursday by two federal student loan borrowers for delaying the "Borrower Defense Regulations."