19 Indie Movies You Might've Missed This Summer Between All The Blockbusters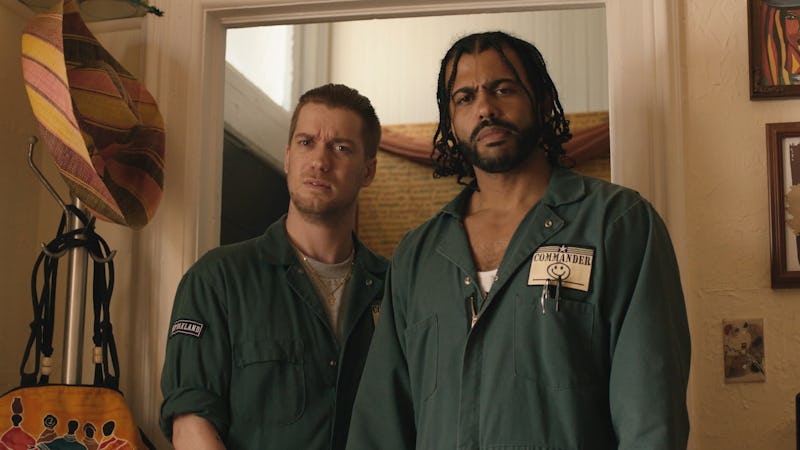 Lionsgate
As fun as huge Hollywood blockbusters can be, sometimes they just aren't your cup of tea. And when you need a break from all those major movies, take a deep dive into the indie film world instead. Indie movies have always expanded the ways stories have been told on-screen, tackling unique tales and alternative culture with fearlessness. Recent indie films like Moonlight, Lady Bird, Get Out, and Foxtrot have served as strong reminders of just how great independent cinema can be, and there have also been plenty of great indie movies out summer 2018 that you might've missed. Whether you're an avid viewer or a new explorer of the genre, here are 19 recent and upcoming indies that you should watch in-between all those huge blockbusters.
There is plenty of variety in the independent film world, from coming-of-age stories to dark comedies. All 19 movies on this list are worth checking out, especially if you want an idea of what flicks might become big players in next year's awards season. Some of these films were released by studios but were initially independent projects, while others were straight up grassroots productions; either way, watching these indies is the perfect way to get a break from Hollywood's big-budget flicks, as fun as those may be.
1. Beast
A young woman (Jessie Buckley) falls for a man who enters her small town and encourages her to escape her oppressive family. But the tables turn when suspicions arise that he has committed multiple murders. Beast came out on May 11.
2. Blindspotting
This dramedy explores racial tensions, social class, gentrification, and probation in Oakland's urban areas through the bond of two men: Collin (Daveed Diggs) and Miles (Rafael Casal). Blindspotting is currently in theaters.
3. Boundaries
An estranged, pot-dealing father (Christopher Plummer) takes a 1,400 mile road trip with his daughter Laura (Vera Farmiga) from Texas to California — talk about an awkward way to bond. You can watch Boundaries in select theaters.
4. Damsel
A young pioneer (Robert Pattinson) makes it his mission to travel across America to marry the love of his life, but in the West, he soon finds out that everything isn't what it seems. Damsel is out in select theaters.
5. The Day After
Released on May 11, The Day After is about a married woman who finds a mysterious love poem written for her husband. She automatically believes it was written by his new secretary. Yikes!
6. Hearts Beat Loud
A single dad (Nick Offerman) convinces his college-bound daughter (Kiersey Clemons) to hit the road as a musical act. Hearts Beat Loud is currently in select theaters.
7. En el Septimo Dia (On The Seventh Day)
This movie follows a soccer player who comes to the United States undocumented and struggles to bring his pregnant wife over from Mexico. En el Septimo Dia is out in limited release.
8. Revenge
Jen (Matilda Anna Ingrid Lutz) goes on a romantic trip with her boyfriend (Kevin Janssens), but when two of his friends arrive unannounced, the trip goes south. Jen is left for dead, but she soon finds her revenge. Revenge is available on Google Play and YouTube.
9. Won't You Be My Neighbor?
This documentary follows the success and life of the extraordinary children's educator Mr. Rogers. Won't You Be My Neighbor? is playing now in select theaters.
10. Leave No Trace
A father and daughter live in a forest near Portland, Oregon, without making much contact with the outside world. But a small mistake makes authorities zero in on their unusual lifestyle. Leave No Trace is in theaters now.
11. Don't Worry, He Won't Get Far On Foot
John Callahan (Joaquin Phoenix) enters rehab for drinking, where he finds out that he has a gift of illustration. He soon becomes more optimistic about his life when his newspaper cartoons gain a national following. Don't Worry, He Won't Get Far on Foot is in select theaters.
12. Eighth Grade
Ah, the woes of being a preteen in the awkward phases of middle school. Eighth Grade follows a young girl named Kayla (Elsie Fisher) who is trying to find her identity in a world of social media. This coming-of-age film is in select theaters.
13. Madeline's Madeline
A theater director gets concerned when the star of her new show takes the role to a whole new level. Madeline's Madeline hits theaters August 10.
14. Sorry To Bother You
Sorry to Bother You is a satire about the racial dynamics in workplace culture, following a Black telemarketer (Lakeith Stanfield) who uses a white voice to improve his business. You can catch this film in theaters now.
15. Searching
Searching follows the mystery of David's (John Cho) missing daughter, Margot (Michelle La). At first, how it happens seem pretty clear, but things soon get complicated. Searching hits select theaters on August 3.
16. Skate Kitchen
Skate Kitchen follows a young, close-knit crew of female skateboarders in New York. Skate Kitchen hits theaters on August 10.
17. BlacKKKlansman
The movie stars John David Washington and Adam Driver as men who infiltrate a Colorado chapter of the Ku Klax Klan. BlacKKKlansman hits theaters August 10.
18. Makala
This movie follows a Congolese coal salesman on his journey across a grueling landscape to support his family back home. Makala is set to hit select theaters on August 24.
19. The Little Stranger
Out August 31, The Little Stranger takes place in 1948 and tells the story of a doctor (Domhnall Gleeson) who visits a family being haunted in a home called Hundreds Hall.
From dramas to comedies to thrillers, these indie films all deserve your attention this summer.