19 Movies Based On True Stories Out In 2018, From 'Chappaquiddick' To 'Mary Queen Of Scots'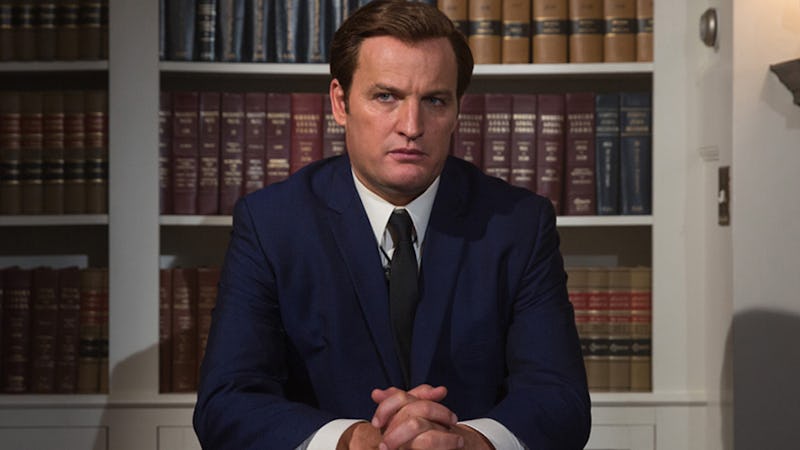 Entertainment Studios
We all know how it is — Hollywood simply loves nothing more than turning the juiciest and most compelling true stories into must-see movies. The drama of real life often makes for a great, gripping film script, and luckily, there are several movies based on true stories coming out in 2018 or that are already in theaters you can check out. From The 15:17 to Paris to 12 Strong to Tag to Hotel Mumbai, these movies act as examples of the saying "truth is stranger than fiction," and trust me — you're going to want to see them all.
No matter your favorite genre, there's a movie here for you. The films on the below list all tell fascinating stories bound to catch your attention, whether it's by detailing the history of American intervention in French Indochina or by exploring the consequences of a famous senator's deadly car crash. Not all these movies are authorized by the actual people who lived through them — and some tell the tales of of people who haven't been alive for centuries — but all of them deserve to be seen. Don't miss these 19 movies based on true stories that are either already available to watch or hitting theaters later in 2018.
1. Chappaquiddick
Chappaquiddick stars Jason Clarke as Ted Kennedy and Kate Mara as Mary Jo Kopechne in a drama that follows their infamous 1969 car accident. Then-Senator Kennedy drove his car into a channel off Chappaquiddick Island, Massachusetts. His lover, Mary Jo, was trapped inside the car and drowned, while he fled the scene and did not tell authorities about the accident for 10 hours. The film opens in theaters on April 6.
2. Tag
This movie, starring Ed Helms, Jeremy Renner, Hannibal Buress, Jake Johnson, Jon Hamm, Isla Fisher, and Rashida Jones, is based on the true story of a group of friends who've played tag for over two decades. Whoever is "it" from the game's previous year will try to "tag" a new person every February and will go to any length to tag a new person. Tag will be in theaters June 15.
3. Fighting With My Family
Fighting With My Family is a biography dramedy based on the life of WWE wrestler Paige (real name Saraya-Jade Bevis). In the film, Florence Pugh plays Paige, Vince Vaughn plays Jake "The Snake" Roberts, and Dwayne "The Rock" Johnson stars as himself. The movie will hit theaters Sept. 14.
4. The 15:17 To Paris
Directed by Clint Eastwood, The 15:17 to Paris tells the story of the three Americans who stopped a terrorist attack on a train bound for Paris in August 2015. The actual heroes from the train attack — Spencer Stone, Anthony Sadler, and Alek Skarlatos — play themselves in film. The 15:17 to Paris is in theaters now.
5. The Post
The Post follows the stories of both the Washington Post and New York Times journalists who published the Pentagon Papers, which unveiled the extent of the U.S.'s involvement in Vietnam in the early 1970s. The film which was released in January, stars Meryl Streep, Tom Hanks, and Sarah Paulson.
6. The Women Of Marwen
The Women of Marwen is a fantasy drama based on the experiences of photographer Mark Hogancamp, who suffered brain damage after being severely beaten in an attack. To cope with his injuries, Hogancamp created a 1/6 scale WWII-era Belgian town called "Marwencol" and populated it with dolls. The movie stars Steve Carell, Leslie Mann, Diane Kruger, Janelle Monae ,and Eiza González, and it comes out Nov. 21.
7. Boy Erased
Boy Erased tells the story of a young queer man named Jared (Lucas Hedges), the son of a Baptist preacher, who is sent to a conversion therapy program or risk being excommunicated from his family, friends, and faith. The movie is based on the 2016 memoir Boy Erased, and it'll come out this September.
8. First Man
First Man is based on the book First Man: The Life of Neil A. Armstrong by James R. Hansen. The story focuses on Armstrong's race to space and NASA's mission to land on the moon. Armstrong will be played by Ryan Gosling, with Claire Foy as his wife. The movie comes out Oct. 12.
9. Hotel Mumbai
Oscar nominee Dev Patel stars in Hotel Mumbai, which chronicles the 2008 attacks at a hotel in India and other terrorism in Mumbai. The movie has no premiere date just yet, but it's scheduled to be released this year.
10. Can You Ever Forgive Me?
Can You Ever Forgive Me? is a dark comedy about a writer, Lee Israel (Melissa McCarthy), who starts stealing and forging letters of deceased celebrities. The movie hits theaters Oct. 19.
11. White Boy Rick
White Boy Rick is based the true story of a teenage undercover FBI informant who became involved in the drug world and was sentenced to life in prison after a drug trafficking arrest. The film stars Richie Merritt as Ricky Wershe Jr. and Matthew McConaughey as Ricky's father. It'll come out Aug. 17.
12. 12 Strong
In the wake of Sept. 11, Captain Mitch Nelson (Chris Hemsworth) leads the U.S. Special Forces team into Afghanistan for a deadly and dangerous mission. The team partners up with the Northern Alliance to take down the Taliban and al-Qaida allies, but quickly discover they are outgunned and outnumbered. 12 Strong was released on Jan. 19.
13. My Dinner With Hervé
The HBO drama My Dinner with Hervé focuses on the final days of French actor Hervé Villechaize (Peter Dinklage) who committed suicide in 1993 at the age of 50. The film has no exact release date, but it's scheduled to premiere this year.
14. Mary Queen Of Scots
Based on John Guy's biography My Heart Is My Own: The Life of Mary Queen of Scots, the film stars Saoirse Ronan as the young queen Mary Stuart. Mary becomes the queen of France at the age of 16 and is widowed at 18; after the death of her husband, she seeks to return to her homeland of Scotland to reclaim her throne, only to be met with opposition. The movie comes out Nov. 2.
15. Operation Finale
15 years after World War II, secret agents come together to track down Adolf Eichmann, the Nazi architect of the Holocaust. Operation Finale follows Peter Malkin (Oscar Isaac), one of the agents involved in the 1960 covert mission in Argentina that captured Eichmann (Ben Kingsley). The movie is set to debut Sept. 21.
16. Unbroken: Path To Redemption
Unbroken: Path to Redemption is a faith-based movie following the life of World War II veteran Louis Zamperini (Samuel Hunt) and his battles with nightmares, unemployment, and alcoholism. The film comes out Oct. 5.
17. 7 Days In Entebbe
7 Days In Entebbe tells the true account of the July 1976 hijacking of an Air France flight from Tel-Aviv to Paris, that forced the flight crew to land in Entebbe, Uganda. While there, the Jewish passengers are held hostage and the Israeli government attempts a rescue mission. The film came out on March 16.
18. Veronica
The horrifying film Veronica is based on a true story about a young girl in Madrid named Estefania Gutierrez Lazaro, who mysteriously died after using an Ouija board. Since 1992, police were never able to crack their investigation about how and why she passed away. The film hit Netflix on Feb. 26.
19. Bohemian Rhapsody
Bohemian Rhapsody follows the life of Freddie Mercury (Rami Malek), the lead singer of Queen, and the formation of the famous band. The film will be released on Nov. 2.
If you love seeing real stories hit the big screen, these movies will be so up your alley.