If You Loved 'The Nun', Stream These 19 Terrifying Movies Next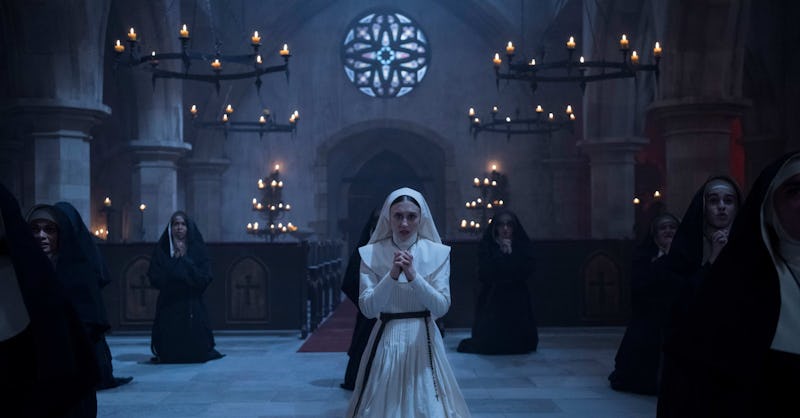 New Line Cinema
If you haven't heard already, Warner Bros.' The Nun set box office records on its opening weekend for The Conjuring franchise. Fans of the horror genre have always gravitated towards sequels and prequels, andThe Nun is both a prequel and the fourth movie in its franchise. Audiences' love for all things terrifying is no surprise, of course, as for many people, there's nothing better than a scary movie that gets adrenaline rushing through your system. So whether you've already seen the new Conjuring movie and need new material, or are simply already obsessed with it and want more films like it, here are 19 scary movies like The Nun streaming now.
The movies on the list below are guaranteed to give you nightmares, so prepare yourself accordingly. But really, what better time is there to get your scare on and embrace the spirit of the season than the weeks leading up to Halloween? From ghost stories to demon possessions, the plots of each film on this list will have you squeezing your armrest while you watch, totally terrified. For real, even some of these trailers are horrifying. But for some people, that's their thing, and if The Nun truly left you wanting more, do yourself a favor and stream these movies now.
1. The Conjuring
The movie that started it all. This film's massive success spawned The Conjuring 2, Annabelle, and now The Nun.
Stream it here.
2. The Conjuring 2
The Conjuring 2 follows up with the Ed and Lorraine Warren as they visit a single mother whose youngest daughter shows signs of demonic possession. As the Warrens try to help the girl, they become the next targets of the demon.
Stream it here.
3. Annabelle
Devil worshippers invade a couple's home, turning their porcelain doll into a conduit for pure evil.
Stream it here.
4. Clinical
This movie is very violent (you can see by the trailer), so hold on to your seat. The plot follows a therapist who has experienced personal trauma and gets haunted by her terrifying memories.
Stream it here.
5. It Follows
It Follows is about a terrifying spirit getting passed from one person to another via sex. Yup, scary stuff.
Stream it here.
6. Hush
A deaf writer who lives in the woods must fight for her life while staying completely silent when she notices a masked killer on her property.
Stream it here.
7. A Quiet Place
Try not to make a sound because if they hear you, they'll kill you.
Stream it here.
8. Truth Or Dare
The demented faces alone will haunt you.
Stream it here.
9. Hereditary
Hereditary is by far one of the of the scariest movies of this year, and it will definitely haunt you after you watch it.
Stream it here.
10. Veronica
Based on a true story, the movie follows a young girl named Veronica and her friends who try to summon the spirit of Veronica's father using an Ouija board. However, during the session, she loses consciousness and demons take over.
Stream it here.
11. The Domestics
Two people try to find safety in a terrifying post-apocalyptic world filled with murderous gangs.
Stream it here.
12. The Ritual
Four college friends go for a hike through the Scandinavian wilderness, but their journey takes a dark turn when they are presented with evil face-to-face.
Stream it here.
13. Unsane
Fun fact: This entire movie was shot on an iPhone by Steven Soderbergh. The film is about a woman (Claire Foy) who gets committed to a mental institution against her will and has to confront her biggest fear.
Stream it here.
14. The Lodgers
A family curse confines orphaned twins to their home, in punishment for their ancestors' sins. If they leave, a sinister and evil spirit wrath overtakes the house.
Stream it here.
15. Raw
A long-time vegetarian eats raw meat as part of a hazing ritual at college and starts to crave human flesh.
Stream it here.
16. The Devil's Doorway
The Devil's Doorway is about priests who travel to a women's home and uncover a large amount of unpleasant evil things.
Stream it here.
17. The Exorcist
Yes, the classic made this list. Who isn't terrified of a vomiting possessed girl?
Stream it here.
18. Rosemary's Baby
Another classic, this film tells the story of a young woman who becomes pregnant and soon finds out that what she is carrying may not be of this world.
Stream it here.
19. The Prophecy
An evil angel named Gabriel (Christopher Walken) comes to earth to strengthen his powers, trying to take the spirit of a psychotic veteran. When another angel gets word of his plans, he hides the veteran's spirit in a little girl. All hell breaks loose and a cop (Elias Koteas) tries his best to protect the child.
Stream it here.
This is a list full of pure evil — watch at your own risk.