White House Songs Are The Summer Playlist You Didn't Need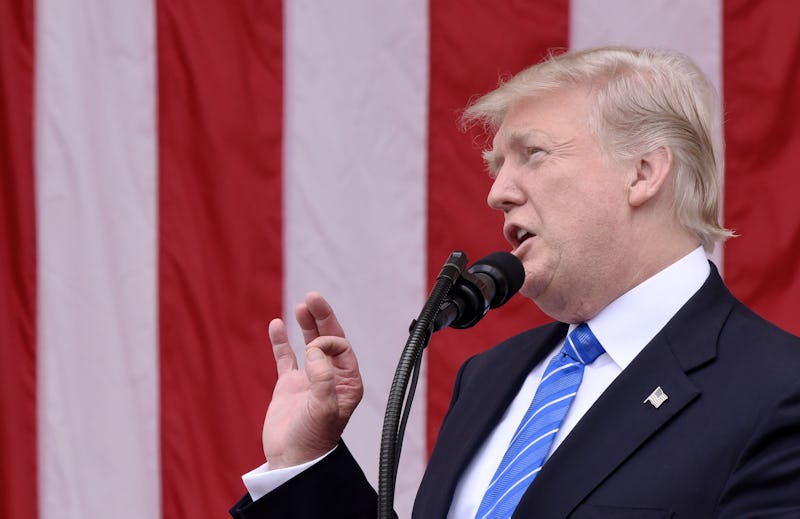 Pool/Getty Images News/Getty Images
It's no secret that President Trump loves to tweet, but his musings have never been quite so lyrical. On Tuesday, Twitter users poked fun at some of the Trump administration's most cringeworthy moments with the hashtag #WhiteHouseSongs, thanks to the nudging of the Huffington Post's comedy team.
The hashtag spread like wildfire on Tuesday afternoon as part of HuffPost Comedy's weekly hashtag game. The hashtag game often centers on a Trump administration angle — who could forget the "Bond Trump Bond" memes from earlier this month? This week, Twitter users fed off of Trump's recent international trip, including an awkward group dynamic at the G7 summit in Italy, and classic moments from earlier in his administration, like the time he didn't shake hands with German chancellor Angela Merkel at the White House.
Together, Tuesday's tweets create a painfully honest soundtrack for Trump's first several months in office. While grappling with issues like ISIS, health insurance, and trade, Trump seems to have made quite an impression on the internet, bringing out — if nothing else — some serious creativity in Twitter users. Here's a look at what you may want to add to your summer playlist.
"I Don't Wanna Hold Your Hand"
If only the Beatles had thought of that one.
"Can't Touch This"
Just call him D.C. Hammer.
"I Dissed A Girl"
Trump's handshakes have become a point of recurring awkwardness.
"I Will Always Shove You"
Cupid shove-fle, anyone?
"Push Him"
Your new workout song awaits.
"Little Lies"
Oh no, you can't disguise...
"Mad World"
This could be an '80s hit, or it could be circa January 2017.
"I Think We're Alone Now"
"867-5309"
Several Trump administration officials have become linked to the ongoing Russia investigation.
"Scandal In The Wind"
The Elton John classic has taken a turn for the cringeworthy.
"Papa Don't Get Impeached"
Talk of impeachment seems to be growing louder.
"Talk Like An Obstruction"
In firing FBI director James Comey, Trump could have opened himself up to an impeachment charge for obstruction of justice.
"Live And Let Die"
Bonus points for combining a song and a James Bond joke into one.
"Another Brick In The Wall"
Actually, it's another brick in the wall that has yet to be built.
"It's Raining Men"
The Trump cabinet lacks diversity, don't you think?
"Hot In Here"
Last week, Trump refused to join the G7 consensus on climate change.
"Spicer World"
There's Baby Spice, Ginger Spice, Posh Spice, Sporty Spice, Scary Spice — and Sean Spice!
"Lips Are Movin'"
Fingers are tweetin'.
"It Wasn't Me"
Just say it wasn't you.
It's the summer playlist you never knew you needed.