200 Famous Women Reveal The One Thing They Want To Change About The World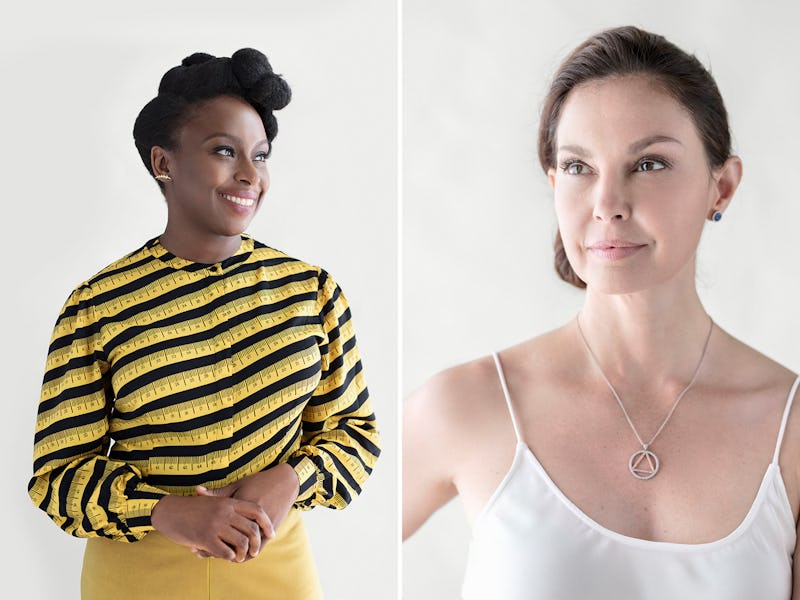 Courtesy of Chronicle Books and Kieran Scott
A new photography book aims a spotlight on the most inspiring, active, and intelligent women in the world. Geoff Blackwell and Ruth Hobday's 200 Women: Who Will Change the Way You See the World contains insightful interviews with Ruth Bader Ginsburg, Jane Goodall, Alfre Woodard, and 197 other great women, presented alongside stunning portraits from photographer Kieran E. Scott. Bustle has a peek inside 200 Women, so keep reading to check out a small sampling of what it has to offer.
At a time when women's rights are under constant attack from politicians around the world, we need books like 200 Women to remind us how far we have come, and to inspire us to tighten up our activism and be better allies. Included among the book's ranks are the founders of some of the most successful and prominent social-justice movements of our time, including Women's March organizer Linda Sarsour, Black Lives Matter co-founder Alicia Garza, and National Farm Workers Association founder Dolores Huerta.
Now, as you've probably guessed, 200 Women is a highly political book. If you aren't a political person, first of all, what do you stall for? Right now, the rights of women, people of color, children, people with disabilities, LGBTQIAP+ individuals, immigrants, Muslims, the poor, and pretty much every other disadvantaged or marginalized group imaginable are under attack in the U.S. Unless you're a U.S.-born, documented, rich, white, able-bodied, cisgender, heterosexual, Christian man, that includes you. Even if you aren't personally affected by what's happening, members of your family and social circle are almost certainly affected by this assault on our rights. If nothing that has happened over the last two years has spurred you toward activism, consider this the splash in your face: Wake up. Hit the streets. Resist.
200 Women: Who Will Change the Way You See the World edited by Geoff Blackwell, Ruth Hobday and photographed by Kieran Scott, $37, Amazon
Believe me when I say that the people profiled in 200 Women will be the names that go down in our daughters' history books, both for their activist efforts and for the wisdom they have imparted upon the world.
200 Women is already on store shelves. If you're on the fence about whether or not to buy it for yourself and others this holiday season, keep scrolling to check out the excerpts Bustle has received from publisher Chronicle Books. Below you'll find meaningful quotes from seven of your favorite authors and actresses, including Roxane Gay and Danielle Brooks. Read them, and check out the rest of their amazing sisters in 200 Women, available now at your favorite bookstore.