Here Are 28 Reporters Covering The 2020 Race That You'll Want To Follow On Twitter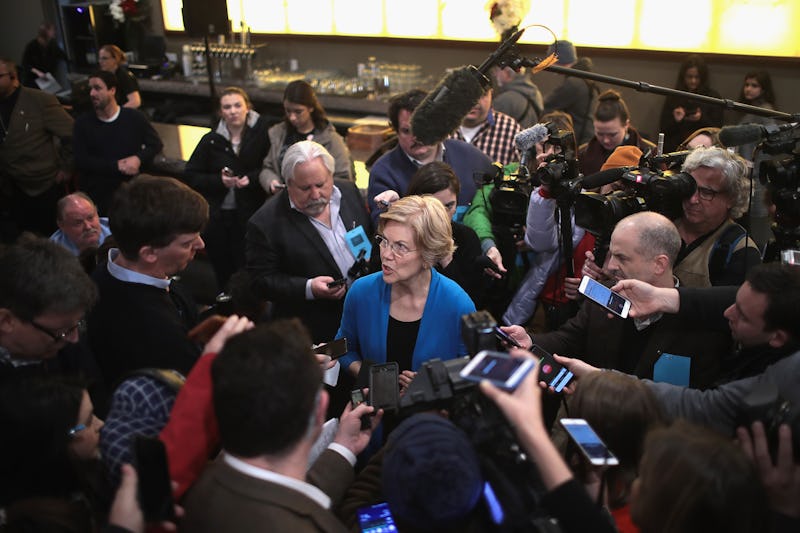 Scott Olson/Getty Images News/Getty Images
Campaigning for the 2020 presidential election has already kicked off in a big way, with multiple Democratic candidates announcing their intention to run for the nomination. As more and more news about 2020 continues to emerge, you may be wondering how to best keep track of issues and candidates. Thankfully, social media can offer some help in this area. There's a handful of 2020 campaign reporters on Twitter you can follow to stay up-to-date on all the latest political developments.
The 2020 race already has a host of candidates — and several more may still emerge. So far, the following individuals have declared their intention to run for the Democratic nomination: California Senator Kamala Harris, Massachusetts Senator Elizabeth Warren, New Jersey Senator Cory Booker, Minnesota Senator Amy Klobuchar, New York Senator Kirsten Gillibrand, Hawaii Representative Tulsi Gabbard, former Housing and Urban Development Secretary Julián Castro, South Bend, Indiana Mayor Peter Buttigieg, technology entrepreneur Andrew Yang, and former Maryland Congressman John Delaney.
There's clearly a lot of people and information to keep tabs on as the 2020 race approaches. Amidst an ever-evolving news cycle, the following journalists will help offer insight into how America's presidential race is unfolding from now until Election Day.