Watch These 21 Disney Movies On Netflix ASAP Before They Leave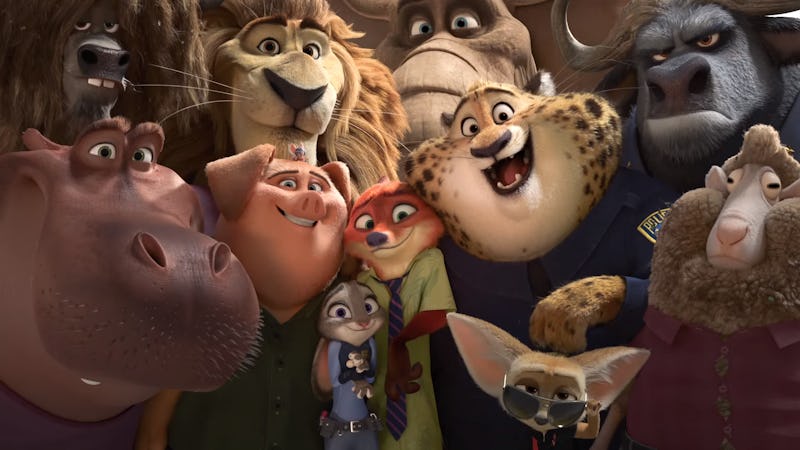 Disney
All of our movie streaming lives changed in 2012 when Disney struck a deal with Netflix that gave the streaming service access and exclusive rights to host some of its epic films. It made Netflix the place to watch all things Disney, Pixar, Lucasfilm, or Marvel, and anyone could find old and new movies they loved no matter their genre preference. Unfortunately, the deal was just too good to last, as now, Disney will be leaving Netflix to start its own streaming service. That's why it's important to catch these 21 Disney films before they leave Netflix.
Pretty soon, Disney fans will no longer be able to use Netflix streaming subscription to catch up on everyone's beloved favorites like Inspector Gadget 2, Sky High, Mulan II, Heavyweights and countless others. But don't cry a river of sadness just yet. You still have over a year to catch your favorite Disney films on Netflix before they leave the site for good.
So, in light of this major break-up, here are 21 Disney films to obsess over and watch until you can't watch anymore, before they leave Netflix for Disney's own streaming service.
1. Finding Dory
Nemo's forgetful friend Dory goes out to find her parents and reunite with other loved ones from the sea.
2. Zootopia
Zootopia teaches about profiling and inclusion, and it is great for all ages. Plus, you'll love the fight and spirit of Lt. Judy Hopps.
3. Queen Of Katwe
Queen of Katwe is the true story of the Ugandan teenage chess champion Phiona Mutesi. It's a total tear-jerker.
4. Moana
Moana is about a young Polynesian girl who spends her entire life being groomed to be her island's chief, but decides to go on an adventure with a demigod in order to save her people. It's the best.
5. Holes
Remember Shia LaBeouf before he was a meme? Well... here you go.
6. The Jungle Book
10-year-old Mowgli is raised by loyal wolves who gets tracked by a villainous tiger named Shere Khan. His adventure is helped by a noble, protective panther named Bagheera and the lazy but loveable Baloo.
7. Atlantis: The Lost Empire
This is one of Disney's underdogs and is so worth revisiting. Michael J. Fox plays the voice of a nerdy scholar, Milo, who makes a new discovery. It's a good watch.
8. Lilo & Stitch
Lilo & Stitch features the cutest, most unlikely friendships in the Disney world, and it's absolutely adorable.
9. Pirates Of The Caribbean: The Curse Of The Black Pearl
The first film of the popular franchise starring Johnny Depp as Captain Jack Sparrow sees the captain enlisted to help rescue the kidnapped daughter of a governor. He must help break the curse of pirates caught between life and the world of the dead.
10. Cool Runnings
This movie takes me back to my childhood. The cultural pride and the charm of the real life story of the Jamaican bobsled team will have you grinning from ear to ear.
11. The Mighty Ducks
This is still one of the most feel-good sports movies ever made. My siblings and I would spend Sunday afternoons watching Disney films and The Mighty Ducks was always on the list. It's a film that will get you encouraged about teamwork and ice skating.
12. Honey, We Shrunk Ourselves
The sequel to Honey I Shrunk The Kids sees a family scientist (Rick Moranis) miniaturizing himself, wife and friends, then seeking help from kids who think they're home alone. Talk about the ultimate way parents can spy on the kids.
13. Chicken Little
Young Chicken Little (Zach Braff) throws his small town into panic by claiming the sky is falling. Unable to find the piece of "sky" that hit him, he earns the town's scorn. He later comes to find out that it's actually a UFO, and has to now gain the trust of the community to understand that an alien invasion is about to happen.
14. Tarzan
Tarzan (Tony Goldwyn) grows up in the remote African wilderness, raised by the gentle gorilla Kala (Glenn Close). When a British expedition enters the jungle, Tarzan encounters the beautiful Jane (Minnie Driver) and recognizes that, like her, he's human. He then starts to fall in love, until drama starts to happen.
15. The Cheetah Girls
"We're Cheetah Girls, Cheetah Sisters!" It's a motto repeated throughout the movie, which is all about sisterhood and working together. Plus, all the girl power music is guaranteed to keep you dancing.
16. Hannah Montana: The Movie
Miley Cyrus was once a country swooner winning the hearts of preteens everywhere as Hannah Montana. Watch this film if you want to reminisce of the simpler days of Cyrus' career.
17. High School Musical
High School Musical was the coolest. If only it was real life...
18. The Parent Trap (1961)
The iconic original came way before the epic Lindsay Lohan remake, and it's totally worth a watch.
19. Who Framed Roger Rabbit
This is one of the best blends of live action and animated films ever.
20. Rogue One: A Star Wars Story
Whether you're a Star Wars superfan or not, you'll find Rogue One to be a fun watch, especially if you're waiting for other action films to hit Netflix.
21. The Emperor's New Groove
The Emperor's New Groove is a very silly story about an arrogant emperor (David Spade) who is transformed into a llama by the devious diva Yzma. It's a hilarious movie to watch.
It's a sad moment for us Netflix subscribers who are super Disney fans, but let's enjoy this time with our favorite movies while we can.