21 Friendsgiving Movies To Watch This Holiday, From 'Crossroads ' to 'Miss Congeniality'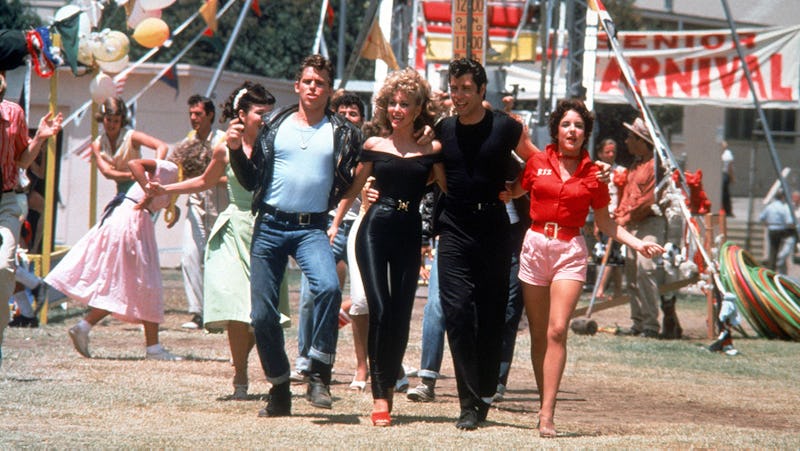 Paramount Pictures
Thanksgiving is upon us, and for some of us, that means meeting up with family for the holiday, while for others, Thursday will be a day surrounded by close friends. That, of course, is Friendsgiving, and for people who either live far from their families or just prefer to spend the day with their best pals, Thanksgiving is often the perfect time to bond with your close friends over a potluck meal. And then, of course, there's the entertainment; no Friendsgiving is complete without a bunch of Thanksgiving movies to watch with your BFFs.
Fo so many of us, much of Thursday will be spent putting endless amounts of food in our bellies, so there's no better way to spend the rest of the holiday watching some holiday classic movies with your friends. Want something cute, animated, and romantic? There's something for you. Or maybe your whole squad is in the need for a raunchy comedy? There's that, too. With so many different places to watch and stream movies like Netflix, YouTube, Hulu, iTunes, Google Play, Vudu, and Amazon Prime, you'll never be shot on ways to get your Thanksgiving entertainment in this holiday.
So, without further ado, here are 21 movies to watch during your festive Friendsgiving.
1. A Charlie Brown Thanksgiving
Charlie Brown and his friends never cease to give you the holiday warm and fuzzy feelings. This film is great for you and your friends when you want to feel nostalgic about your childhood.
2. Grumpy Old Men
Watching two grumpy old men, John Gustafson (Jack Lemmon) and Max Goldman (Walter Matthau), fight over their mutual love interest Ariel (Ann-Margret) is pretty great. It's definitely worth the laugh after a good Thanksgiving meal.
3. You've Got Mail
Kathleen Kelly (Meg Ryan) and Joe Fox (Tom Hanks) are rivals in real life — who fall in love online through email. The scene of their grocery store interaction on Thanksgiving Day is hilarious.
4. Miss Congeniality
Special agent Gracie Hart (Sandra Bullock) never thought that her first undercover assignment as an F.B.I. agent would be a beauty pageant. When the F.B.I. uncovers a terrorist plot that is linked to a national pageant, though, Gracie becomes Miss New Jersey to save the lives of her pageant sisters.
5. The Blind Side
Need a little cry this Thanksgiving with your friends? The Blind Side is the tearjerker for you. Sandra Bullock plays a Southern woman who takes in Michael Oher (Quinton Aaron), a homeless teenager.
6. Soul Food
Soul Food revolves around matriach Josephine "Big Mama" Joseph (Irma P. Hall), and he daughters Maxine (Vivica A. Fox), Teri (Vanessa L. Williams) and Tracy (Nia Long). Struggle hits the family hard when Big Mama falls sick, old rivalries resurface, and the long-standing tradition of Sunday family dinners is tested by betrayal.
7. Funny People
Funny People follows George Simmons (Adam Sandler), a movie star who goes back to his stand-up comedy roots after being diagnosed with leukemia. He meets a young comic played by Seth Rogen who's in search of a mentor and the two tour the country. It's funny, heartwarming movie all about the value of family and friendship.
8. Creed
Seriously, Creed will remind you to get up and moving after that turkey day indulging, and what better way is there to get motivated than to see Michael B. Jordan sweating it out?
9. Ice Storm
Ang Lee's The Ice Storm is full of scandal. Frustrated dad Ben (Kevin Kline) is cheating on his wife, Elena (Joan Allen), with his neighbor Janey (Sigourney Weaver). His daughter, Wendy (Christina Ricci) is also having an affair with Janey's son Mikey (Elijah Wood). If you and your friends are looking for a little drama, this is the movie to watch.
10. Almost Christmas
Almost Christmas follows Walter Meyer (Danny Glover) a father of four who recently lost his wife. With the holiday season approaching, he invites his daughters Rachel (Gabrielle Union) and Cheryl (Kimberly Elise) and sons Christian (Romany Malco) and Evan (Jessie T. Usher) to his house for Christmas. But the holiday goes south when the family starts focusing on bickering, lies, and cheating.
12. What's Cooking?
Four families, tons of food, and plenty of uninvited guests and outrageous conversations make up this movie, which will fill up your Friendsgiving with plenty of laughs.
13. Four Brothers
Are you and your friends more of the action movie types? Four Brothers will be right up you alley.
14. Curly Sue
This movie, about a young girl (Alison Porter) who works with a homeless man (Jame Belushi) to con people for food and money, will have you feeling extra grateful.
15. Friday After Next
Craig (Ice Cube) and Day-Day (Mike Epps) are working as security guards when a Santa Claus breaks into their apartment, stealing all their presents and rent money. Before they get evicted, they take matters into their own hands and try to catch the stealing Santa.
16. A Winnie The Pooh Thanksgiving
There's nothing like Winnie the Pooh to help you feel like a kid again.
17. Grease
Grease is the ultimate friendship film, and it'll have you and your friends doing your best "Summer Nights" rendition.
18. Best Man Holiday
College friends Lance (Morris Chestnut), Harper (Taye Diggs), Candace (Regina Hall), Quentin (Terrence Howard), Robyn (Sanaa Lathan), Jordan (Nia Long), Murch (Harold Perrineau), and Mia (Monica Calhoun) finally reunite for Christmas after 15 years of not seeing each other. The movie is full of fights, love, and revelations that will leave you reaching for that Kleenex.
19. How To Lose A Guy In 10 Days
How to Lose a Guy in 10 Days is just kind of movie to watch with your group of friends when you want to talk about all of your dating stories.
20. Crossroads
Crossroads will make you nostalgia for the early 2000s when Britney Spears dominated the pop culture game. Lucy (Spears), Kit (Zoe Saldana) and Mimi (Taryn Manning) are three childhood pals who are just trying to figure out their lives, and the movie will make you start planning that 2018 road trip with your friends.
21. Trading Places
Trading Places takes place between Thanksgiving, Christmas and New Year's, so it's perfect for any holiday get-together no matter the day.
Whether it's your first Friendsgiving o you're a total veteran, check out these movies during your holiday. Watch, be full, and enjoy!