The Perfect Harry Potter Gift For Your Friend, Based On Their Hogwarts House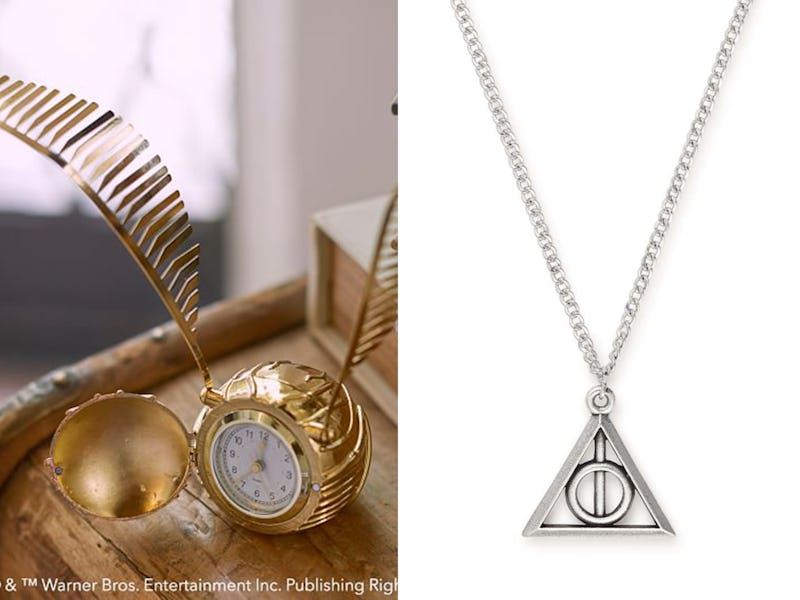 PBteen; Alex & Ani
Now that the holiday season has rolled in, it's time to deck the halls, belt out the carols, and hit the holiday shopping. And what makes a better present than a Harry Potter-themed gift? After all, nobody does Christmas like Hogwarts.
Think, for a moment, on Professor Flitwick decorating the castle for the holiday and teaching the suits of armor to sing Christmas carols. Then there's Dobby decorating the Room of Requirement with mistletoe and baubles bearing Harry's face. Or Sirius throwing himself into bringing some holiday cheer to Grimmauld Place. Plus, remember all the festivities (and drama!) of the Yule Ball? And of course, there's Harry's first Christmas, when he came to the Gryffindor common room to realize that for the first time in his life he had been given real presents. Just thinking of it makes my heart melt.
The Christmas scenes in Harry Potter are great examples of what the holidays are about. We see the characters come together in marvelous ways, spreading cheer to each other in even the most dreary and perilous of circumstances.
Yes, the holidays are a particularly magical time at Hogwarts. But you, too, can bring some of that magic into the Muggle world, by gifting the perfect Harry Potter-themed present to the Potterhead in your life. The franchise is in full swing this year, with many top brands releasing their very own Harry Potter collections, so there are many wonderful ways you can gift the wizarding world this season.
Here are some splendid Harry Potter gifts that will make a splash this holiday season. Plus, to make it easier for you to choose, I've divided them up by house. So, if you're looking for something to celebrate the brave spirit of your Gryffindor friend, the studious habits of your Ravenclaw compatriot, the warm and loyal soul of your Hufflepuff buddy, or the cunning guile of your favorite Slytherin, you're sure to find something on this list that matches them perfectly.
From cute and comfy clothes that boast house pride to home goods that will put a little bit of Hogwarts charm into your recipient's daily life, there's something for everyone on this list. Harry Potter is a series that brings magic everywhere it touches, and any reminder of it lights up any reader's life. No matter who you're shopping for, you're sure to find something that will give your favorite Potterhead a very merry holiday.