31 Magical 'Harry Potter' Christmas Gifts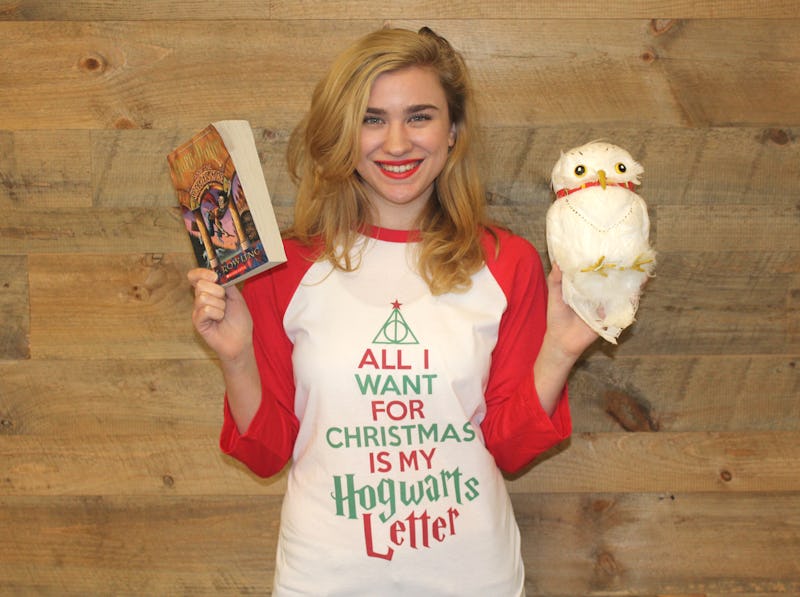 Listen, y'all, you best appreciate this gift guide, because honesty hour: picking out the best Christmas gifts for Harry Potter fans was basically like hitting my bank account with an Unforgivable Curse. Do I want everything on this list? Yes. But do I need everything on it? Yes, duh, absolutely. And while it might mean living for several months in the Shrieking Shack while I scrounge up all the money that was supposed to pay rent, it will be worth it when I end up being the smuggest Potterhead this holiday season.
If you're feeling extra benevolent this year, I suppose you could use this gift guide as a way to surprise your fellow Harry Potter fans. But if you, like me, are the Horace Slughorn of your friend group, then just consider this a guide of all the things you should buy yourself — after all, you've been hella thoughtful this year. And you're totally going to finish holiday shopping for other people at some point in time, and will deserve to be rewarded. What better way to do that than by buying yourself enough Potter swag to make your 11-year-old self cry from retroactive jealousy? No worries, guys, I've got your collective backs. Here are all the best Potter-themed gifts you can buy:
Hogwarts 3D Puzzle, $43, Amazon
Well, somebody's gotta rebuild after the whole ... well ... (Too soon?)
Hogwarts Writing Quill , $39, Amazon
It's no Spell-Checking Quill from Weasleys' Wizard Wheezes, but it's handsome enough that you can forgive it.
Gryffindor Journal , $14, Amazon
Just, y'know. Do a quick Horcrux check before you write anything too incriminating, K?
Minimalist Harry Potter Necklace , $6, Amazon
These are too classy for your eyes. Good thing now you'll have a second pair.
Harry Potter Alphabet Pillow Cover , $7, Amazon
Why count sheep when you can count your faves instead?
Harry Potter Coloring Book , $11, Amazon
So you can pretend you have magic powers AND artistic talent at the SAME TIME!!
Hogwarts Print Leggings , $45, Amazon
So you can accidentally burst into nostalgic tears every time you look into your lap, LIKE AN ADULT.
All I Want For Christmas Shirt , $31, Amazon
Keep your shiny new sedan and money to pay off our student loans, Santa. We have PRIORITIES.
Maurauder's Map Scarf , $28, Etsy
The solemn swear that you're up to no good is already implied.
Harry Potter Monopoly, $21, Etsy
A beautiful union of the the Magical and Muggle worlds, all in one endless game that is sure to end with your cousin hexing your hotel off the map.
Also Check Out: Harry Potter Clue, $35, Amazon
Hogwarts Christmas Mug, $15, Look Human
The Muggle world is great, but ... bye, y'all.
Holyhead Harpies iPhone Case, $25, Red Bubble
So when Arthur Weasley geeks out at your ~Muggle technology~, you can impress him by supporting his daughter's team. REPRESENT.
Yule Ball Sweater, $26, Look Human
For every Hermione Granger in the world, there is a Ron Weasley to clap back at.
Dobby Wall Decor, $11, Etsy
I think we'd all be hard-pressed to find a declaration of love more intense than this.
Merry Christmas Muggle Tank, $20, Look Human
For the inevitable back-to-back Christmas Harry Potter and Home Alone marathons.
Hogwarts Staircase Bag, $23, Look Human
DON'T FORGET THE TRICK STEP.
Harry Potter Shot Glasses, $21, Etsy
Time to get Potter turnt up in here.
Christmas In Hogsmeade Sweater, $20, Look Human
Rosmerta's butterbeer brewing game is stronger than all of ours, let's be real.
S.P.E.W. Mug, $14, Etsy
Be the Hermione of everything you do, including and not limited to jacking yourself up with caffeine.
Luna Lovegood Studio Pouch, $25, Red Bubble
For the Crumpled Horn Snorkack fan in your life.
21. Firebolt Shirt
Firebolt Shirt, $28, Look Human
Harry James Potter as your BFF and Quidditch Captain not included.
Harry Potter Watercolor 2016 Calendar, $40, Etsy
Keep track of all the days that have passed since your Hogwarts letter was supposed to come!! (Help.)
See Similar: Harry Potter Desk Calendar, $14, Amazon
"Ugly" House Christmas Sweaters, $28, Jesus Bday
Now all your fellow Gryffindors, Slytherins, Hufflepuffs, and Ravenclaws can get their ugly sweater swag on together in the common room. Also, can we talk about how pleased Dobby would be to get this for Christmas? (Can we just talk about Dobby all the time? MY HEART.)
Harry Potter Cheeseboard , $24, Bee3DGifts
The union of the two holiest things on this planet: the Marauders, and lactose.
Gryffindor Themed Bath Set , $35, Etsy
Gryffindors — brave of heart, sweet-smelling of butt.
Santa Is My Patronus Baseball Tee, $26, Look Human
They say your Patronus only changes in circumstances of true love ... and who wouldn't love a dude who is rolling in free candy?
Mischief Managed Underwear, $10, Etsy
For when you're in a blizzard with a wizard or snuggling a Muggle.
Harry Potter Cookie Cutter , $8, Etsy
The only cookies Santa really wants this year, TBH.
Harry Potter Deathly Hallows Thermal, $30, Hot Topic
Snug as a Muggle in a rug.
Very Harry Christmas Sweater, $30, Look Human
AND A DOBBY NEW YEAR.
Wingardium Leviosa Feather Bracelet, $9, Hot Topic
From Levi-OOHHH-saaa to levi-OTP. <3.
Images: Rosanne Salvatore/Bustle; Courtesy of Brands