21 Little Known Facts About The Loveable Justin Trudeau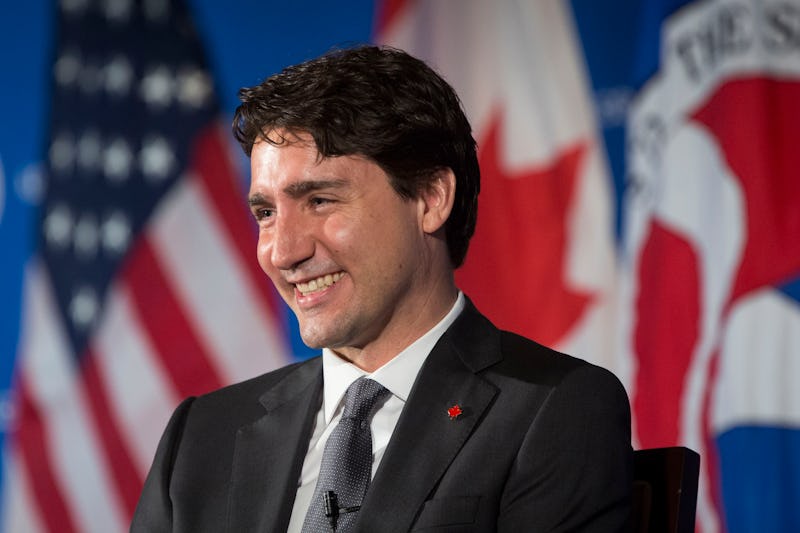 Drew Angerer/Getty Images News/Getty Images
Canadian Prime Minister Trudeau isn't hard to love. You likely already know the basics about him: He was elected the leader of Canada's Liberal Party in 2013 and became PM in 2015. He's spoken up about LGBT and women's rights, and opposed immigration restrictions like President Donald Trump's travel bans. You may even know that he is married and has three children. However, there are a lot more things about Justin Trudeau you may not know.
Trudeau has proved time and again that he is truly invested in the causes he cares about. Rather than just talk about the importance of immigration and the acceptance of refugees, he communicated to the U.S. an example of how important it is this week when he invited first daughter Ivanka Trump to a Broadway show in New York on the topic.
The same day that her father's second attempt at a travel ban was halted by a court, Ivanka watched Come From Away, a show based on the true story of Canadians who took in people whose planes were grounded on Sept. 11, 2001. U.S. Ambassador to the UN Nikki Haley and 600 other guests of the Canadian Consulate of New York were also in the audience.
This kind of thoughtfulness and effort is typical of Trudeau. One year after his election to PM, Huffington Post Canada published a progress report to see how Trudeau did or didn't fulfill his campaign trail promises. While he certainly failed in some aspects, his victories during his first year are encouraging, and show that he is truly working to make Canada a better place for its citizens.
Beyond is impressive political success, there are many other aspects of Trudeau's life that you may not know about.
1. He Was Born On Christmas Day
Trudeau was a Christmas baby in 1971, and his brother Alexandre was born two years later on the same day.
2. He Is The First Second-Generation PM
His father, Pierre Elliot Trudeau, served as prime minister from 1968 to 1979, and then again from 1980 to 1984.
3. He Is Also The Second-Youngest PM
He became the second-youngest Canadian prime minister at 43. Joe Clark, who was 39 when elected in 1979, was the youngest.
4. He Won A Charity Boxing Event
In 2012, Trudeau competed in a charity boxing match and won against Canadian Conservative Sen. Patrick Brazeau.
5. Before Becoming A Politician, He Was A High School Teacher
One of several careers Trudeau tried out before he entered the political field, he taught French, math, and drama.
6. He Starred In A Canadian Movie
In 2007, Trudeau starred in The Great War as Canadian General Talbot Papineau.
7. He Has A Tattoo
On his left shoulder, Trudeau sports a globe inside a Haida raven.
8. He's Not Afraid To Get Real About His Family's Mental Illness
His mother, Margaret, suffered from bipolar disorder. It caused anguish when he was younger, but now Trudeau has gone public in talking about how his mother's bipolar disorder affected his life, and he supports mental illness treatment for all.
9. He Is Very Good At A Particular Yoga Pose
Last year, a picture of Trudeau doing the Mayurasana pose, which involves balancing on only your arms while your feet are up in the air, went viral. Apparently, his father was also skilled at the pose.
10. His Brother Was Killed In A Skiing Accident
Trudeau's brother, Michael, was killed by an avalanche in 1998 at the age of 23 while skiing in British Columbia. Trudeau honored his brother at his son's baptism in 2007 using water his mother had collected from the lake where he died.
11. Richard Nixon Said He'd Be PM
In 1972, at a state dinner, President Richard Nixon predicted Trudeau would one day follow in his father's footsteps, toasting, "to the future prime minister of Canada."
12. He Made A Cameo In A Superhero Comic Book
In late 2016, Trudeau was featured on the cover of a Marvel comic book in his boxing gloves and a Canadian jersey.
13. He Uses His Father's Old Desk
Once he moved into the prime minister's office, Trudeau brought in his father's desk. It's a touching tribute to his late father.
14. He Is Great At Bollywood Dancing
A video of Trudeau dancing to bhangra once went viral.
15. He Once Explained Quantum Computing At A Press Conference
Trudeau once proved to a reporter that he understood quantum computing by calmly and smoothly explaining it.
16. His Favorite Author Is Stephen King
According to a Huffington Post survey, Trudeau is a fan of the master of thriller fiction.
17. His Favorite Curse Is A Joke About His Dad
While he was PM, Pierre Trudeau got into a scandal because he appeared to have mouthed the F-word in the House of Commons. In an interview afterward, the senior Trudeau explained that he had said the words "fuddle duddle." His son cleared up the case in 2015 when he revealed that his father had not said "fuddle duddle." However, he told the Huffington Post that "fuddle duddle" is his favorite curse.
18. He Had An Unfortunate Goatee
At one point in his life, Trudeau sported a weird patch of facial hair that he may never live down. In a Huffington Post questionnaire, Trudeau said it was his biggest political regret.
19. Actor Matthew Perry Beat Him Up In Grade School
Perry, who is best known for his role as Chandler Bing on Friends, admitted recently on Jimmy Kimmel that the two of them had attended the same grade school in Canada. Perry remembered he and a friend had beat up a younger Trudeau because of jealousy over his athletic ability.
20. He Was Named One Of TIME's Most Influential People
In 2016, Trudeau was honored as one of TIME's 100 Most Influential People in the leader category, with his feature written by fellow Canadian Lorne Michaels.
21. ... And Forbes' Most Powerful
Before His TIME honor, Trudeau was named 69 out of 73 on Forbes' Most Powerful People of 2015.
We'll certainly be looking to Trudeau during the rest of Trump's presidency as a beacon of hope and someone who could possibly help steer Trump in the right direction.