21 Movies To Watch If You Love 'Black Mirror', From 'Ex Machina' To 'Gattaca'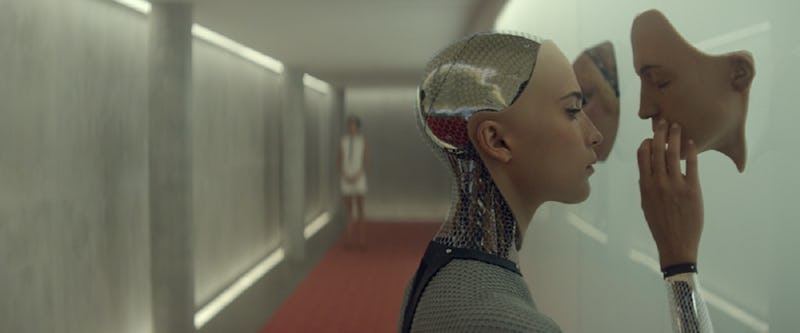 A24
The subversive anthology series Black Mirror takes a hard, sometimes dark, look at the unintended consequences technology has on our day-to-day lives. From upbeat episodes on transferred consciousness like "San Junipero" to questioning the nature and lives of artificial AI in "Hang The DJ", the show covers a full range of philosophical and practical questions. If you wish each episode could go on longer, you're (kinda) in luck — here are 21 movies to watch if you love Black Mirror.
If you're a fan of the test-run of augmented reality of "Playtest", you'd probably enjoy David Cronenberg's multi-layered alternate reality thriller Existenz, which features organic gaming ports and sinister conspiracies. If the relationship between human and AI fascinates you, the ephemeral-to-physical transformation and the psychological weirdness of "Be Right Back" can be found in Ex Machina's protagonist, or the deep but disembodied relationship of Her. The ill-willed hackers of "Shut Up And Dance" have a direct parallel in found-footage murder-mystery The Den, or if you want a vintage-future throwback, check out early-internet paranoia flick The Net, starring American Sweetheart Sandra Bullock.
All of these films share the same goal as Black Mirror — to posit a world that could be our own, one that might happen next week, in a few years, or might even be happening right now, and to take the results to an extreme conclusion. Lucky for us that doesn't just make incisive social commentary, it also makes for entertaining viewing.