21 Punny Valentine's Day Instagram Captions That Will Make You Actually LOL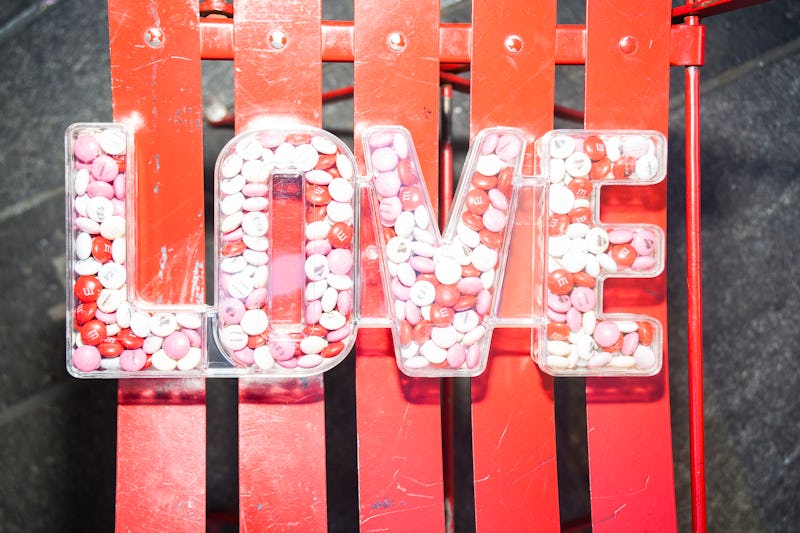 Santiago Felipe/Getty Images Entertainment/Getty Images
Let's admit it: whether you love to celebrate it or not, Valentine's Day is a holiday where you're supposed to be cheesy. It's full of sappy Hallmark cards, giant stuffed teddy bears, heart-shaped everything, pink and red overload, and images of couples in full-on PDA mode. It can be cute, and yes, it's nice to have a day that celebrates love, but it can get a little overwhelming sometimes. Still, it's going to happen whether you like it or not, so why not have a little fun with it? One of the best things about Valentine's Day on the internet is all of the hilarious puns that have come out of it — most of which are perfect for some punny Valentine's Day Instagram captions.
Why do you need Valentine's Day Instagram caption ideas? Well, if you're in a relationship, it's pretty tough to ignore the urge to post an adorable photo of you and bae. If you're single, you might feel inspired to post one of you and your bestie (or you and your cat, aka your truest love). Whatever the case, you want your caption to be fun to read, and not... well, nauseatingly sappy. Enter Valentine's Day puns. They're silly, they're ridiculous, and they sometimes seem to come out of nowhere, but they're arguably a lot better than a long paragraph on how you and your significant other met.
So, if you want to add a little cheesy V-day fun to your Instagram photo, try using one of these punny caption ideas. They're just the thing you need for extra likes.
1. I like you a latte.
Obviously use this caption with a photo of you, bae, and some coffees.
2. You've stolen a pizza my heart.
This caption is honestly the perfect excuse to have pizza as part of your V-day dinner.
3. I knead you.
For you and your cat!
4. I'm fondue you.
Having fondue as dinner or dessert? Snap a selfie with it with your bae, then use this caption.
5. Words cannot espresso how much you mean to me.
Another perfect coffee photo caption.
6. When kissing, you know tulips are better than one.
This is a little cheesy, but it's also really adorable.
7. "Will you be my sweet-tea?"
For all you who love a nice glass of sweet tea!
8. "If you were a triangle, you'd be acute one."
OK, science and math nerds, this one is for you. It's acute!
9. "I'd like to propose a toast to us: I'm b-egging you to be my Valentine. Just don't go bacon my heart."
Who needs dinner on Valentine's Day when you can have breakfast together?
10. "You're one in a minion."
Minions fans, I know you're out there. Make this your caption!
11. "You're my purr-son."
This can be about your cat-loving bae, or just about, you know, your cat.
12. We are a match made in heaven.
If you're cuddling in front of a fire, snap a photo and use this caption.
13. Let's canoodle tonight.
Eating noodles? This is the perfect caption. You're welcome.
14. Are you a pulmonary embolism? Because you take my breath away.
Doctors, nurses, science nerds... you'll love this one.
15. I want to give you a great big pug for Valentine's Day.
How can you own a pug and not use this caption?
16. Are you feline the connection between us?
And how can you own a cat and not use this one?!
17. I love you a little s'more every day.
S'mores in February — always a good idea!
18. Are you a Sharpie? Because you're ultra fine.
This is silly and adorable at the same time.
19. You're so hot you detonate my proteins.
I don't 100 percent know what this means because science, but it's fun.
20. I'll stop the world and melt with you.
What a classic '80s hit by Modern English. This could work with so many different photos!
21. I've gato have you.
Another one for the cat lovers out there.