21 Trump Quotes About Women From His First Year In Office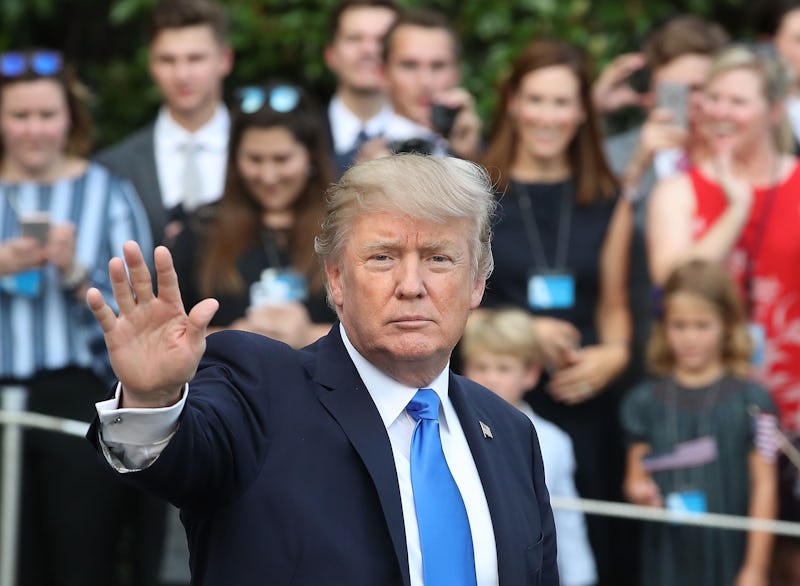 Mark Wilson/Getty Images News/Getty Images
Donald Trump's first year in office is rapidly drawing to a close, and it has certainly been a challenging year — for immigrants, for people of color, for poor people, for women. But 2017 has also often been called the year of the woman: a time when women spoke out (and loudly). As we look back on the first year of Trump's presidency, let's look at some of the things Trump said about women as they stood up against him.
Throughout his career, Trump has made numerous controversial comments about women. He has described women as pigs, defended men who were accused of sexual assault, objectified his own daughter, and made sexist remarks about female reporters. The list of women he has insulted is extensive; Megyn Kelly, Arianna Huffington, Kristen Stewart, Bette Midler, Sarah Jessica Parker, Rosie O'Donnell, and many other women made the cut.
But what is perhaps most alarming is that since winning the election, Trump has not eliminated such remarks from his repertoire. In his first year of office alone, he flirted on diplomatic calls, made inappropriate comments to women in politics, and continued to hurl graphic insults at female reporters. Here are some of the comments Trump made about women over the course of his first year in office.
1. Insulting Morning Joe Co-Host Mika Brzezinski (June 2017)
"I heard poorly rated @Morning_Joe speaks badly of me (don't watch anymore). Then how come low I.Q. Crazy Mika, along with Psycho Joe, came to Mar-a-Lago 3 nights in a row around New Year's Eve, and insisted on joining me. She was bleeding badly from a face-lift. I said no!"
2. Flirting With A Reporter While On A Diplomatic Call (June 2017)
"Go ahead," Trump said to reporter Caitriona Perry. "Come here, come here. Where are you from? We have all of this beautiful Irish press."
"She has a nice smile on her face so I bet she treats you well," Trump added to Leo Varadkar, an Irish politician.
3. Making An Inappropriate Comment To The French First Lady (July 2017)
"You're in such good shape," Trump told France's first lady, Brigitte Macron.
"She's in such good physical shape," Trump added to her husband, French President Emmanuel Macron.
4. Insulting Hillary Clinton On Twitter (November 2017)
"Crooked Hillary Clinton is the worst (and biggest) loser of all time. She just can't stop, which is so good for the Republican Party. Hillary, get on with your life and give it another try in three years!"
5. Talking About The #MeToo Movement (November 2017)
"Women are very special. I think it's a very special time, a lot of things are coming out, and I think that's good for our society and I think it's very, very good for women, and I'm very happy a lot of these things are coming out. I'm very happy it's being exposed."
This quote received backlash in light of the sexual misconduct allegations against Trump — all of which he has denied — as well as against prominent Republicans like Roy Moore, whom Trump defended.
6. Attacking New York Sen. Kirsten Gillibrand (December 2017)
"Lightweight Senator Kirsten Gillibrand, a total flunky for Chuck Schumer and someone who would come to my office 'begging' for campaign contributions not so long ago (and would do anything for them), is now in the ring fighting against Trump. Very disloyal to Bill & Crooked-USED!"
7. Dismissing Sexual Assault Allegations As A Conspiracy By Democrats (December 2017)
"Despite thousands of hours wasted and many millions of dollars spent, the Democrats have been unable to show any collusion with Russia — so now they are moving on to the false accusations and fabricated stories of women who I don't know and/or have never met," Trump tweeted. "FAKE NEWS!"
8. Taking Credit For Women In The Workforce (January 2018)
"Women in the workforce reached a record high. More women in the workforce today than ever before — that's really terrific. And especially since it's on my watch."
9. Trying To Convince Everyone That He Respects Women (March 2017)
"I have tremendous respect for women and the many roles they serve that are vital to the fabric of our society and our economy. On International Women's Day, join me in honoring the critical role of women here in America & around the world."
10. Citing Susan B. Anthony At The Women's Empowerment Panel (March 2017)
"And we've had leaders like Susan B. Anthony — have you heard of Susan B. Anthony? — I'm shocked that you've heard of her — who dreamed of a much more equal and fair future, an America where women themselves, as she said, 'helped to make laws and elect the lawmakers.'"
11. Making A Surprise Appearance At A "Conversation With The Women Of America" (January 2018)
"Women represent half of the population, but they care about 100 percent of the issues."
12. Speaking At A Women's Entrepreneurship Event In Germany (July 2017)
"When more women participate in the workforce — which, by the way, will be a lot more competition for people like me, prior to becoming a politician. That's a lot of competition, talented competition. But the world economy will grow and millions and millions of people will be lifted out of poverty. Millions and millions of people, jobs."
13. Insulting Elizabeth Warren During A Fox And Friends Interview (June 2017)
"Well, I actually think she's a hopeless case. I call her Pocahontas, and that's an insult to Pocahontas. I actually think that she is just somebody who has a lot of hatred, a lot of anger."
14. Accusing Military Widow Myeshia Johnson Of Lying (October 2017)
Myeshia Johnson said Trump did not remember her husband's name during a condolence call she received from him, leading Trump to tweet: "I had a very respectful conversation with the widow of Sgt. La David Johnson, and spoke his name from beginning, without hesitation!"
15. Criticizing Florida Rep. Frederica Wilson (October 2017)
When Florida Rep. Frederica Wilson came to Johnson's defense, Trump insulted her, too.
"Democrat Congresswoman totally fabricated what I said to the wife of a soldier who died in action (and I have proof). Sad! I hope the Fake News Media keeps talking about Wacky Congresswoman Wilson in that she, as a representative, is killing the Democratic Party," Trump tweeted.
16. Insisting That He Shook German Chancellor Angela Merkel's Hand (May 2017)
"Yeah well, believe it or not I had a great relationship with Chancellor Merkel. They come up with this thing about shaking hands — I shook her hand four times before I sat down — and it turns out that either a reporter or somebody said, shake her hand. I never heard it, but I would have been glad to shake ... and they made the shaking of the hands ... a big deal. There's so much noise because they're all going crazy. But, I was with her for a long time before that, and I shook her hand on numerous occasions. We get along great, OK?"
17. Suggesting He Could Replace Ruth Bader Ginsburg (October 2017)
"What does she weigh? Sixty pounds?"
18. Suggesting He Could Replace Sonia Sotomayor (October 2017)
"Her health, no good. Diabetes."
19. Insulting ESPN Co-Host Jemele Hill Following "White Supremacist" Comments (October 2017)
"With Jemele Hill at the mike, it is no wonder ESPN ratings have "tanked," in fact, tanked so badly it is the talk of the industry!"
20. Making A Backhanded Comment About Women Over 30 (February 2017)
"The new Air Force One — that plane, as beautiful as it looks, is 30 years old. Can you believe it? What can look so beautiful at 30? An airplane. I don't know, which one do we like better folks? Tell me."
21. Responding To Summer Zervos' Claims (October 2017)
When Trump was asked about the allegations Summer Zervos had made against him, Trump called his accuser a liar and said: "All I can say is it's totally fake news, just fake. It's fake. It's made-up stuff, and it's disgraceful what happens, but that happens in the world of politics."
Since being elected as president, Trump has insisted time and again that he respects and values women, but has simultaneously insulted women in politics and media, survivors of sexual violence, and others. He has delivered speeches honoring women's contributions both at home and abroad, but still finds time to tweet insults at women from various walks of life.