It's National Puppy Day — Here Are 23 Hilarious Puppy Tweets To Celebrate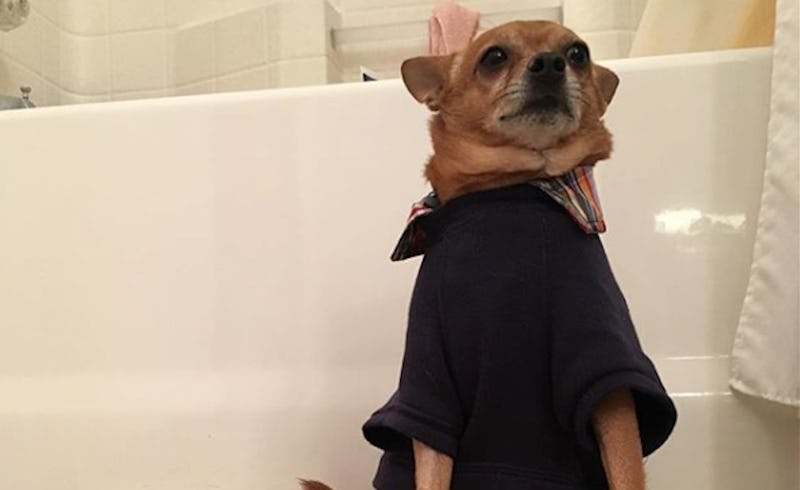 Courtesy of Megan Grant
National Puppy Day is Saturday, March 23, so I consulted the real expert in my home on all things dog: Peanut the Chihuahua. He'll be taking it from here.
Hello! Thank you! Excuse me while I finish licking my privates. My hooman alerted me to the most special of holidays approaching, so I did you the favor of rounding up 23 funny tweets about puppies for National Puppy Day 2019. No need to thank me. Before we get to that, though, let's talk about something really important: me.
Mom likes to tell me I'm the most beautiful creature in the world, and I think she happens to be right. I'm not just a pretty face, though — although let's be honest: that's a big part of it. Mom also tells me that I make her happier than anything, and you guys? She's right.
This thing called the Centers for Disease Control and Protection says that having a pupper in the home lowers your blood pressure and cholesterol (not sure what those words mean), makes you feel less lonely, and helps you stay active. That last one is a given. Mom likes to run after me whenever I steal papers off her desk and start eating them. I'm not sure what the big deal is.
Anyhow, here's me posing by the tub right before I got to eat bubbles.
If you're as excited as I am for National Puppy Day (also called National Peanut Day), you're going to love these funny, silly tweets.
I'm going to go back to licking my privates now. Bye!