14 Memes Of The Cutest, Floofiest Puppers — So You Can Adequately Celebrate National Puppy Day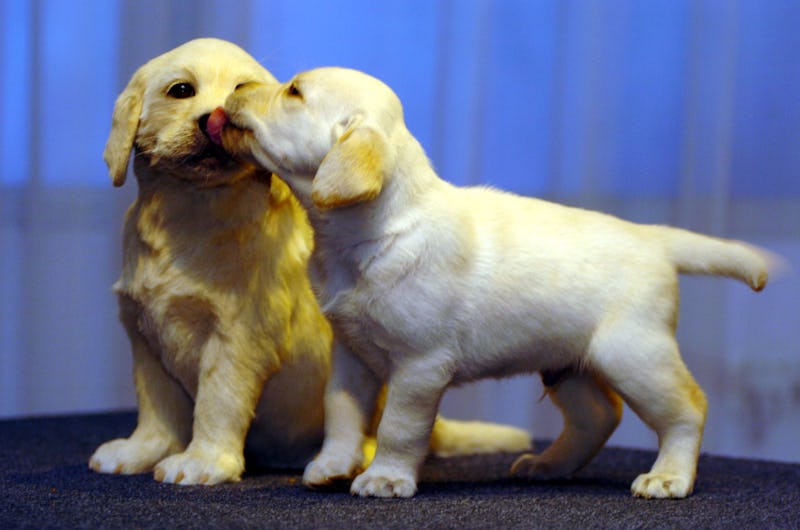 Getty Images/Getty Images Entertainment/Getty Images
If you're a dog person, likely every day feels like some kind of special dog appreciation day. But for the rest of the world, Fri., Mar. 23 is National Puppy Day. The national holiday is observed to not only celebrate puppies, but to support adoption efforts, as well as educate potential dog owners about the dangers of getting dogs from inhumane breeders and puppy mills. Celebrated nationally since 2006, the holiday gives us a great excuse of course to think about and talk about puppies — but it also reminds us of the work we still have to do to change the way we as a nation obtain dogs. One way to observe the day productively is to share a puppy meme on National Puppy Day that attracts people's attention with its cuteness, but also spreads the very important word of the holiday.
Each year, over two million dogs are bred in puppy mills, while another 1.3 million dogs are put down in shelters after not being adopted. The math is simple: there are more than enough dogs for potential dog owners, and the more anyone supports puppy mills by buying their dogs, the more we support the unethical, inhumane industry of commercial dog breeding.
So while National Puppy Day is definitely about all things cute and fluffy, it's also a day that comes with a call to action and gives us all an opportunity to use our platforms to speak out about the social and humanitarian responsibility we have to our beloved dogs, and the importance of supporting animal shelters.
Here are a few adorable dog memes you can post on the day of to catch people's attention about the day: