23 Nail Inspiration Instagram Accounts To Follow ASAP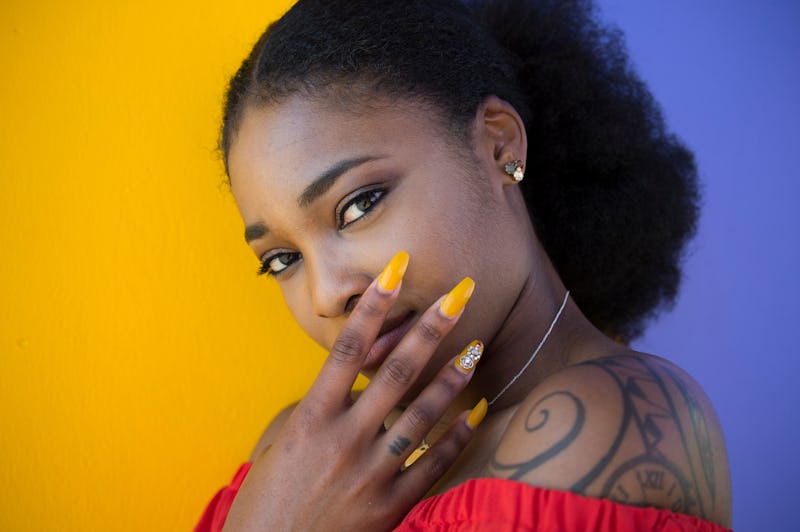 Katie Stratton/Getty Images Entertainment/Getty Images
I don't know about you, but I'm calling it: nail art is on the rise and it isn't going anywhere any time soon. From unicorn-inspired nails to the more intricate hand-painted designs, there's a type of nail art for anyone. And why shouldn't you express yourself even further with some fun and funky nail art? If you're looking up to spruce your mani next time you hit the salon, check out these 23 nail inspiration Instagram accounts that'll motivate you to go bold and be daring with your manicure.
Let me be the first to say, once you've entered the world of nail art, you won't be able to go back. Trust me. Whether you're a minimalist when it comes to your nails or someone who loves colors and images, there is a design for you. While it might be hard to justify getting an intricate design on your fingers since it'll only last a week or two, I think it's even more reason to try whatever your heart desires. It's temporary, so go wild!
Go ahead, get a little crazy, or keep it minimal. It's up to you. If you need a good starting point, start with some holographic nails. You won't be able to stop staring at them in the sunlight — I guarantee it. Dip your toes into some negative space nail art if you want to keep things simple, or dive right in with some hand painted intricacy. Whatever you're feeling, be sure to follow these nail art accounts to keep you inspired for your next trip to the salon. Better yet, learn to do them yourself!
1. Wah Nails London
If you aren't following this London-based nail salon, you need to start now. The nail art is always sassy and feminine. What more could you want?
2. Rice Kitty Nails
Diana Nguyen has some of the most adorable nail art there is. Her simple nail art will definitely leave an impact.
3. Asa Sieracki
This Finger Bang Portland nail artist has proven that she's got the chops for some major nail art inspo, especially if you're feeling edgy.
4. Miss Pop
If you're going to follow anyone, make sure you're following Miss Pop. Her work has been on the runways of NYFW, and she knows how to work with negative space, too.
5. So Hot Right Nail
Bel Fountain-Townsend will inspire you with anything she does, trust me.
6. Olive & June
This LA-based salon has all the minimal mani inspo you could ever need.
7. Nail Swag
Ariana Grande's manicurist? 'Nuff said.
8. Tiny Brushes
Meagan Knight is a semi-finalist in this year's Essies, which means her nail art is top notch.
9. Paintbox Nails
If you want some minimal artwork on your tips, this is the account for you.
10. Beauty Addictedd
Not only does nail artist Fulya created stunning art, but she also creates swatches if you're looking for new shades.
11. Michelle Saunders
Essie nail artist Michelle Saunders knows how to create some beautiful tips.
12. Nailjob
Fariha Ali knows how to design just about anything.
13. Jessica Washick
Washick's work is simple and elegant.
14. Chelseaqueen
Chelsea King has some gorgeous looks to inspire you.
15. Lexi Martone
Let Lexi Martone create some downright edgy nails for you.
16. Miss Ladyfinger
One of my favorite parts about this account is that some of the looks are inspired by fashion.
17. Reishreishnailart
Reina Santos is definitely one to look out for on Instagram.
18. Whitneygnails
Editorial manicurist Whitney Gibson creates some of the prettiest nails you'll ever see.
19. Fleuryrosenails
Fleury Rose will give you some major nailspiration and a look into her personal life.
20. Jenna Hipp
Celebrity nail artist Jenna Hipp is definitely a trendsetter when it comes to nails.
21. Nails_By_Yoko
Yoko Sakakura's will make you stop scrolling and stare.
22. Ninanailedit
Everyone loves Nina Park's work, and you will too!
23. CassMarieBeauty
Cassandre Marie's nail art is utterly gorgeous.