21 Minimalist Manicures That Keep It Simple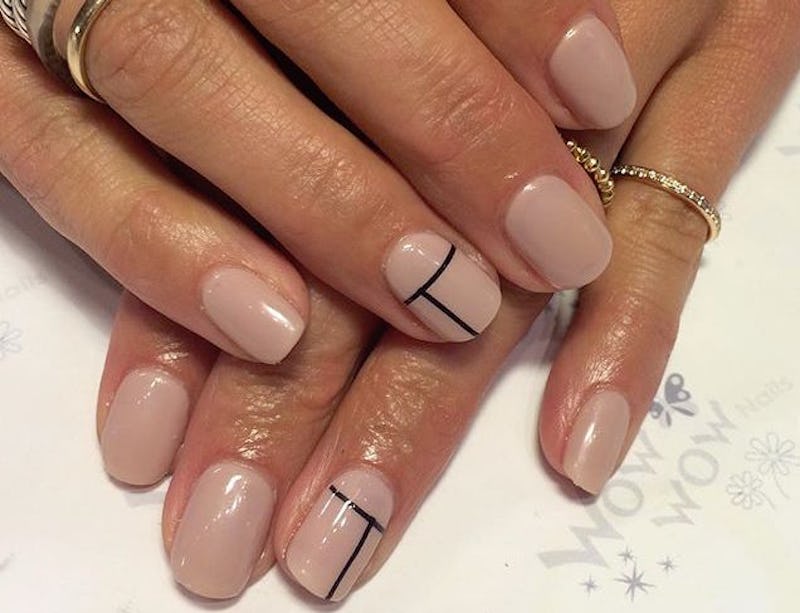 For such a small canvas, nails can get pretty elaborate with the funkiest designs. There's certainly nothing wrong with an over-the-top mani, but minimalist nail art proves the less is more theory can win from time to time.
Opting for simple nails is one of the easiest ways to embrace minimalism. Proving just as swoon-worthy as sophisticated works of art, combinations of lines, dots, and geometric shapes make for the most stunning set of claws. Plus, the subtlety of it all means your nails will compliment any ensemble in the most delicately, beautiful way. To nail art junkies, a hand full of 3D embellishments, bright colors, and realistic artwork will always have its allure. However, a micro design can instantly transform a blank space into a masterpiece worthy of hanging in a contemporary art museum.
Equally captivating and easy to create, minimalist creations are the most lazy girl friendly nails so heading out to the nearest salon isn't a must to execute the look. Nail striping tape and a few dotting tools may be all you need to achieve your next Instagrammable mani. Get inspired by these 21 low-key designs and you just may find yourself DIYing a gorgeous set of nails at home.
1. Mini Dots
Scale a polka-dot mani down for a change by going with pairs of dots at the base of nude colored nails.
2. Lone Stripe
Never underestimate the power of a single stripe. A silver sliver of nail tape takes clear nails up a notch.
3. Forward Triangles
White triangles accented by gold forward arrows creates the ultimate negative space nail design.
4. Asymmetrical Sparkle
Minimalist nails don't have to stick to a neutral color palette. These mauve and glitter plum nails turn up the heat on a simple asymmetrical design.
5. Minimalist Mash Up
Accent each nail with a different design for a minimalist mani open to interpretation.
6. Horizontal Stripes
Nude nails with a twist, this mani throws sharp off-white and black strokes of polish into the mix effortlessly.
7. Glitter Strokes
You don't have to stop at delicate line work. Add silver or gold embellishments to your nails to take a minimalist mani to the next level.
8. Color-blocked Mani
Line your tips with color and paint the base with half-moons to create a color-blocked arrangement.
9. Side Stripes
Not all lines are created equal. Use strokes of varying widths to give your nails an interesting composition. While you're at, use different polishes of the same color family to spice things up a bit.
10. Striped Accents
Pastel polish accented with a skinny black line makes for a contrasting color scheme that's super appealing.
11. Negative Space Cuticles
Leaving your nails clear or neutral around the cuticle takes an alternative approach to the half-moon minimalist mani. Black and white, and accented with tiny rectangles, these nails are incredibly chic.
12. Mini Dots & Strokes
Tiny lines and dots create a tribal-esque pattern that's so mesmerizing you just have to stare.
13. Sharp Half-Moons
Feminine with a trendy edge, sharp triangles protruding from the cuticles keep things quick and simple.
14. Criss-Cross
These silver, criss-crossing accent nails keep with the minimalist trend, but they're far from Plain Jane.
15. Studded
Frosted nails enhanced with tiny gold studs does the minimalist trend with an elegant touch.
16. Nude With A Twist
You can never go wrong with nude nails. Adding sleek, black lines on an accent nails ups the ante on an otherwise simple mani.
17. Tiny Triangles
Combine tiny triangles and outlined tips for art that seems to put a spin on a traditional French mani.
18. Mini Arrows
A mani consisting of dots and a basic arrow design adds a tribal aesthetic to clear nails.
19. Centered Tringles
A simple, yet bold colored design brings nude nails to life without going crazy.
20. Striped Stacks
Multiple rows of gold striping tape gives deep colored nails a luxe aesthetic.
21. Rainbow Slivers
Sometimes, all it takes is a subtle pop of color to make your nails stand out. Rainbow slivers give neutral nails a fun twist.
22. Outlined
No need to go overboard with color and nail art. Contrast neon nails with a minimalist design like sleek, black outlines to keep your claws toned down.
From fashion to makeup to home décor, the minimalism trend is still taking over. Applied to your nails, minimalism makes the barely-there approach aesthetically enchanting.