23 Stunning Highlighter Looks To Obsess Over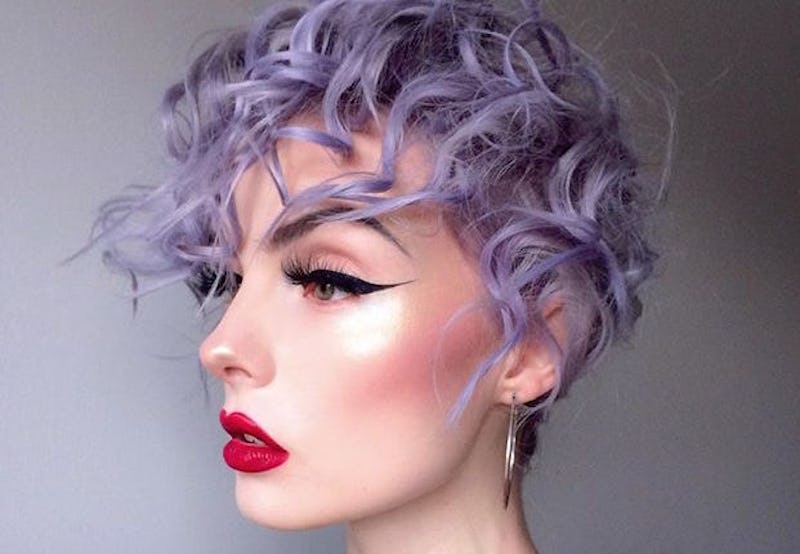 Highlighting is taking the social media world by storm, perhaps due to our innate and fatal attraction to all things shiny, glittery, and glossy. As if we weren't already infatuated enough, here are 23 stunning highlighter makeup looks to take your obsession to the next level.
What did we do before illuminators were a thing? Seriously, it's hard to remember a world without Becca's Shimmering Skin Perfectors and Anastasia's Glow Kits. We existed, of course: That much can be proven. However, the world was just slightly less bright, wasn't it?
The beautiful thing about illuminator? There's something for everyone! If you want to be lit for the gods, or sport a subtle sheen, there's a product for you. Whether you have incessantly oily skin or you're dry as the desert, there's a product for you. Highlight does not have to be one-size-fits-all. Hundreds of finishes, colors, and textures make any and all radiant effects possible. The only limit is your imagination.
If you're still not sure how to highlight, or you're not quite certain what aesthetic you want to achieve, use these 23 varying looks as inspiration to release your inner glowing goddess ASAP.
1. Visible From Outer Space
Let's start this list off with the ultimate queen of all things shiny, NikkieTutorials. On her YouTube channel, Nikkie proudly proclaims more is more when it comes to highlight. Her glow is dominant and flawless in all of her looks.
2. Twinkling Trendsetter
And of course, we have to mention Jaclyn Hill and her "highlight on fleek." The release of Hill's collaboration with Becca, Champagne Pop, was the product to launch a thousand imitators. Hill truly helped to bring this trend into the mainstream.
3. Soft Strobe and Sculpt
Nicole Guerriero's soft, angelic, yet prominent glow greatly reflects her new product collaboration with Anastasia Beverly Hills. It's a bit more subtle than the rest of the gurus, but definitely there.
4. Literally Lit
Amrezy is pretty much surreal in her beauty and her highlight. It's always blinging in every single picture. Even her body glows with the warmth of a thousand suns. Just...how?
5. Golden Goddess
Huda is one of the most recent additions to the highlight poppin' princess of Instagram. She'll be releasing her Huda Beauty 3D Highlighter Palette in mid-April, and the internet is already going nuts.
But these beauty gurus aren't the only ones championing this trend. Instagram artists everywhere are embracing the glow now more than ever.
6. Dazzling Details
Highlight is the perfect way to pop any eye look, as @beautybyaleksje shows us in this flawless photo. A little in the inner corner, under the brow, on the cheekbone, and done the nose creates the perfect gilded frame for you shadow masterpiece.
7. Pretty in Pink
As @biscottigianluca embodies here, highlight can make you look absolutely heavenly. That is the radiance of a supernatural being.
8. Gilded and Glistening
We're all attracted to shiny things, so why not really go for it, like @giamariewaits did in this decadent display. There's no way you can go wrong.
9. Clean and Classic
Or you can emulate @beautsoup by keeping the rest of your features clean, classic, and matte to let the illuminator really shine.
10. Shining & Snatched
How inhumanly perfect is @maddiecarina's nose highlight. If you love your nose, highlight it to show it off! Don't forget to dust some on your cheeks and the inner corners of your eyes for balance.
11. Fiery Flame
@Mariaaakaledzera's glow mimics and actual flame. Don't come too close or you may be scorched from the heat she is serving.
But what if you like a supple, more subdued highlight? Don't worry, there's inspo for you too! Glitters and all-over intense sparkles are great for those who want there glow to be clocked from across the street. But glosses and softer shimmers give a subtler sheen, perfect for those who long for soft, dewy, and touchable skin.
12. Lit From Within
This look, created by artist @sofiia.strykova, utilizes illuminator strategically to soft off the models skin. She looks naturally luminous rather than synthetically shiny.
13. A Pop of Light
This highlight, artfully applied by @lara.daly onto her beautiful model, is very simple, yet very concentrated. The dewy finish of the complexion down and around the nose balance the intense cheek highlight without detracting from it.
14. White Hot
@Miss.livy_mua's super saturated and pearly cheek and brow highlight are perfectly supported by and otherwise simple and clean complexion and eye, yet anchored by the bold black lip and messy mascara.
15. Natural Glow
If you're feeling the strobing vibe, but you're feeling a bit more low key, then this look, created by artist @mark_phong, will be your go-to. Focus on translucent glosses and balms, which will give your skin a beautiful dewy finish. They still reflect light, but in a more natural way.
16. Shining, Shimmering, Splendid
Or you can use a balance of shimmers and glosses, like @sofiia.strykova did on her model, to create a multi-dimensional finish.
17. Glowing and Glossy
If you're really dehydrated, don't be afraid to do the dew. Glossy products can really imitate the appearance of hydrated skin. It's much better than applying layers of dry powder, which will only show more dry texture. Just make sure you strategically place it, like artist @marco_louis did on his model, rather than slather the gloss all over.
18. Ridiculously Radiant
Once again, @marco_louis creates the appearance of other-worldly skin by artfully applying glossy texture. The beauty of the gloss is that it's perfect for all skin tones! It just makes your natural skin look more supple without shifting the color.
The sky is truly the limit when it comes to highlight. With the release of products like Kat von D's Alchemist Palette and Milk's Holographic Stick, supernatural shades have become a mainstay on social media. These color-shifting products reflect cotton candy pinks and blue raspberry hues when they hit the lit, but remain relatively muted when in shadow.
19. Holographic Homerun
Just look at this blue-tinted goodness by artist @courfney. So simple yet so surreal.
20. Rainbow Bright
Just look at this pastel oil-slick strobing by @beautsoup. How ridiculously pretty is this?
21. Sunlit and Surreal
@Junecrees's yellow-gold glow pairs perfectly with her butterfly winged eyes and her pastel pink hair. She's a fairy dream come true.
As long as it reflects light, anything can be a highlight really, as long as you put your mind to it.
22. Twinkling Paint Strokes
These strokes of silver, creatively applied by @marco_louis, mimic the natural bone structure of the model and reflect light just like an illuminator.
23. Glittery Goodness
Artist @yuuivision tapped silver and gold glitter onto her model's orbital and brow bones to bring out the features in a more playful way. Who doesn't love a good glitter moment?
No matter how you decide to highlight, embrace your inner glowing goddess. From shimmery to dewy to holographic, metallic, and glittering, strobing allows you to communicate you inner light externally. Now go show the world how lit you are!