24 Rom-Coms That Aren't *That* Problematic, Because You Shouldn't Have To Feel Conflicted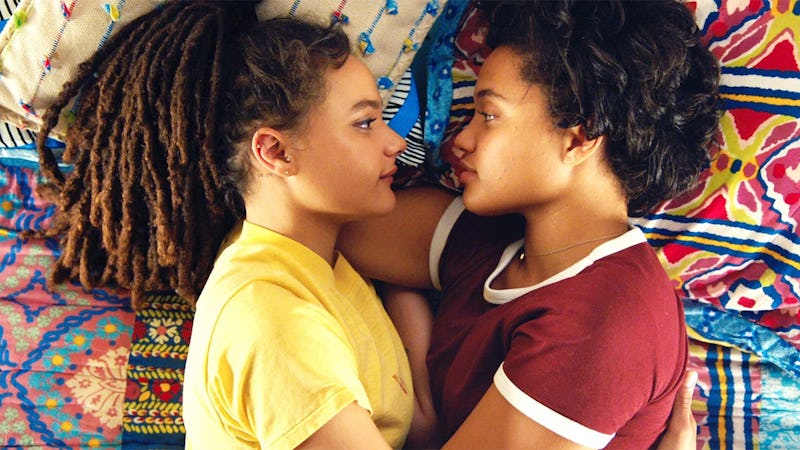 Sony Pictures
Certain film genres known for usually embodying certain stereotypes. Rom-coms, specifically, are often assumed to be full of cliches. They're not likely to pass the Bechdel test; the only people of any diversity are generally sidekicks or best friends; and most of them end with a man solving a sad, lonely woman's problems. Luckily, some filmmakers aren't interested in repeating the same tired tropes and recognize there is an audience looking for a wider representation of love and relationships, stories that expand or even implode the boy-meets-girl meet cutes we've seen over and over again. Thankfully, there are a good amount of romantic comedies that aren't too problematic to appreciate, enjoy, and redefine the well-trodden genre.
Rom-coms truly only require two elements: Some kind of central love story (potentially even more than one) and a sense of humor (including jokes, physical comedy, and/or satire). What most of the moviegoing public seems to enjoy most about romantic comedies is the feel-good aspect they deliver. Often, they're comedies-of-errors that leads their characters into peculiar situations in which they are either a-fish-out-of-water or simply uncomfortable with what's taking place (which is why so many seem to incorporate some kind of public performance opportunity including, but not limited to: speeches, karaoke, dance-offs, and participation in athletic events). The uncomfortable relatability of these all-eyes-on-me moments are ripe for the kinds of plot points that rom-coms readily provide, like declarations of love. These quirky, cringe-inducing moments of hilarity pair well with big emotions, and most audiences connect to that kind of vulnerability.
And the reality is that most everyone loves a good love story, and following the foibles and failures of a rom-com's lead character, which will surely lead to a satisfying happy ending, reiterates the rosy message that love wins, there's someone for everyone, and we all can live happily ever after. But it's a real downer when these movies are sexist, racist, homophobic, or otherwise offensive.
To save you that grief, here are 24 romantic comedies that aren't too problematic to enjoy.