24 Photos Of Texans Being Rescued That Define Courage & Compassion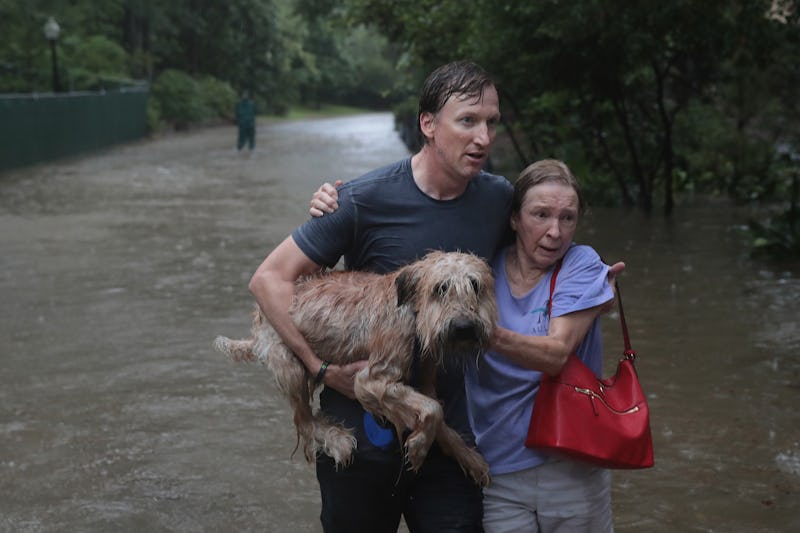 Scott Olson/Getty Images News/Getty Images
For the past three days, Tropical Storm Harvey has been devastating Southeast Texas cities, and many of the photos from the epicenter of the storm are absolutely devastating. They depict homes completely submerged underwater, families wading through knee-deep water to find shelter, and elderly individuals suffering in drowning nursing homes.
But in the midst of this devastation, there have also been many moments of triumph. Emergency personnel and Texas residents have come together to rescue those in need, and these photos of inspiring Texas rescues after Hurricane Harvey will remind you that there is hope for the thousands of people waiting for help.
Harvey made landfall late Friday evening, and since then, cities like Houston, Galveston, and Dickinson have experienced approximately 25 inches of rain, which has led to extreme flooding in many areas. In the past 48 hours, emergency workers in the Houston area have conducted approximately 2,000 water rescues, and more than 3,000 national and state guard members have been deployed in the region to assist in rescue and relief efforts.
But even more importantly, everyday citizens have stepped up to assist their neighbors in any way possible. As rains continue to fall, it is these acts of courage, selflessness, and compassion that will go such a long way in ensuring that no more lives are lost.
Here are some of the most inspiring photos of Texas rescues so far.