25 Movies About Mental Health To Watch This Month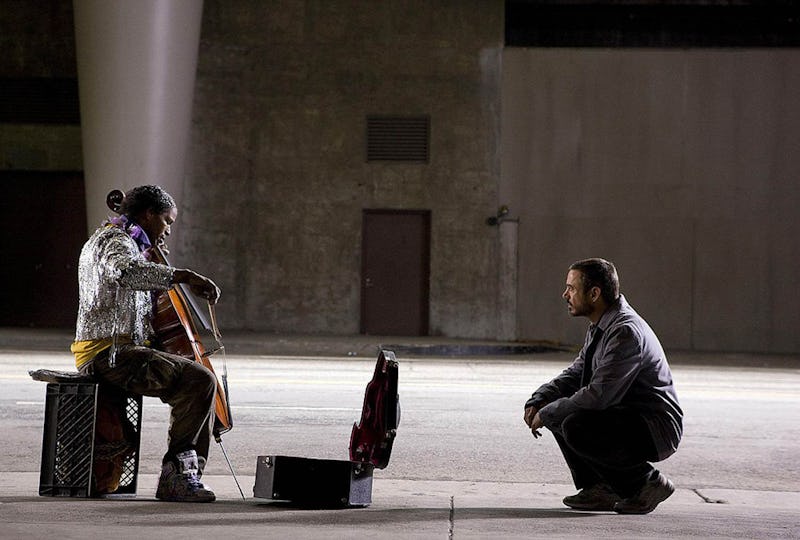 Paramount Pictures
Although mental health awareness has gotten a bigger spotlight in recent years, the subject is still sadly considered taboo for many people to discuss. That's why it is so important that pop culture, whether through movies, TV shows, books, art, or music, creates a rich source of material furthering awareness about mental illness, and featuring characters who are realistically suffering various conditions. And the 25 movies below about mental health all do just this, portraying many different variations on mental illness and helping to reduce the stigma around the subject.
Because of the stigma and because of a general lack of knowledge by the public about mental illness, movies that show the realities of actual conditions are ideal to helping people understand specific disorders. In light of May being Mental Health Awareness month, I've gathered the below 25 movies, which show various depictions of mental illness, and are great in not only reducing stigma, but being high-quality entertainment. Some of these films not be easy to watch, but they're all important to see in order to highlight the conditions millions of people deal with daily.
1. Born On The Fourth Of July
Ron Kovic (Tom Cruise) wants to fulfill his patriotic duties by enlisting in the Marines. During his second tour in Vietnam, he accidentally kills a fellow soldier during a retreat and later becomes permanently paralyzed in battle. When he returns home to the U.S. to an uncaring Veterans Administration and to people who don't understand what he went through, Kovic becomes an impassioned critic of the war, while dealing with post traumatic disorder.
Stream Born On The Fourth of July here.
2. The Soloist
Los Angeles columnist Steve Lopez (Robert Downey Jr.) reaches a low point in his life where his marriage is on the rocks, and he is unhappy with his job. Wandering the streets of L.A.'s Skid Row, he spots a homeless man Nathaniel Ayers (Jamie Foxx) playing a violin. Lopez initially thinks of the man, named Nathaniel Ayers, as just a story idea. But as he begins to unravel the mystery of Ayers' strange life, Lopez finds a change is happening within himself.
3. Poppy Shakespeare
Poppy Shakespeare, played by Naomie Harris, is a young woman who believes she does not have a mental disorder but is brought into a mental health care facility. While she is there, she sparks a relationships with a patient named "N" and discovers more about her condition.
Stream Poppy Shakespeare here.
4. Black Swan
The psychological thriller Black Swan covers several themes of mental illness. Natalie Portman portrays Nina Sayers, a professional ballerina who suffers from an eating disorder as well as chronic hallucinations. The movie tackles the problem of eating disorders in the dance world, an important topic considering that the disorders are considered the most deadly mental illness.
5. American Beauty
Lester Burnham (Kevin Spacey) becomes obsessed with his daughter's underage best friend Angela Hayes (Mena Suvari) when he has a midlife crisis. The movie shows how depression can directly affect perception and reality.
6. Rain Man
Rain Man follows a car dealer (Tom Cruise) who discovers he has an autistic older brother (Dustin Hoffman) after his father's death and also has inherited all of the family's estate. Dustin Hoffman does a spectacular job playing the brother, and although autism is a spectrum condition and not a mental illness, the film is vital for raising awareness.
7. We Need to Talk About Kevin
We Need To Talk About Kevin is a movie that explores antisocial personality disorder and how it affects those closest to the sufferer. Eva Khatchadourian (Tilda Swinton) has to come to terms with her son Kevin's (Ezra Miller), horrific crime and the aftermath that comes with it.
Stream We Need To Talk About Kevin here.
8. The Virgin Suicides
Based on Jeffrey Eugenides' novel, The Virgin Suicides depicts how depression affects the five Lisbon sisters, who form a tragic suicide pact due to their strict confinement enforced by their religious parents. The movie shows how the pressures of being a teenager going through puberty can affect you, and how outsiders can sometimes not realize what people are going through mentally.
Stream The Virgin Suicides here.
9. Benny & Joon
Cinephile Benny (Johnny Depp) starts up a relationship with a woman named Joon (Mary Stuart Matherson) who is battling schizophrenia. Benny & Joon succeeds covers how Joon's illness doesn't stop her from interacting and connecting with those around her.
10. Frankie & Alice
Based on a true story, the movie features Halle Berry as a go-go dancer who suffers with dissociative identity disorder. The disorder was caused by a traumatic incident from her childhood, and has had a massive effect on her life.
11. A Streetcar Named Desire
Southern belle Blanche DuBois (Vivien Leigh) moves in with her sister Stella Kowalski (Kim Hunter) and violent brother-in-law Stanley (Marlon Brando) in New Orleans. Blanche's flirtatious nature causes problems for Stella and Stanley, who already have a volatile relationship. Leigh plays the character so well by conveying the suffering that mentally ill Blanche has gone through.
Stream A Streetcar Named Desire here.
12. The Skeleton Twins
Twins Milo (Bill Hader) and Maggie (Kristen Wiig) unexpectedly reunite following a set of near-tragedies after 10 years of separation. The film opens with not one but two suicide attempts, and the situation forces the twins to confront how their lives became so broken. The movie is a good conversation starter about how family and friends deal with their lives when they feel they are at a low place.
Stream The Skeleton Twins here.
13. Contamination
This short film directed by R. Shanea Williams follows a young woman dealing with a severe form of Obsessive-Compulsive Disorder. There is a stigma tied to mental illness in the Black community, so having a movie about the subject starring a Black woman is so important in starting conversations.
14. What's Eating Gilbert Grape?
Gilbert Grape (Johnny Depp) is a small-town young man dealing with too much responsibility, thanks to his depressed, obese mother (Darlene Cates) and his mentally impaired younger brother, Arnie (Leonardo DiCaprio). Severe depression and eating disorders are still considered severely taboo and misunderstood subjects, andWhat's Eating Gilbert Grape does a good job of exploring them.
Stream What's Eating Gilbert Grape here.
15. Call Me Crazy
Call Me Crazy follows five individuals as they all deal with various conditions of mental illness. The five short films that make up the entirety of the movie explore the impact and stigma of mental illnesses like schizophrenia, bipolar disorder, and PTSD.
16. Jacob's Ladder
In Jacob's Ladder, a Vietnam War veteran (Tim Robbins) attempts to discover the truth about what happened to him as he suffers from hallucinations. The movie is quite dark, but that's what makes it a must watch. It doesn't shy away from the realities of post-traumatic stress disorder.
17. Shutter Island
Shutter Island is a psychological mystery thriller starring Leonardo DiCaprio as Teddy, a U.S. Marshal assigned to investigate a psychiatric institution after a patient disappears. The film starts out as a drama and eventually undergoes plenty of twists and turns that showcase how tough life could be for people with mental illness in the 1950s.
18. Out of Darkness
Diana Ross plays Paulie Cooper a former medical student who becomes ill with paranoid schizophrenia. Cooper ends up losing 18 years of her life to the condition and struggles to rebuild it after being released from a mental health ward. This movie shows the harsh reality of what it is like to attempt to build a better life in a world that has shunned you out because of your mental disorder.
19. Little Miss Sunshine
Little Miss Sunshine follows a dysfunctional family on their road trip to take their seven year-old Olive (Abigail Breslin) to a beauty pageant in California. One of the movie's main characters, Frank (Steve Carell), has been temporarily living with the family after attempting suicide, but his mental health doesn't define him entirely, and he doesn't magically "recover" from his depression after going on the road trip. His character is a good representation of what it means to make attempts to move forward with one's life despite mental illness.
Stream Little Miss Sunshine here.
20. Silver Linings Playbook
The 2012 dramedy Silver Linings Playbook stars a bipolar man, Pat (Bradley Cooper), who returns to his parents' home after being released from a psychiatric hospital. Pat's wife leaves him after he beats the man his wife was cheating on him with, and he seeks to get her back with the help of widow Tiffany (Jennifer Lawrence), who is grieving the loss of her husband. The film shows two people, one suffering from a mental illness and the other dealing with grief, become something greater than their circumstance.
Stream Silver Linings Playbook here.
21. Still Alice
Still Alice shows the heartbreaking effect of Alzheimer's Disease on a family. Dr. Alice Howland (Julianne Moore) is a linguistics professor at Columbia University who must come face-to-face with a devastating diagnosis: early-onset Alzheimer's. Although the disease is not counted as a mental illness, the film shows the devastating effects it can have on a person's mind and self-worth.
22. As Good As It Gets
In As Good As It Gets, Melvin Udall (Jack Nicholson) is an anti-social novelist living with obsessive-compulsive disorder. Melvin finds a friend in a waitress (Helen Hunt) who works at the diner where he eats lunch everyday, but the film shows how ostracizing it can be for someone living with OCD and the difficulties that they might have connecting with people who may not understand the condition.
Stream As Good As It Gets here.
23. A Beautiful Mind
A Beautiful Mind is a true story of the life of John Forbes Nash, Jr. (Russell Crow), a mathematical savant, who lived with schizophrenia. The movie really captures the challenges people with this disorder face, dealing with paranoia and delusions.
24. What About Bob?
A psychotherapist Dr. Marvin ( Richard Dreyfuss) loses his mind after his patient, the obsessive-compulsive and neurotic Bob (Bill Murray), tracks him down during his family vacation.
25. Unsound
Unsound is a short film that follows a mother battling schizophrenia and her son, who struggles to get her the help she needs. Short films like this are crucial for the Black community due to the subject being rarely discussed and scrutinized by those who aren't fully educated about it.
For all of us, having films like these explore mental health through can be a huge help, allowing us to ignore stigma and make mental disorders less of a conversational taboo.