26 Movies About Summer Road Trips That'll Inspire Your Own Adventures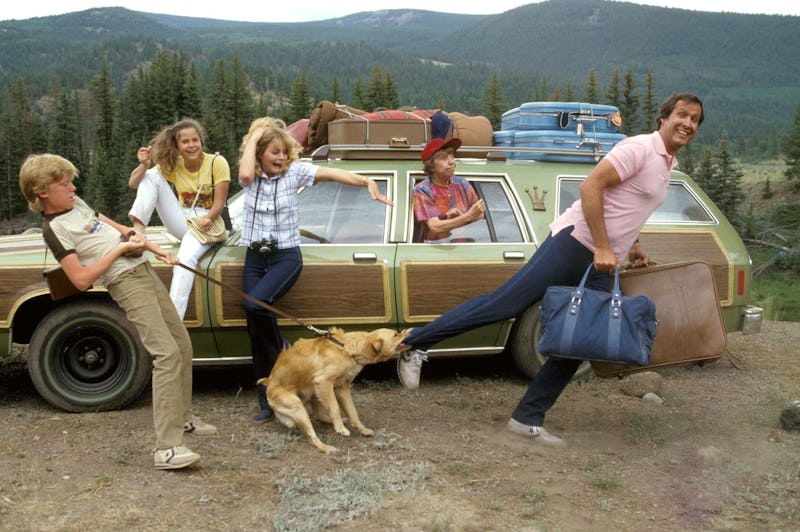 Warner Bros.
Let's be real: taking a summer road trip can be practically essential to your well-being. After all, going away for a few days lets you clear your mind and get a distraction from life's everyday humdrum practices. So if you're looking to hit the open road soon, but need some inspiration on where to go, don't worry — there are plenty of movies about summer road trips that can help motivate your own journey.
Now that temperatures are rising and the dog days of summer are coming on, it's time to get out and explore. Most films provide a sense of escape for a few hours, but ones about road trips do so even more. These 26 road trip-themed movies will inspire your next adventure, whatever you decide to do. Anything can happen when you pack up those bags and head out to a destination — you could find yourself reconnecting with old friends like Lucy (Britney Spears) does in Crossroads, or have an intense bonding session with your parents like the characters of College Road Trip and Guilt Trip both do.
Wherever you plan on going, these movies will act as inspiration.
1. Guilt Trip
If you're thinking about doing a road trip with your mom, Guilt Trip is the perfect movie to watch.
2. Girls Trip
Sometimes the best trips happen with a group of people you trust and can have a "judgement free zone" weekend.
3. Thelma & Louise
OK, parts of Thelma & Louise are total #roadtripinspo for you and your bestie. A convertible car, an open road and a banging playlist are essentials for any trip.
4. Little Miss Sunshine
There is nothing cooler than traveling in a yellow 1960s Volkswagon van across the country.
5. Lost In America
Sometimes the desire to travel comes from a drastic change in a person's life — or at least that's the case for the young married couple in Lost in America. After losing his advertising job, David Howard (Albert Brooks) convinces his wife, Linda (Julie Hagerty), to quit her job and join him on a cross-country road trip.
6. Interstate 60
Are you looking to take a solo road trip? Interstate 60 follows a man (James Marsden) looking for answers as he travels across America. It's the perfect motivation to get out and go solo.
7. Boys On The Side
A nightclub singer named Jane (Whoopi Goldberg) answers an ad from Robin, a woman with AIDS (Mary-Louise Parker), seeking a cross-country travel partner. On their trip from New York City to Los Angeles, the two pick up Robin's friend Holly (Drew Barrymore), and begin the trip of a lifetime.
8. The Wizard
Corey (Fred Savage) breaks his little brother Jimmy (Luke Edwards) out of a mental institution and the two run off together to California. If you're thinking of doing something spontaneous with your sibling this is a must watch.
9. Flirting With Disaster
Adopted as a child, Mel Colpin (Ben Stiller) decides to find out who his birth parents are by taking a cross-country quest to find them. His wife, Nancy (Patricia Arquette), and adoption agent, Tina (Tea Leoni), follow him on a trip that quickly takes a ridiculous turn.
10. Away We Go
As they await the birth of their baby, a couple (John Krasinski, Maya Rudolph) takes a trip of self-discovery across America to find the perfect place to start their new family.
11. Road Trip: Beer Pong
Who knew beer pong could inspire a road trip?
12. TransAmerica
Right before she is scheduled to have surgery, Bree Osborne (Felicity Huffman) learns that she fathered a son, Toby (Kevin Zegers), 17 years ago. After bailing him out of jail in New York, Bree invites Toby to take a road trip with her to Los Angeles.
13. Johnson Family Vacation
Long car rides with your family can be chaotic, but also so much fun.
14. College Road Trip
If you're looking forward to college in the fall, this is the perfect time to gas up that vehicle and take a trip to your new campus. College Road Trip is about an overprotective father and police chief named James (Martin Lawrence) who drives his teenage daughter, Melanie (Raven-Symoné), from their home in Chicago to a college interview in Washington, D.C.
15. A Goofy Movie
The playlist from this silly movie is a must have for your next road trip.
16. Crossroads
Three childhood friends — Lucy (Britney Spears), Kit (Zoe Saldana) and Mimi (Taryn Manning) — rediscover their friendship after spending eight years apart.
17. On The Road
An aspiring writer (Sam Riley), finds himself on the open road alongside a troublesome man (Garrett Hedlund) and his seductive wife (Kristen Stewart).
18. The Darjeeling Limited
The Darjeeling Limited is full of adventure. The film follows three brothers who are reunited on a train while traveling across India. The men uncover deep emotions and discuss problems like never before.
19. Almost Famous
Almost Famous follows a young writer who goes on the road with a rock band to uncover his next story. If you're a journalist looking for some new ideas, a road trip might just be your answer.
20. The Motorcycle Diaries
The Motorcycle Diaries is based on a trip taken by two men — Ernesto (Gael García Bernal) and Alberto (Rodrigo De la Serna) — in 1953 from Brazil to Peru by motorcycle. The two men explore South America and find themselves reconsidering their own values.
21. National Lampoon's Vacation
The Griswold family decides to drive from Illinois to a California amusement park but as the journey ensues, they encounter a lot of trouble on the road and get hilariously derailed.
22. Pee-Wee's Big Adventure
Pee-wee Herman (Paul Reubens) takes off on a wild trip across the United States to find his beloved red bicycle. He ends up at the Alamo, finds a motorcycle gang, and meets a beautiful girl.
23. Dumb & Dumber
Why not trade in a car for a scooter on a road trip? You only live once!
24. Into The Wild
An adaptation of Jon Krakauer's non-fiction book of the same name, Christopher McCandless (Emile Hirsch) travels across North America in an attempt to rid himself of possessions and set out on a journey of self-discovery.
25. The Trip
There is nothing better than a food-inspired road trip with someone you can share a laugh and meal with.
26. Mad Max: Fury Road
Sometimes a non-stop, adrenaline-pumping road trip is all you need to set the summer right.
So gas up that car and buckle up — it's time to go road tripping!